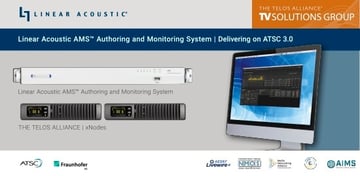 Linear Acoustic® AMS Authoring and Monitoring System is a comprehensive solution for real-time authoring, rendering, and monitoring of advanced audio programs for the ATSC 3.0 Digital Television System. The audio system in ATSC 3.0 provides listeners with a personalized, immersive audio experience using Next Generation Audio (NGA) technologies, including MPEG-H. AMS simultaneously delivers advanced audio for ATSC 3.0 broadcasts and 5.1-/2-ch audio for ATSC 1.0 broadcasts.
Read More
Topics: Linear Acoustic, Television Audio, ATSC 3.0
Subscribe

If you love broadcast audio, you'll love Direct Current! Get it delivered to your inbox weekly!