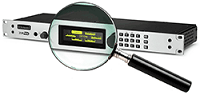 Here is a guest Tech Tip! Anthony Eden works for Hope 103.2, in the beautiful city of Sydney, Australia by day and writes about his experiences with technology on his personal website by night.
How do you know when something has gone wrong on your Livewire network? Do the jocks come screaming to you? You can get ahead of the curve by configuring your Telos Alliance gear to message you using a little logging and alerting protocol called "SysLog."
Read More
Topics: Axia Audio, Audio Quality Monitoring & Analysis, Audio Engineering
Subscribe

If you love broadcast audio, you'll love Telos Alliance's newsletter. Get it delivered to your inbox by subscribing below!