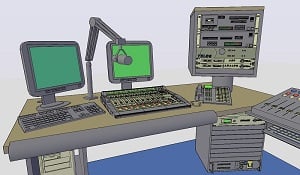 As Axia celebrates the 13th anniversary of our invention of AoIP audio, we like to look back and acknowledge some of our early adopters, those brave souls who purchased Axia gear at a time when breaking from AES3 or analog and going with IP audio represented some serious risk taking. One of those was Radio Free Asia (RFA), a nonprofit international broadcaster with its headquarters in Washington, DC and satellite studios throughout the Pacific Rim. RFA broadcasts in nine languages, via shortwave, satellite transmissions, medium-wave, FM, and streaming online. Most of the broadcasts are in Mandarin Chinese, which is broadcast twelve hours per day. We spoke with RFA's CTO, David Baden, who has recently returned from India, where he set up the remote equipment for Radio Free Asia's live coverage of the Tibetan elections.
Read More
Topics: Axia Audio, Audio over IP, Livewire, aoip, Radio Free Asia
Subscribe

If you love broadcast audio, you'll love Telos Alliance's newsletter. Get it delivered to your inbox by subscribing below!