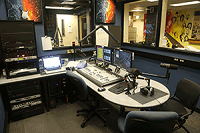 Axia powers Radio DePaul
At age 19, Jake Alderman, a sophomore at Chicago's DePaul University, already knows what he wants to do when he graduates. One word – radio. He became fascinated with the medium while a student at Lyon Township High School (LTHS) in La Grange Il. It probably helped that the school system has one of the top-rated high school stations in the country, winning awards for excellence in 2008, 2009 and 2012.
Read More
Topics: Axia Audio, Telos Systems, Telephone Hybrids, Radio Consoles
Hybrids, Codecs, and Encoders - What's the Difference?
We sometimes get asked: what's the difference between hybrids, codecs and stream encoders? Let's take a moment and talk about how these different technologies.
Read More
Topics: Telephone Hybrids

Controlling Telos Hx1 Hybrids with a Telos Direct Interface Module
This Tech Talk topic comes from Mike Uhl who writes, "Will a new Hx1 work with an old DIM (Direct Interface Module), used for ganging multiple Telos ONE hybrids into a multi-line system?"
Read More
Topics: Telephone Hybrids
Subscribe

If you love broadcast audio, you'll love Telos Alliance's newsletter. Get it delivered to your inbox by subscribing below!