Turntables Built to Withstand the Apocalypse
By Clark Novak on Sep 30, 2011 11:44:00 AM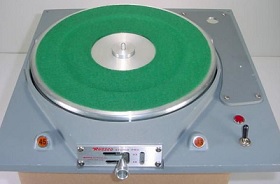 Nearly all of us "of a certain age" in the Radio business will remember Russco turntables, founded by Modesto, California's Russ Friend in 1945. Built like the proverbial tank, Russcos, with their stepped-shaft / idler wheel drive arrangement, were standard issue in US radio stations for 40 years.
The ubiquitous sky-blue Studio Pro B, with only a little maintenance, soldiered on for years providing rock-solid record playback for innumerable stations small to large. (And, as a young production director, your editor found that the heavy machined aluminum platter, removed from its housing, could be held by its bearing shaft and struck along the rim to produce a lovely "fight bell" sound effect.) If you're still a fan of Russco turntables - which are surprisingly popular in the audiophile community - and are looking for parts or restoration services, check out RusscoTurntables.com, run by Skeeter Nash. Skeeter has a love for these workhorses too; so much that he purchased the remaining stock and parts supply of Russco and now offers parts and refurb services from his HQ in Jonesboro, Arkansas. And don't forget to put it in neutral when you're finished!
Topics: Vintage Electronics
Subscribe

If you love broadcast audio, you'll love Direct Current! Get it delivered to your inbox weekly!