Universal Love for Telos & Axia
By Tom Vernon on Jun 8, 2016 2:00:00 PM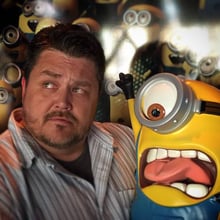 Bob Page may have the best radio job ever. Working for Universal Orlando Resort, he is the radio broadcast specialist who interfaces with station personnel who are broadcasting from Universal Studios Radio Broadcast Center. Universal Orlando Resort uses this facility as another vehicle for promotion. Stations come to the resort and describe the beautiful surroundings, rides, and attractions to the home audience.
And that's where Telos comes in to the story. The two showcase studios feature the best of the best when it comes to broadcast equipment. "We try to stay one step ahead of stations, so people will be completely blown away when they see these studios," explains Page. In addition to the Telos and Axia gear at the Universal Orlando Broadcast Center, there are also Neumann condenser microphones and Sennheiser headsets.
The studios were built in 1993. After a couple analog upgrades, Page began to think about digital. "Our contacts at Broadcasters General Store introduced us to the folks at Axia. We put together a plan, and built our next studios in 2012 with Element consoles and Zephyr Xstream ISDN codecs. Last summer, there was a second Axia upgrade, this time to Fusion AoIP mixing consoles, a DESQ compact desktop IP console, IP Intercom, and Z/IP ONE codecs.
Fusion has all the flexibility you'll ever need. It has four stereo Program buses, four Send buses, and two Return buses. A variety of module types are available, from fader-only modules to Call Controller modules with integrated multi-line controls for Telos® multi-line phone systems. Fusion also features unique Axia VMix (Virtual Mixer) channels, which allow combining up to 5 audio sources for presentation on a single console fader — further extending the flexibility and usefulness of the console.
And since every broadcast from Universal Orlando studios is a remote broadcast, a premium is placed on connectivity with the outside world. Most of the connections are via ISDN or IP over the internet. Telos makes that happen with the Zephyr Z/IP ONE IP Broadcast Codec. Internet connectivity is convenient and easy, but with the public internet, it can be great one minute, and not so great the next. That's where the Telos ACT, or Agile Connection Technology comes in. ACT can sense and adapt to the condition of your IP link, so Z/IP ONE delivers superb performance on real-world networks. ACT adapts dynamically to minimize the effects of packet loss and jitter. When the bits are flowing smoothly, you'll benefit from the lowest possible delay and the highest possible fidelity. If congestion starts to occur, Z/IP ONE automatically lowers bit rate and increases buffer length to keep audio flowing at maximum quality. You'll get reliable audio even when network conditions are unpredictable — and you won't need to fiddle with settings or codecs to do it.
Over 300 broadcasts a year originate from the two studios. "It's not unusual to have eight stations using the facility in one day," notes Page, "And I've had my share of 6 AM to 1 AM days." Still, Page loves his job. He's been at Universal since 1991. "I get to meet and work with people from all over the country and live close to the beach at a place where it's warm year round."
Want to see more of these awesome studios? Check out the slideshow below!
Topics: Broadcast Engineering
Subscribe

If you love broadcast audio, you'll love Direct Current! Get it delivered to your inbox weekly!