Untangling EAS with Pathfinder
By Shane Toven on Feb 8, 2017 3:13:23 PM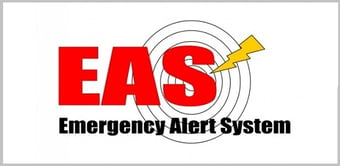 For many years, broadcast stations have been required by law to incorporate emergency alerting into their air chains—usually directly in line with the program path as the last stage prior to the transmitter. As station groups have consolidated and air chains have become more complex, however, managing this insertion gets a bit trickier. What used to be a 1:1 correspondence between studios, transmitters, and everything in between is often now a matrix of possibilities including multiple studios or automation outputs, along with main and backup program paths and transmitters.
Axia Pathfinder has the ability to monitor and manage these various combinations to ensure that EAS alerts are routed to the right path at the right time. One possible method for doing this is to treat your EAS boxes like any other source to the AoIP network, then send a relay closure from each box to any available GPI input in the system.
Through the use of "stacking events", Pathfinder can watch the GPI input for a change, then evaluate the status of the airchain that particular EAS box should be associated with and insert the alert audio accordingly. The actual audio switching could be done using a VMIX at a convenient point in the chain as sort of a "virtual patch point", controlled by the same stacking event.
If you'd like further details on using Pathfinder and Stacking Events to manage EAS traffic, or for any other questions, contact support@telosalliance.com or call 216-241-7225.
Topics: Axia Audio, Axia Pathfinder, EAS
Subscribe

If you love broadcast audio, you'll love Direct Current! Get it delivered to your inbox weekly!