Video Production House Tames Audio with Linear Acoustic
By Steve Ye on Nov 12, 2014 2:05:00 AM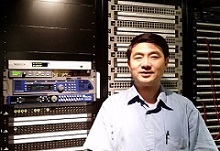 It's common knowledge in the television industry today that the CALM Act has had a significant impact on broadcasters who now have to pay very close attention to audio levels. But compliance regulations have reinforced the importance of good audio to content creators and production houses as well.
Here at Nice Shoes, we've noticed a shifting focus in the amount of attention we put on our audio, so that the content we create for our clients is not only engaging, but also compliant. That focus has not been without its challenges.
This is relatively new ground for many people and companies on our side of the broadcast chain. For many years, our emphasis has been primarily on video, not audio. But nowadays, it's not uncommon to see some pretty inconsistent audio levels between different programs, and even within a single piece of content. When our clients started turning to us to help resolve this issue, we knew we needed a way to accurately measure and artistically control the audio.
The engineers at our professional audio mixing studio suggested looking to Linear Acoustic for a solution. After doing a lot of research and evaluating many different products from various manufacturers, we found that the Linear Acoustic® AERO.100™ DTV Audio Processor was the right choice for us.
We needed something with SDI I/O, a good user interface, and the ability to produce compliant audio, with an emphasis on audio quality. That's where the AERO.100 really stands out. The processed audio it produces is compliant, but its quality is top-notch, producing compelling and clear audio for our clients and ultimately, for the viewers at home.
One of the most useful features of the AERO.100 is the built-in ITU-R BS.1770 LFKS meters. We can run a piece of content though the unit without processing it, just to measure the levels. There are four separate meters, each with a user selectable integration time, so we can look at short-term dynamics and mid/long-term averages at the same time. This lets us identify exactly where the content is inconsistent or non-compliant, so we can point it out to our clients. From there, they can choose to go back and fix those areas themselves, or we can use the AERO.100 processing to bring everything into compliance for them, allowing us to facilitate our client's needs with complete confidence.

Linear Acoustic has been the go-to manufacturer of processors and meters for television networks and local stations worldwide for over a decade, but their products definitely have a place on the production side as well. The AERO.100 has turned out to be an invaluable tool for us. It lets us get a fast handle on the audio, which in turn lets us get back to what we do best – video production.
---
Steve Ye is based in New York and serves as the Chief Engineer at Nice Shoes, an end-to-end production and post-production company. Mr. Ye has been a key member at Nice Shoes for over 16 years and can he can be reached at steveye@niceshoes.com. For more information about Linear Acoustic, please contact call 1-717-735-3611 or go to linearacoustic.com, and telosalliance.com.
Topics: Television Audio
Subscribe

If you love broadcast audio, you'll love Telos Alliance's newsletter. Get it delivered to your inbox by subscribing below!