Virtual Radio: A Broadcast Workflow Revolution at IBC 2017
By Krissy Rushing on Aug 30, 2017 1:33:11 PM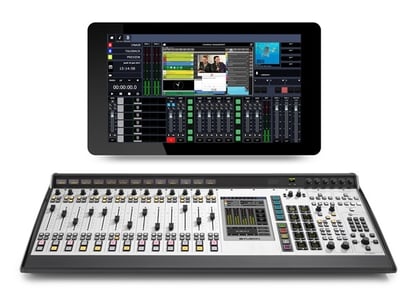 Telos Alliance invented Audio over IP for broadcast years ago, revolutionizing workflows for the broadcast industry and making broadcast operations cheaper, better, and faster to install. AoIP has since become the standard for broadcast facilities. Adoption of AoIP allows broadcast plants to be more powerful, less expensive to buy and maintain, and faster to build. In a never-ending effort to optimize their workflows, broadcasters now want to take advantage of what AoIP enables next: the ability to control content creation virtually. Presenters now get to see and control their gear via optimized graphical user interfaces (GUI) no matter where they are—in the studio or on remote. With Virtual Radio control, they can put themselves on the air from anywhere.
"Virtual Radio is the future, and the future is here. It enables broadcasters to customize interfaces and workflows like never before, whether inside or outside the facility," says Marty Sacks, VP of Sales, Support, and Marketing at the Telos Alliance. "From our pioneering virtual radio product, Axia SoftSurface, to large-scale projects for huge facilities like the BBC ViLoR (Virtualized Local Radio), to innovative products like the new Axia IP-Tablet Virtual Radio software, Telos Alliance continues to provide broadcasters with cutting-edge Virtual Radio solutions on an IP backbone."
Telos Alliance Virtual Radio Demo at IBC
At IBC, September 15–19 at the RAI Amsterdam, stand 8.D47, Axia will show solutions and products optimized for Virtual Radio that control multiple systems, including console, playout, phone, and social-media management. All of these systems are seamlessly displayed and controlled using the new Axia IP-Tablet Virtual Software installed on tablets and monitors throughout the Telos Alliance IBC stand.
Virtual Radio is the future, and the future is here, enabling broadcasters to customize interfaces and workflows like never before, whether inside or outside the facility."

—Marty Sacks, VP of Sales, Support, and Marketing, The Telos Alliance
The IP-Tablet virtualizes control of Axia Fusion consoles and other Telos Alliance equipment on any Windows tablet or PC. IBC will also introduce the IP-Tablet's newest innovation: the ability to go beyond the Livewire+ AES67 ecosystem to control other gear, including HTML5-enabled equipment, allowing unprecedented control of the multiple devices needed to create a broadcast on a single tablet computer.
The Axia IBC Virtual Radio demo will consist of an Axia Fusion split-frame 12-position console that will be integrated into the front console table at the Telos Alliance stand, with IP-Tablet software installed on a 24-inch touchscreen monitor controlling both Telos Alliance equipment and third-party broadcast equipment. The demo will also include Axia Pathfinder Routing control, Omnia VOCO 8 microphone processing, Telos VoIP phones, Genelec AES67 speakers, an RCS automation system, and other exciting new Telos Alliance AoIP products that will break at IBC.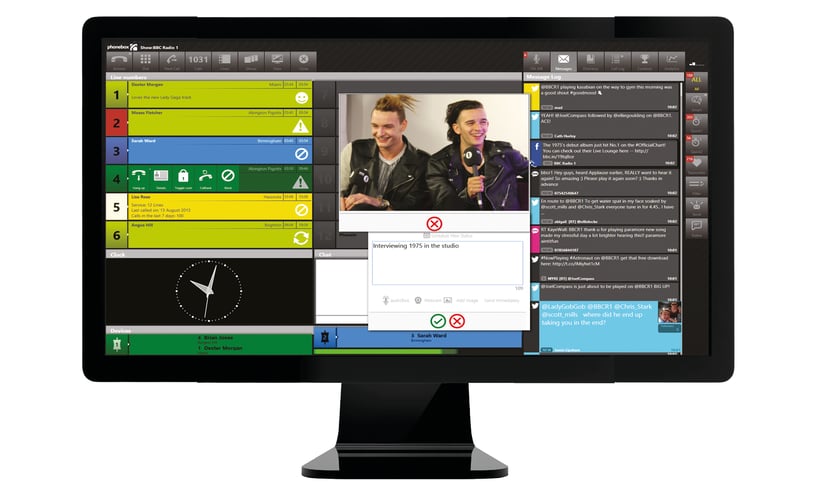 Broadcast Bionics PhoneBOX Software
Telos Alliance will also demonstrate seamless integration with Social Media in cooperation with partner Broadcast Bionics and its popular Virtual Director visualization software, the industry standard in exceptional audience engagement and communication for Radio and TV that transforms radio content into a rich visual experience. An Axia iQ console will be set up especially for use with Broadcast Bionics Virtual Director, with camera output to a 55-inch screen. Axia also works perfectly with Broadcast Bionics PhoneBOX call-screening software, which combines the strength of a purpose-built broadcast call-routing and messaging engine with a software interface to compliment workflows. IBC Attendees can see this integration at the Telos Alliance booth.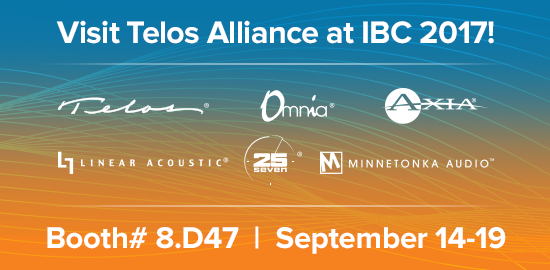 Broadcast Bionics PhoneBox and Virtual Director software, along with RCS automation, are just a few examples of what Axia is able to control. With HTML5, Livewire+ AES67, LWCP, and Pathfinder, Axia offers a universal platform to control any third-party products, making Axia Livewire+ AES67 one of the most powerful ecosystems in the broadcast industry.
IBC attendees! Please come see the Axia Virtual Radio demo at Stand #8.D47 during the show. If you can't make the show, we'll bring it to you via our IBC 2017 page and live feed. Check it out!
Related Content
For related content regarding Virtual Radio, check out these items:
Virtual Radio to Flush-Mounting: 3 Ways to Customize Your Axia Fusion
Axia IP-Tablet Virtual Radio Software
Visual Radio with Dan McQuillin at IBC2016
Topics: aoip, virtual radio, ip-tablet
Subscribe

If you love broadcast audio, you'll love Telos Alliance's newsletter. Get it delivered to your inbox by subscribing below!