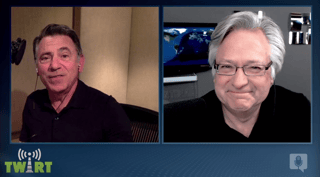 How does a top-shelf voice-over artist work on the road? He makes a "MacGyver studio"! Joe Cipriano joins us to talk mics, pre-amps, processing, and how voice-over work gets done today.
Chris Tobin is here, too, from a hot transmitter room!
Guest:
Joe Cipriano - Voice-Over Artist
Hosts:
Chris Tobin, IP-Solutionist
Kirk Harnack, The Telos Alliance, Delta Radio, & South Seas Broadcasting

Show links:
Sennheiser MKH 416 shotgun mic
Apogee MiC 96k mic for iPad & iPhone
Telos Zephyr XStream ISDN codec
ipDTL web browser audio (and video) codec
Source-Connect ISDN codec replacement
Universal Audio Apollo Twin MKII
Living ON AIR - a book by Joe Cipriano and Ann Cipriano
Watch the Video!
Topics: Broadcast Engineering, audio, audio quality
Subscribe

If you love broadcast audio, you'll love Direct Current! Get it delivered to your inbox weekly!