VoIP for Broadcast - The Video
By Clark Novak on Nov 3, 2013 3:10:00 PM
Been wondering whether a SIP-based phone system is right for you?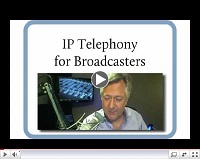 It's been a couple of years now since Telos introduced our VX Broadcast VoIP multi-studio phone system. Ask any broadcaster who owns one, and they'll tell you: VX delivers som pretty powerful sauce.
With the ability to manage dozens of phone lines across multiple studios, native support for SIP lines as well as ability to work with POTS, ISDN and SIP-based PBX systems, VX has proven itself in major market clusters from Chicago to LA, from New York to Sydney - and many other places as well.
With VoIP and SIP becoming ever more prevalent, you might be thinking "Hey -- this tech sounds like it could save me on phone costs and increase our flexibility on air. But I don't have a mega-studio, so does it still make sense?"
Well my friend, Telos' Kirk Harnack has the answers to these and other questions in a great new video, "IP Telephony for Broadcasters." What Kirk doesn't know about phones isn't worth knowing, and in this vid he helps weigh the flexibility of IP phones against studio infrastructure and cost. In fact, if this video doesn't answer whatever questions you have about IP Telephony, we'll give you a cookie!
Topics: Broadcast Telephone Systems, IP Telephony, VoIP
Subscribe

If you love broadcast audio, you'll love Direct Current! Get it delivered to your inbox weekly!