VR Comes to Broadcasting
By Tom Vernon on Jun 2, 2016 10:23:54 AM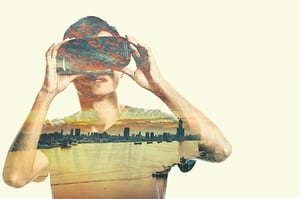 Virtual Reality, or VR, was one of the hot topics at the recent CES and NAB shows in Las Vegas. The technology began to develop in the early '90s, when everyone was sporting those funny goggles. The novelty quickly wore off, and VR fell off the radar. Development continued however, and 2016 may be the year it finally reaches critical mass. No one is certain what the most popular applications for this new medium will be, but broadcasters are carving out a piece of the VR pie for themselves.
KCRW, the legendary public broadcaster at Santa Monica College outside Los Angeles, is using the technology to enable listeners to virtually sit in on live recording sessions.
The VR service makes available select programs from Morning Becomes Eclectic, a three-hour adult album alternative program that airs weekdays on KCRW. The launch includes VR videos from Death Cab for Cutie, Brandi Carlile, Thundercat, and Purity Ring. To experience the VR broadcasts, listeners must download the free app in the iOS and Android stores, and purchase a special KCRW cardboard for a $5.00 donation. The videos are also available on the station's YouTube channel.
Already, KCRW is looking ahead to what else can be done with VR, both from programming and technical perspectives. Probably the next non-music project for the station will be storytelling. The next step for technology is doing live VR streams of its basement studio performances. Virtual reality is really a technology in search of applications.
As with smartphones when they first appeared, VR opens up new avenues for interactions, some of which can be totally immersive if done right. Also, at this early stage, what we might envision will probably be nothing like the things people really do with it, both good and bad. Perhaps the holodeck on Star Trek wasn't so far-fetched after all.
Creating a VR video project is really a 3-step process, beginning with recording the scene from a 360 x 180 degree perspective. This is done with multiple video cameras configured so there are overlapping fields of view. The best cameras have wide-angle lenses and great image quality. KCRW used eight GoPro cameras modified with wide-angle lenses. Configurations with six, eight and 12 cameras have been deployed. KCRW developed its own rig for eight cameras, but commercial mounts are available for standard, waterproof, and submersible applications.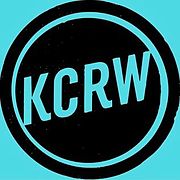 With a number of discrete videos in hand, the next step is to electronically stitch them together to create a high definition, seamless panoramic video. This is done with video editing software such as VideoStitch or Autopano Video. The final result is a 360 x 180 degree field of view video presented in a world map projection at 4K resolution.
The final step is postproduction, creating a short VR mini concert. Looking ahead, the station is interested in live streaming of VR media, although right now there are limitations on creating and distributing these streams.
At the same time, the Associated Press (AP) is experimenting with this new medium. In collaboration with AMD, they have created a new VR news channel. The plan is to create an immersive environment for journalism and reinvent the way news reports and documentaries are presented. Combined in the venture will be the AP's reporting depth and global reach with AMD's image rendering and graphics technology.
The AP comments that each advance in media technology changes how we experience the news. VR is just the next logical step. So far the AP has used VR to chronicle Worldport, a worldwide air hub for UPS located at the Louisville International Airport in Louisville, Kentucky, the 2016 People's Choice Awards in Los Angeles, and the migrant camp in Calais, France. The Calais story was part of a five-day, all formats project which included video, photo packages, and short text stories.
With the help of AMD's Radeon graphics hardware, the Associated Press will report news on a new VR channel, allowing viewers to seamlessly enter real-time news broadcasts with full 360-degree field views. The plan is to breathe new life into news coverage and documentaries using the immersive power of virtual reality, which could revolutionize the world of news reporting altogether.
AMD will leverage the power of its Graphics Core Next Radeon graphics technology in conjunction with LiquidVR to render environments for documentaries and news coverage. AMD is confident that its tech will deliver "spectacular VR visual experiences to engage audiences both emotionally and intellectually." The AP promises that its new VR channel will immerse viewers with a new dimension of news reporting, allowing them to actually experience major news stories rather than just watching.
"VR can help people achieve a visceral experience of news and documentaries so they can feel what it's like to actually be there," said Radeon Technologies senior VP and chief architect Raja Koduri.
"The technology can enable us to figuratively walk in another's shoes, leading to greater understanding and empathy. The Associated Press is one of the most trusted sources of independent newsgathering, and AMD is a leading innovator for computing and visualization technologies. AMD Radeon graphics are designed to power the most realistic experience possible for audiences everywhere, and together with AP, we'll work to fuel the expansion of the global VR ecosystem."
The AP virtual reality channel is now live in preparation of the incoming Oculus Rift shipments.
Topics: Virtual Reality
Subscribe

If you love broadcast audio, you'll love Telos Alliance's newsletter. Get it delivered to your inbox by subscribing below!