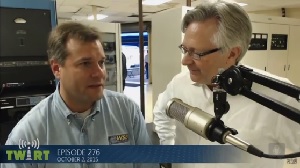 During the 2015 NAB Radio Show in Atlanta, Charles Kinney opened the doors to the iconic WSB (AM) transmitter site and threw a party! Nearly 80 engineers and friends showed up to see the current site and learn about the history of AM transmissions from here.
Watch the Video!
Read the Transcript!
Kirk: This week at Radio Tech, episode 276, is brought to you by the full range of Axia xNodes, Mic, Stereo Line, AES, GPIO and the Mixed-Signal xNode, one-touch simple set up balanced with powerful AoIP connection options, by Z/IPStream, audio streaming processors and encoders. Choose hardware or software, and optional Omnia.9 processing, and by Lawo and the crystalCLEAR virtual radio console. CrystalCLEAR is the console with a multi-touch touchscreen interface. During the 2015 NAB Radio Show in Atlanta, Charles Kinney opened the doors to the iconic WSB AM transmitter site and threw a party. Nearly 80 engineers and friends showed up to see the current site and learned about the history of AM transmissions from here.

Hey, welcome. It is time for This Week in Radio Tech, the show where we talk about radio technology, everything from the microphone to... look at what's behind me. The transmitter. I'm at the WSB AM 50,000-watt transmitter site. Welcome, South Brother. That's what WSB might stand for.

We're here at the transmitter site at a party that Cox Radio and Charles Kinney have graciously put on for us and the folks at Telos had paid for dinner. Everybody had dinner yet? Yeah, there's actually a lot of people. There are 47 engineers here all at the same time and it's not the NAB. Well, actually, it is the NAB. That's why they're all here in town for the NAB Radio Show. I'm Kirk Harnack along with Chris Tobin in the studio. Chris, I'm sorry you're not here, buddy.

Chris: Trust me, I am, too but there's somebody in the background with their fingers up so I'm just going to wave back to them.

Kirk: All right, well. Chris, I'm sure you're welcome to interject anytime you want to with questions or pithy comments.

Chris: Is that a Deathstar behind you, that great panel with the screen in it? I'm sorry, yeah. It's a Deathstar. I said that there's a...

Kirk: Yeah, I guess it is. We're going to get a bit of a tour of the site. I uploaded a couple of videos to Facebook already, to my personal Facebook account. If you're not friends with Kirk Harnack on Facebook, feel welcome to do that. You can look at the videos. Even if you're not friends with me, you can still look at the videos.

Our show is brought to you by the folks at Axia and the Axia Mixed xNode. We'll talk about that in a little bit. Also the Z/IPStream product line from Telos for processing and encoding your streaming audio and also by the folks at Lawo and the Lawo crystalCLEAR multi-touch touchscreen audio console. So many audio over IP products, because that's where the world is going, and let's go ahead and just jump right in and get started with our first interview if we could. We've got for you a guy that's been on this show before. No stranger to This Week at Radio Tech.

Scott: Hey, Kirk.

Kirk: Come on in. This is...

Scott: How you doing?

Kirk: Are you in the shot? Yes, you are.

Scott: I'm in the shot.

Kirk: Let's get closer to the microphone. All right. There we go.

Scott: There we go.

Kirk: Dulcet tones, man.

Scott: Indeed.

Kirk: This is Scott Fybush.

Scott: [Inaudible 00:02:52] Atlanta.

Kirk: If you don't know him, Scott, what are you most famous for amongst engineers?

Scott: People may have heard of this little thing, a Tower Site Calendar, now out, the 2016 edition, brand new.

Kirk: So it's not too early to order mine?

Scott: It is not. They are available online right now.

Kirk: I don't remember if I ordered mine yet or not.

Scott: Well, you're going to get one tonight one way or another.

Kirk: Okay.

Chris: Be sure to get an autograph.

Kirk: You deserve to be well-paid for these.

Scott: Well, thank you.

Kirk: I love these. These are so sexy. Every month, you have a different tower on there.

Scott: You're going to need to hold that up a little more.

Kirk: So you just snapped some pictures of this tower site here, didn't you?

Scott: This site was in... I was actually out here about 10 years ago and this site was in one of the earliest calendars.

Kirk: You know, I have used some of your pictures with permission...

Scott: With permission.

Kirk: ...to promote this event.

Scott: Yes.

Kirk: Yeah, so Scott, the NAB radio show is going on right now. What's been a hot topic or two at the Radio Show?

Scott: There's been a little matter of the change of command at one of biggest radio companies in America, over at Cumulus.

Kirk: That's headquartered right here in Atlanta.

Scott: Yes, it is. Everybody expected this was going to be Lew Dickey's big homecoming show and John Dickey. All of a sudden, as of Tuesday, they were out of command there. Once again, just as when we had this conversation in Vegas, Voltair and PPM.

Kirk: That was a hot topic.

Scott: [Inaudible 00:04:08].

Kirk: There was... just 10 minutes here...

Scott: Yes, [inaudible 00:04:12] a little bit.

Kirk: Also, folks at Nielsen were... both of them gave back to back presentations.

Scott: They did a little break in between. Everybody's... it was amazing the number of people who were there.

Kirk: It was standing room only.

Scott: It was not even... it was like packed-in standing room only. It was tight. But the big news out of Nielsen on their end is they are upgrading the encoding system. They have four PPM. They're going to have [inaudible 00:04:33] software. They've been testing it very quietly in DC and Baltimore and a bunch of other markets.

They're going to have it on the air, they say, by October, end of October in most of their markets and, this is going to get interesting now, they said by next year they are going to put their own monitoring boxes at stations which, of course, affects the Voltair. This is going to be interesting to watch this all play out.

Kirk: I've got to tell you, honestly, and I know this is feeling of my colleagues at 25/7 who design and make the Voltair, part of the Telos Alliance, I know that... sure, everybody likes to make money. We're in the business to make a profit whether you're WSB or fybush.com, Northeast Radio Watch or Telos. Whatever's good for the radio industry, though, is good for us. If everybody gets counted, if listeners get counted, it's good.

Scott: It is, but it's interesting because in the Nielsen presentation, they showed that, okay, when we put this enhanced encoding in, all of a sudden, AQH listening shot up by 15% or whatever their number was. The question that I wanted to ask them was, "So that acknowledges that the original system wasn't counting those listeners? Is that what you're telling us, really?"

Kirk: It did sound like they were trying to say, though under certain conditions, certain audio, certain environments, that they weren't.

Scott: Which I think you call real world, situations [inaudible 00:05:54].

Kirk: Yeah, what we call real world.

Scott: If you put a PPM in a lab, even here... they're saying now it only needs to hear one set of encoding in a minute to be able to count that minute, which is supposed to be an improvement over what they've been doing with all that.

Kirk: That's different than the way it is now, you think?

Scott: Now, I think they said it takes four for it to count. It's going to be interesting to watch this play out. And Geoff will tell you when he comes on the show, as he told, he said, "They've got the box now." So far all that Nielsen has said is, "We will have the box next year, maybe." So it's going to be interesting to watch this play out. Of course, Voltair has its new software out, the 2.0 and the 2.2 coming. So there's a lot to talk about there.

Then, of course, the dog that didn't bark, all this AM improvement stuff. The FCC this afternoon basically came here and said, "We can't tell you anything. We don't know yet." Nothing has been decided. It does not sound like these AM stations are likely to get the translators that they so desperately want and need. So this has been going on, what is it? Five years now? Six years that they've been promising this? We've heard nothing yet.

Kirk: Wow. If it wasn't for [inaudible 00:07:03], would there be any force in the FCC trying to move something forward?

Scott: There has been some movement. There's actually another Commissioner now. He has made the play for it. So it's always easy. As one of my Washington lawyer friend once told me, "You can always get two votes for anything at the Commission." It's getting that third one.

Kirk: Got you.

Scott: That's always the tough one so we shall see where this all goes.

Kirk: Scott, we got a bunch of people to talk to and I really appreciate you stopping by.

Scott: Absolutely.

Kirk: Thanks so much and Northeast Radio watches your paywalled offering.

Scott: It is. It is available at fybush.com, F-Y-B-U-S-H, every Monday all the news and what's happening in the Northeast. Then Tower Site of the week, every Friday. It's free for the viewing at fybush.com.

Kirk: Cool. Tower Site of the week.

Scott: Check out all these stories of great tower sites around the nation.

Kirk: You post those on Facebook or notification that you post [inaudible 00:07:48].

Scott: They usually go up on Facebook. I've got a mailing, too, on the website. Sign up for the mailing list. You'll get an email every time something's posted. How cool is that?

Kirk: Tower Site Calendar for 2016. There you go.

Chris: Get one today.

Kirk: What's your favorite tower in here?

Scott: I'll tell you. The neatest one in here, I think, and I'm a little biased on this, but there is... check this out here. Everybody knows about the big Blaw-Knox towers.

Kirk: Yeah, I like them.

Scott: WSM in Nashville, WLW in Cincinnati. It used to be [inaudible 00:08:16] fell down. Well, check this out.

Kirk: That's a skinny looking Blaw-Knox.

Scott: It's a little baby Blaw-Knox. There were three of these in central California.

Kirk: So where's that one at?

Scott: That was in Bakersfield. That's not even there anymore.

Kirk: Wow.

Scott: There's one in Bakersfield, one in Tulare and there's one that's still there in Stockton.

Kirk: Wow. I learned something new.

Scott: It's got lights...

Kirk: Thanks again, buddy. Appreciate it.

Scott: Thank you, Kirk. All right.

Kirk: You're watching This Week in Radio Tech. I'm Kirk Harnack along with Chris Tobin in the studio and guys from Queen, the GFQ network. Hey, our show is brought to you in part by the folks at Axia and if you give me a second, I'm going to grab this. This is actually an Axia xNode. I got one right here in front of me that I can show off to you. What is an xNode and why would you need one anyway?

Well, first, we'll start with that. You know, most of the gear in your radio station doesn't have an audio over IP jack on it. Now more and more stuff is getting it. Automation systems, profanity delays, phone systems, IP audio codecs, things like that, are getting them. But still not everything does. You've got turntables, maybe.

Maybe you've got a [inaudible 00:09:23] machine you still use. Maybe you have speakers, microphones, other gear that you need to hang on to, you need to use. Then you need to hook it up, the rest of your AoIP system. Well, the xNode is what does that. It converts audio into AoIP and AoIP back into audio whether it be analog audio, mic level audio or AES digital audio. Well, let's take a look at the back of this guy.

Here's the front. It's well-designed. It's half a rack width. So you can stack two of these, side-by-side, in a rack. You can also power it two different ways. Every one has redundant power.

You've got commercial power right there and you've also got POE power that can power this thing. If you hook it to a switch or put an inline power injector, you can power this another way and by SNMP, this can report to you, I'm sorry, the switch can report to you whether or not this is drawing power. So you can determine that way if you got a problem with your short power, your commercial power. Well, this is a mixed-signal xNode. It's really useful to stick in places where you might have a couple different things to get on the network. It's got a mic level input right here, a super high-quality mic preamp right there.

No processing on it. That's done in an engine, in a studio environment. But this will take your mic input. If you don't need a mic input, though, you need a line input, you just plug it into the normal line input jack and you can set it up to be a line input. You've got a total of three stereo line inputs and three stereo line outputs plus there is an AES digital input and output on the back of this. There's also... you might need a contact closure coming in or going out so there's a GPIO node built into this, a couple GPIO ports.

So you've got five GPI's, five GPO's on each of these two ports. A total, in this box, of 10 GPIs, 10 GPOs. You could put this at a transmitter site and have yourself some backup remote control. Imagine this, get an IP radio like an inexpensive ubiquity IP radio or maybe a double radius or other brand of high-quality IP radio. Run out to your transmitter site with that hooked into this with real live wire. You'll have complete control and reading of the GPIOs as well as audio input and output.

Lots of possibilities. This is, again, the xNode. This is the mixed-signal xNode. They're also available, all mic inputs, line outputs, all line inputs and outputs and all AES inputs and outputs. So available in several different ways and from the linear acoustic division of the Telos Alliance, they've got one that's SDI, SDI loop through. In fact, two SDI loop through.

So if you need to get a television audio in and out of an SDI environment, it's definitely the way to go. Thanks a lot to Axia audio and the Axia xNode for sponsoring This Week in Radio Tech. Hey, I got about eight of these around my radio stations. Hook up all my satellite receivers to them, legacy receivers. Okay. Next, I think we've got... Charles Kenny's phone just rang. So he may be busy for a minute or two. We're told he's coming. Okay. Hey, man, how are you?

Charles: I had to talk to my [inaudible 00:12:35].

Kirk: Let me see if I can get you in here. Guess what, we've got to stand back or turn the camera up a little bit, buddy. You want to sit down?

Charles: I'll take a stool and then we'll be the same height.

Kirk: Come on in. Come on in. So this is... you've got to get closer. We've got the microphone here. There we go. How about that? How about that? All right. Good deal. So this is your party.

Charles: This is my little store here.

Kirk: It's your party and your cry if you want to.

Charles: No crying, there's no crying in AM Radio.

Kirk: So I think one of the first times I met you, maybe 12, 15 years ago, was probably at this transmitter site.

Charles: Quite possibly.

Kirk: We came out here and looked at audio processing.

Charles: We did. I think we were playing some AC radio back then. We needed a processor for that.

Kirk: All right.

Charles: The processor was great.

Kirk: So here we are. This site to me looks fairly modern. But the site itself is actually pretty old. Tell us about... well, we're 50,000 watts, 750 kilohertz, you can hear your guys in what? 36, 38, 40 states? I don't know.

Charles: 26, reliably.

Kirk: Reliably. So tell me about the site that we're at.

Charles: So this site was originally built in 1930. It was the third site actually for WSBAM as they upgraded over the years from 100 watts initially to 500 watts when it was a long wire system above the Biltmore Hotel, which those towers still exist in Atlanta.

Kirk: Really?

Charles: It's actually still lit in red neon at night.

Kirk: Oh, my goodness.

Charles: Then there was a 5-kilowatt site on the other side of town and finally 50 kilowatts here, which was actually on 740 when it went on the air. So the tower is actually a halfway at 740. In 1941, I believe, there was a frequency shift across the clear channel AMs. So WSB got at 750. Unfortunately, from a tower standpoint, we moved in the right direction. Now we're 181° instead of 180°.

Kirk: That's an interesting number. Tell me what that means for how the station gets out and covers the ground and sky wave, too.

Charles: The sky wave is really great with a halfway tower. It's got a good-looking left out frequency. The ground wave is, unfortunately, very boring. It bears to say that WSB probably has one of the smallest ground waves for a 50-kilowatt clear anywhere in the country. Stone Mountain, which is the largest outcropping of granite in the world, is a few miles from here. Everything under here is granite. Granite has shown to be a very poor conductor.

Kirk: So the ground conductivity in north Georgia is not the best?

Charles: The ground conductivity of this site is less than .25.

Kirk: Oh, I think that's bad.

Charles: That's quite bad.

Kirk: What's seawater? Like 30 or something 15?

Charles: Seawater would be 30, at least. Maybe more, depending on how salty it is.

Kirk: All right. So good and bad. Now, quick... tower height. If your tower was a little taller and it's five-eighths of a wave, I hear that's good for ground wave.

Charles: I'm not familiar [inaudible 00:15:43]. Ground wave is so related to daytime. So five-eighths actually was originally to get more sky wave, to get a better looking... better bounce off the atmosphere.

Kirk: But a shorter down to about a quarter wave is good for ground wave, too, right?

Charles: Quarter wave is good for getting the right efficiency and having a more economical tower.

Kirk: Okay. So there's that [inaudible 00:16:07].

Charles: So a quarter wave is... yeah. Now the FCC is actually pretty much has standardized on quarter waves so everybody had a fair [inaudible 00:16:13].

Kirk: Now I posted another video, not on GFQ network. We'll try to get it on GFQ, in YouTube. It's on my Facebook feed right now. But it was you... it was a quick look at the tower and the big insulators. Tell me about the insulators that hold the tower up.

Charles: Those insulators actually, when they were built, they were built by the Lab Corporation which is still in business and mostly does stuff for power companies, for high-voltage. They have been running or been sitting there happily since 1930, which is amazing given it's essentially a big piece of glass.

Kirk: What would be a failure mode of an insulator? A crack, water in it, maybe?

Charles: Yeah, that's generally the scenario, it cracks, water gets in. The worst-case scenario, fail completely. But that pretty rare, I guess.

Kirk: Do you have a spare?

Charles: For those insulators, we do not have spares. Lab's answer to that when I talked to them about it five years ago was that they would be happy to build me new ones if I sent the old ones back. So I thought that that would be a little bit of a challenge. Those insulators are actually rated for the station to be broadcasting it 500 kilowatts.

Kirk: You know, if you ever had to take them out, to send them back to Lab, you just go to the hardware store and get a 50,000-watt insulated jack.

Charles: That's right.

Kirk: Like a house jack.

Charles: [Inaudible 00:17:29].

Kirk: Made out of plastic.

Charles: Yup, and I actually... at another site that Cox has, we recently did change out the base insulators on self-supporter. I don't ever want to watch that done again.

Kirk: All right. So let's look at inside the building here. We've panned around earlier. Let's pan around now. Where do you want to start... just keep sitting where you are. But we'll pan the camera. You want to start with the on-air transmitter?

Charles: So the on-air transmitter is a Harris GatesAir 3DX50. We've had that on the air now for about nine or 10 years. Solid state. For the most part, we've been fairly happy with it.

Kirk: So it's your main transmitter?

Charles: It is the main.

Kirk: Okay. Does it require a regular maintenance, cleaning or anything? I mean, it's all solid [inaudible 00:18:21], right?

Charles: Mostly just changing the filters and the site, we're fortunate to have the closed air system in the room here. So dust isn't much of a problem.

Kirk: I know. I hear it. All right. Let's look at the central rack here. What are you having from there?

Charles: Audio processing and, frankly, most of it is just older equipment that we left in because we thought it looked to be from back in the day where one-point WSB was doing AM stereos. [Inaudible 00:18:47] here. We've got ISDN unit for...

Kirk: For backup?

Charles: Emergency backup and from an air standpoint. MOD monitor, of course. We've got some [inaudible 00:19:02] meters that are looking at [torrents 00:19:03] for current samples. Then SDL.

Kirk: Yeah, that's the Harris [inaudible 00:19:09] HD length.

Charles: The Harris HD length.

Kirk: Then we have one more little rack over here. It looks like it was part of maybe...

Charles: This was the original AHD equipment. While the rack looks nice, especially when it's lit up, we haven't had too much success for that for a while.

Kirk: Then next, we have another transmitter.

Charles: Then we've got a regular DX50. Vanna, will you please show off the transmitter? With Rick Venson helping. That actually went in in 1999, complete with output network meters and monitoring. It's actually been just a workhorse and no matter what's going on, if we need that thing to turn on, it'll come on and run and be happy about it.

Kirk: Okay. So two big solid-state transmitters. That's not so different than over at WSM in Nashville. Sorry, I moved the camera too far. There we go. I was wondering, how come I'm not in the picture? Where's me? WSM in Nashville, I think has the same two transmitters.

Charles: Very similar.

Kirk: They alternate theirs. All right. So what about the building and the site? When you guys put this here there wasn't Fuddruckers and there wasn't a PetSmart over here, was there?

Charles: No. When this site was built, it actually was in the middle of nowhere in what's called Tucker, Georgia now. But in 1930, it was a cow pasture. So the legend has it, the chief engineer at that point in time at WSB was a farmer and it was close to his farm, so it was convenient for him to go to the site and make it back home. The unfortunate part was he picked an area that probably had the worst ground conductivity in the whole metro area. But it's still a very nice site.

But in 1980, the company started looking around as FM took hold and AM started to become less popular. So at that point, also, the city had grown out. So they had built a big shopping mall across the street. This land became very valuable and Cox being very wise at business, worked a deal with the developer to develop the land into a big shopping center. At that point time, we got a brand new ground system before it was paved over. So, believe it or not, the radials are still there. Every so often, they have to do work and they'll open it up and there they are.

Kirk: Have you seen any kind of deterioration of the copper radials?

Charles: We really haven't.

Kirk: Wow.

Charles: It's really been amazing. So Cox gets the land and we still broadcast.

Kirk: With all that parking lot being over the ground radials, it's kind of hard to steal them.

Charles: Yeah, that is definitely one of the [inaudible 00:21:57].

Kirk: That is the problem for some stations.

Charles: So, hopefully, none of your viewers have anything to pull a fast one.

Kirk: So you're maintaining this site as it is. Do you see any change in the future for a site like this? Or, if you did, you couldn't tell me about it?

Charles: Well, I really don't. If we were to move this site, first of all, it has to try to get zoning and especially having to deal with neighbors with a 50-kilowatt AM would be disastrous. We really wouldn't get much of an advantage. If we were on the other side of town, the ground conductivity would go from .25 to .75, which is really not much of an improvement.

Kirk: Okay. It's interesting that in so many places, people complain about a radio station neighbor. Now you guys were definitely here first and when the developer purchased the property from you, from Cox, they...

Charles: They didn't purchase it. It's only a lease.

Kirk: Oh, it's leased. It's leased, okay.

Charles: We own the property.

Kirk: But they went in... I'm sure engineers were involved. Eyes wide open, here's what you can expect, problem-wise, over the years, radio station in your telephones, things like that.

Charles: The lease is actually pretty fantastic in that it's very specific what any tenant moving in has to do. Unlike most buildings, where you put a conduit together, put a little screw on and call it a day, everything here is soldered. It's all bonded. It's all bonded back to the main ground system. Studs were all bonded. It's really one heck of a process to go through.

Kirk: So if I wanted to move into one of the buildings around here and remodel it, I've got to follow the lease that...

Charles: You have to follow the lease and you have to allow either me or one of my guys to come inspect it. So it's not enough to get the Cab County Electrical Inspection.

Kirk: But they probably don't have much problem with their telephones and other things, do they?

Charles: They don't. That being said, once you exit the land that we own, then it's kind of a free-for-all. There's a lot of great stories related to that and cleaning people calling demanding that I suddenly turned off the AM to which my response is, "Where were you in 1930?" But the best story that actually made the Atlanta Journal, it's a local... obviously, Cox owns the newspaper. An OB/GYN moved in down the street and built a very new, modern office. The first day it was open, there was a nice lady.

She was in with the ultrasound tech. The ultrasound tech was rubbing her belly and said, "Would you like to hear the baby's heartbeat?" She said, "Oh, that would be wonderful." Out of the speaker came WSB talk show host Neal Boortz. The next day on the front page of the Business Section of the Atlanta Journal-Constitution was, "It's a boy. It's a girl. It's a Boortz." So we've definitely had some interesting calls about this site.

Kirk: I don't know how we can improve on that story. That's fantastic. How about in a 50-kilowatt AM site, the tower is just right outside that wall right there.

Charles: It is.

Kirk: What kind of problems do you, yourself, have engineering in this place?

Charles: Well, this entire building was originally designed by the chief engineer at the time, named Ron Wilson who had been a long time Chief Engineer at WSB. This entire building is a Faraday cage. There are actually places where pass-throughs we're put into concrete and you can see the copper screens.

Kirk: Really? Now we got a door open right now so that kind of blows the Faraday cage thing out...

Charles: That does kind of blow that out on the water.

Kirk: What's amazing, though, look, my USB stick here is working. The little modem is working. All this stuff, even these little speakers are working which really surprised me. Wow. Charles, anything else?

Charles: Listen to 750.

Kirk: I do. It comes in at night at Nashville. No problem.

Charles: Absolutely.

Kirk: No problem. Man, good talk to you.

Charles: Thanks so much for having us.

Kirk: Okay, take care. It's Charles Kinney. He is the Director of Engineering for radio here in Atlanta for Cox Radio, Cox Media. In association, well, at the same time as the NAB radio show, he thought it'd be a great idea to invite a lot of engineers out here. So we all had barbecue and macaroni and cheese and some kind of...

Charles: And RF.

Kirk: And RF, yes. What's the volts per meter around here? Well, inside is not bad but...

Charles: Inside is not bad.

Kirk: But out...

Charles: Outside it's [inaudible 00:26:23].

Kirk: Ten volts per meter? More? Up to 50 volts a meter? So you being tall, you got more across you than most folks but...

Charles: If I start to get into your wavelength at 750, I've got a big problem.

Kirk: That's right. That's right. All right. Sorry, if you couldn't hear. Charles said if he gets near a wavelength of 750, then he's got other problems. Yeah, our show, This Week in Radio Tech, is being brought to you in part by the folks at Z/IPStream. That's a new mark of the Telos Alliance.

Z/IPStream is a line of streaming processors and encoders, kind of like your new transmitter. You know, for a long time, a lot of us, me included, took streaming on the Internet as kind of a hobby. Not many listeners out there. Not many folks really realized that they could be tuned in that way. Now streaming is pretty important. There are close to 140 million people listening to a stream at least one time in a month.

That's almost half the population of the US listening to a stream once a month. By the way, that's a US number for 2015. So it just grows and grows. More and more people have been using their cell phones to do streaming in their cars. Of course, eventually, we'll have cars that have streaming dashboards. They'll have connected dashboards.

So what do you want to do as a broadcaster or as some other content creator? Maybe you run an Internet radio station. Well, you want that not only to sound good. Of course, you want to sound good. You want your listeners to be able to listen to it easily, have it sound good for them, if you are sending metadata with graphics with your title and artist, with your call letters or your slogan, you want that all to happen with ease. Now only ease for you but, of course, ease for the people who are listening.

Well, Telos has a whole new line of products. Some of them new, some of them have been around a little while, called Z/IPStream. There's the Z/IPStream R1. That's a one-rack unit box that'll take one audio coming in and turn it into a couple of different streams.

There's the new Z/IPStream R2, which was just introduced at the IBC show in Amsterdam about a month ago. The Z/IPStream R2 will do eight audio inputs and turn that into plenty of streams, multiple, 40, 50 different types of streams, different bit rates, different algorithms if you like, sending to different geographical locations to wherever your content distribution network or you CDN is. Of course, they do all kinds of metadata. Make it easy to get metadata from your automation system onto your streams.

Then there are other products, too. There are software-only products like the Z/IPStream X1 and the Z/IPStream X2. I'm using Z/IPStream 9X2. That's got the Omnia.9 processing option built into it at some of my radio stations and using ordinary Z/IPStream X2 at my other stations. Something cool about many... well, all the new streaming products from Z/IPStream is that they're capable of doing adaptive rate streaming.

That's where you're actually producing several streams, same audio and the same... the blocks are aligned. But they produce them in several different bit rates. So for example, there's Apple HLS streaming now. There's Microsoft Smooth Streaming and there's a standard called MPEG DASH, dynamic adaptive streaming. So there are all these things that are important. It's like features in a transmitter.

Consider your streaming processing and encoding like your transmitter and you'll see how important it is to the success of your business, your stream, your radio station or if you're a content creator, that you don't have a regular over the air transmitter but you depend on over the web streaming. You need to check these products out. Go to telosalliance.com, telosalliance.com and look for our streaming processing and encoding products. Check them out there.

There are also PCIe cards that do processing and streaming as well. Check those out. Those are from our partner, SOUND4. They're now part of the Z/IPStream family. Thanks to Telos Alliance and Z/IPStream for sponsoring This Week in Radio Tech. Hey, Chris Tobin, you still with us?

Chris: Certainly.

Kirk: What do you think about this WSB transmitter site?

Chris: It's excellent. I love it. Nothing like a Faraday cage for a transmitter site.

Kirk: Of course, you yourself, you've been responsible for probably a number of 50-kilowatt AM sites.

Chris: Yes, yes. When we got those calls from the neighbors, when they put in a new phone system or a new phone in their home or office, when they would call me and complain and say that they can hear the music or, in my case, one station was talk, on their phone, I just said to them, "Well, you should be grateful. We normally charge you for music on hold." On several of those calls, I never heard back from anyone. But I have to give credit to Doc Misumi. He's the one who taught me that.

He was the engineer at WQXRA AM and FM in New York City. Their AM station was smack in the middle of Queens, Maspeth, Queens so they were surrounded by residents. He'd get calls on a regular basis and he would just tell them. "Well, we normally charge for music on hold so just to me where to send the invoice and I'll be more than happy to help you out." They would hang up on him or they would just be silent and say, "Well, that's okay. Thank you."

Kirk: [Inaudible 00:31:42].

Chris: He was trying to kid with them and, well, they just never called back. So I've been using it ever since. It works out nice. But, yes, AM sites are tough. They're a challenge to both the community around as well as inside the transmitter room itself.

Kirk: You know, one of the things I like about AM sites is that they tend to force an engineer to use a lot of different engineering talents, a lot of physical, chemical talents of interpersonal relationships like with neighbors talents as well as good RF engineering. More so than if your FM antenna is 1000 feet up in the air.

Chris: Absolutely. Also, the best situations are when you have the cable company calling you up and telling you that they're complaining and you're interfering with them and you go to them, "Well, how about we go to the distribution app on the pole halfway down the block that has three stubs hanging off it and maybe, just maybe, if you decide to terminate them, we could get rid of your problem." I've had that happen, too.

Kirk: Yup, I hear you. Well, hey, let's move on. We've got Charles Wooten, Charlie Wooten with us. Hey, Charles.

Charles: How you doing, Kirk?

Kirk: How you doing? I address you by your call sign and I forgot it. What is it?

Charles: NF4A.

Kirk: NF4A. Can you hear Charlie okay? Do I need to move the mic a little bit?

Charles: Oh, yeah.

Kirk: All right. There we go. I'm trying to get the mic out of the sight line anyway. Glad you're here.

Charles: Glad to be here. First time I've seen WSB even though I've lived in the South all my life. It's the first time I've been to this site.

Kirk: So you've lived places, what, besides Panama City?

Charles: Actually, the only places I've ever lived are Panama City, Florida and Washington DC.

Kirk: But it's not too far from Atlanta.

Charles: No, it's not far from Atlanta.

Kirk: It's kind of like the New York City for us Southerners.

Charles: New York City, yeah.

Kirk: You've been on the show before talking about ham radio, but also about broadcast. I see you doing a lot of posting on Facebook about your various challenges and opportunities with transmitter sites.

Charles: Right. I do, in addition to working for iHeart, formerly Clear Channel, I do a couple of little mom and pops on the side and ran into an interesting problem the other day. I was going to put in 3CX 10,000 or 15,000 for Family Life Radio.

Kirk: An FM transmitter?

Charles: In an FM transmitter.

Kirk: A tube?

Charles: A tube, yeah. Well, I figured if anybody is listening to TWiRT would know what a 3CX is.

Kirk: For some reason, I was thinking about a model of CCA transmitter.

Charles: No, no.

Kirk: It's a tube.

Charles: But it was in a CCA transmitter.

Kirk: That's why. It's a triangle.

Charles: Rounded grid.

Kirk: Rounded grid transmitter, okay.

Charles: Well, they snipped the tube from the rebuilder and took the other one out, tried to put it into the blocker. It wouldn't fit. I got to looking and where they had rebuilt the tube, they'd made it about probably no more than 1/32nd too big. That blocker wouldn't have anything to do with it.

Kirk: It wouldn't fit on there.

Charles: So I had to put the old tube back in, get them to send me another tube and put it back on there.

Kirk: Now, would the blocker have fit if you took out the insulation?

Charles: It would have fit wonderfully. But it wouldn't have been a blocker then. It would have been a dead short. Yeah, damn it. But anyhow, you run into things. I told my wife, Jennifer, "I'll be back in an hour," because I knew how long to change the tube.

Kirk: If everything goes well, it doesn't take long at all.

Charles: So about two and a half hours, I get back grumbling because that's what makes it interesting. Things that you think are going to be simple, you know it's wrong. You're going to go out there. You're going to put this and fix it, come back home and it never works out. Or it doesn't work out every time. It works out sometimes, but not very often.

Kirk: So to finish that story, I guess you had to put the old tube back in.

Charles: I had to put the old tube back in, send the other one back. They had to send me another one, put it in and it fit perfectly and everything was fine. I mean, you could actually feel a ridge around the edge. I think you might have seen my post. But there was actually a ridge around the tube.

Kirk: How would you guess that that happened? Why was that tube so far out of mechanical tolerance?

Charles: Well, sometimes they build tubes to go in other things that don't necessarily have a blocker around them where they might just attach to the plate cover. So they may not have paid as much attention to that tolerance as they should have. But I know I've run into that problem before with the 3CX 3000 with a certain brand of transmitter. They always want to... make sure you tell them it's for this transmitter because then they'll take a mic and check it, make sure it's the correct dimension. I've been enjoying doing some mom and pop work on the side here the last couple of months.

I put in a new GatesAir transmitter. It's the most plug-and-play transmitter I've ever...

Kirk: Tell me about that. FM?

Charles: FM, what we call a FAX10, 10 kilowatts. I mean, you can move around like a refrigerator. I mean, of course, you didn't have it hooked up or anything. You didn't have the modules in it or the power supply in it, but you could put it exactly where you wanted it. We had taken out an older continental transmitter, which we had to have five people. We had to put it on an inch and a quarter pipe to roll it around and move it much [inaudible 00:37:00].

Kirk: It was that heavy.

Charles: 1,967 pounds.

Kirk: That's heavy.

Charles: So when we put this FAX10 in, we just brought it over, set it in, plugged it in, hooked the electrical plug in the modules. On the air, no problem.

Kirk: Does a FAX10 have an IP connection to it?

Charles: Yes, it does.

Kirk: So you got [inaudible 00:37:20] into it or [inaudible 00:37:21].

Charles: It's got a browser for the exciter in and for the controller, for the power amplifier. I've got a computer there... it's the first time I've really ever been able to do this at a transmitter site. I've got a computer. I've got a switch. I've got the [inaudible 00:37:39] receiver. It's a GatesAir HD length, got it going to the switch.

I have the processor, the 8600 [inaudible 00:37:48] to the switch. I've got the transmitter going through the switch. I've got all these things going through the switch and I can just hit an icon on the desktop shortcut and go to that device and look at it.

Kirk: Sure, sure.

Charles: It's really cool. Plus, we bought the Burk, I think it's what they call it. But it's an interface with the FAX transmitter where you just plug in this box that Burk furnishes into the network and all of your meter readings magically show up and they're calibrated and they're labeled already. It tells you all of the things you need to know.

Kirk: Wow.

Charles: Really, we need to be able to do that. It's the first time I've been able to really use IP at a transmitter site like that.

Kirk: How did you get Internet connectivity to this transmitter site?

Charles: Telco. Unfortunately, it's a DSL line, but it's good enough.

Kirk: I've been raving lately. I know I'm not the smartest guy in the world. I know other people have done this. But I installed a couple Ubiquiti radios.

Charles: Right, right.

Kirk: The little bitty ones, babies first [inaudible 00:38:51].

Charles: Yeah, right.

Kirk: Now I've got Internet connectivity. Not only do I have remote control transmitter out there, but I'm running a Livewire over it. So my audio goes over that way perfectly linearly. It's just, to me, I'm still wrapping my head around the convenience of doing this.

Charles: Well, I had some limited IP at one of my other transmitter sites but not to the extent... this has been able... I'd been able to do with this station, of all places, south Alabama. Very sophisticated setup for a little south Alabama radio station.

Kirk: But you can maintain it more easily this way.

Charles: Yeah, absolutely. There's a PC there on site. If there's a problem or if I'm going out there to work, I'm more likely not to walk up to the equipment to the desk with the computer. I'm more likely to pull up a chair and go to the computer rather than look at the transmitter or to the SGL, whatever device I'm wondering about.

Kirk: You know, I was just thinking that a few years ago if I asked you for an engineering tip of the day or something, you might talk about filament voltage management, stuff like that.

Charles: Right.

Kirk: Actually, with that 3CX 15,000, it's still a good talk.

Charles: Very important.

Kirk: But what about with modern transmitters? Do you have a tip that you've found for taking care of these modern solid-state transmitters?

Charles: They are so cotton-picking reliable. The only thing I can tell you to do is to keep the air filters clean. I mean, I'm serious. You might want to check where the AC comes in, make sure those power connections are tight. Check them every six or eight months. But the air filters, that's all you really need to worry about.

Kirk: If you're out at a remote site with no conveniences around, how can you clean an air filter? You bring a vacuum with you or [inaudible 00:40:38]?

Charles: What I do, I have two sets of air filters. So if they're the reusable filters, I put a set in, take them to where I have air or water or whatever I need to clean them with. Then I've got them for the next time.

Kirk: Cool.

Charles: But most of the transmitters you can get one-time filters. You can buy them and get them or you can get a sheet metal shop to make you a bracket where you can slide them in. I've done that on a couple of transmitters, too.

Kirk: So, in leaving, when's the time that you're going to be occupying your Hunt Club again?

Charles: That starts at Thanksgiving morning. Actually, the first big meal, what you're probably thinking about...

Kirk: Sure, that's what you get.

Charles: ...is a Wednesday night before Thanksgiving morning. We put on a big theme for that one.

Kirk: Charles, thank you so much for being with us.

Charles: All right, good to here. Enjoy.

Kirk: We appreciate it. Thanks for bringing your lovely wife, too.

Charles: All right, thank you.

Kirk: Hey, you're watching This Week in Radio Tech. What time is it? We got another 15, 20 minutes to go. Who do we have next? Geoff? All right, come on over, Geoff. You want to stand or sit? It's up to you.

Geoff: I don't know. You tell me what to do.

Kirk: How about we stand? You're on the tall side there. I was in the middle of saying you're watching This Week in Radio Tech. It's our weekly podcast. This is episode 276, I think. This Week in Radio Tech, we've been doing this a while. Chris Tobin is with us. He's in-studio and I'll bet you Chris Tobin will end up having a question or two for you because he is a big market guy. He's market number one.

Geoff: So, [inaudible 00:42:10] with the guy?

Kirk: Yes.

Geoff: Hey, Chris.

Chris: Hey, there.

Kirk: We can hear you good.

Chris: Good. I was just playing a little machine that's got the Voltair guy with the hat. Or is that a different place? Sorry.

Kirk: So Geoff, this is Geoff Steadman. He is in-charge of the 25/7 division and the inventor of many things, but [inaudible 00:42:33]...

Geoff: Well, I had a lot of help.

Kirk: A lot of help, yeah. I like this Voltair shirt.

Geoff: It's brand new.

Kirk: We work at the same company. How do I get one of those?

Geoff: You talk to Jim Armstrong and we grab one for you and Eddie out of the bag.

Chris: Good luck talking to Jim Armstrong.

Kirk: All right. So, Geoff, today at the NAB show, I guess the big news was you gave a talk about some new features coming out in Voltair. You also reminded folks of what the Voltair does.

Geoff: Right.

Kirk: You also made an interesting statement about, hey, whether or not you have a Voltair, your audio processing has an effect on watermarking, which is in this country, known as PPM. Right after you came on or a half-hour later, some folks from Nielsen came on to talk about some improvements that they have planned for their technology. I just opened a big barn door here to talk about. What could you tell us about the events of today?

Geoff: Well, let's see. First, I would say, yes, to your first point, it's absolutely true that regular processing has a huge effect on encoding and encoding quality. What we were stressing today, and this is on the back end of our launch of Voltair 2.0 last week, which is really all about monitoring and analytics. Some of the things that we've learned from our new visibility into the whole watermarking system is what can we do to help us optimize processing and placement within the processing chain to really make the encoders kick? Since they rolled out, you had a red light and you had a green light. What I will say is it's insufficient for what you're attempting to make.

It's pass-fail. It's either on or it failed three minutes ago. And in the highly competitive world we live in, it's not enough. What we introduced and we talked about was really that it's more of the quality of service issue, is that we want to have a grade. I mean, you think about a pass-fail grade, there's a lot between a D-minus and an A-plus. We all strive for A-plus. We all strive for as good as we can get, or at least we ought to, and competitive people do.

Really, Voltair is a tool and especially the monitoring, with the insight it provides, it's a tool to help you figure... navigate this whole area where once you were told, "Oh, you don't need to know anything. It's irrelevant." But it is relevant. We know that and a lot of astute broadcasters have proven it to themselves.

Kirk: I'm just reminded. I should have prefaced this a bit more because probably the majority of our audience are not in markets where they have PPM measurement. They still do diary measurement or they're in other countries where they either do no measurement or some other kind of telephone call out and so forth. So what we're talking about here is technology where watermarking is done with the transmitted audio from AM/FM radio stations and also Internet streams and then panelists, a certain number of people in each market, are sent a little pager-like device that has a microphone. It listens to whatever that the person is exposed to.

When it hears those watermarks, which it can hear but people generally cannot hear because of the way they're hidden in the audio, it records that that person was exposed to this radio station or that radio station or this Internet stream or that Internet stream. All that, theoretically, can work okay. The problem comes about when some of the audio content that some radio stations and other broadcasters choose to play, maybe it's a quiet symphony or some staccato talk or some talk that's got a lot of quiet, maybe it's the Charlie Rose show...

Geoff: Or dead air.

Kirk: Or dead air. There's no place for the watermarking to occur. There's no place to put these secret tones in the audio. So, therefore, credit cannot be given to the broadcaster for somebody listening. So the idea here is to improve the opportunities for those watermark notes. But also, with the technology that broadcasters have been sold, I'd say given but really, sold, so far, all we've had is you refer to as pass-fail.

Geoff: Right.

Kirk: If you've got a kid in school and you get a report card that says pass or fail for a few things, you've got to know that there is a big possibility in the child's outcome in real life compared to pass-fail. The child may be so close to failing all the time and yet he's passing all the time that it's not good enough for the parent just to know pass-fail. So it's not good enough for the engineer or the program director to just know pass-fail on my PPL data. They've got to have some qualitative, how good is this?

Geoff: They want to know and they want to have this visibility. I mean, we're broadcasters. We measure everything. We've got monitors on everything and increasingly a broadcast, at least in the top markets, is very data-driven. This is another spigot. This is another place where data matters.

There's a new, fresh visibility into something that we've been living with. It really is, I think, the customer's right to know how the system is working. I mean, that's really the sort of 10,000-foot view. It's enabling technology. It is about visibility. That's where we started this thing.

Sometimes, I cast this in terms of, at least within our Telos family, the Telos [inaudible 00:48:36], our audio over IP with Axia, that these were all very new, very big leaps in terms of new tech. Sometimes, new tech is disruptive. Sometimes, it has to make a splash in the market in and waves ripple through the pond and then we shake things out and we try to make it better.

But it's an issue of continuous improvement. This is a place where the sun hasn't shined and we opened the windows a bit. We took a big risk to do it and we've gotten a lot of applause from... our engineers are saying, "Well, attaboy." Good on you." I will tell you we took a big risk to build this unit. We did a deep dive in the tech. We did it very quietly for many years. We didn't really know what we were going to get on the other side.

The first field test of it, the goal was to prove that we were doing no harm. That was the first thing out and then to see... now we've proven we're doing no harm. Now can we improve things? Can we help things? It's been a rocket ride for us. I mean, we're up to 800 units out there in about a calendar year.

Kirk: Two a day. More than two a day going in. Wow.

Geoff: It's been enormous and now, circling back to where this intersects with regular audio processing, we're now working with our colleagues within Omnia. That is, what can we learn from Voltair to inform the processing side? So we're working on some new processing presets and some new software updates for our flagship processors on the 9 and the 11 to be... as we're saying, "Voltair aware" is going to be our buzzword for the presets. But we're learning a lot. We've learned a lot. We're going to keep investigating. Now we built this tool that's going to help us learn other things.

Kirk: Now, I've got a follow-up question about what Nielsen said today and about the proposal that Voltair could be monitoring only. I want to ask Chris Tobin. Chris, have you got any questions at this point for Geoff?

Chris: No, no. Geoff has said it all. I just like the "Voltair aware," though. It's a nice one. I think more people should be involved in the PPM discussion. I think Geoff's spot on with the deep dive and what you guys have been discovering and talking and making people aware. You're right. Data is all about what we do in the business and metrics and measuring. I think more of it needs to be done.

Geoff: Yeah, I mean, what's fair to say is if it didn't have an effect, no one would buy it. I mean, it's as simple as that. We put this into the hands of skeptics. Some very highly placed skeptical people that said, "There's no way." Then, three weeks later, "Aha, let's continue the conversation." So we're going to continue to push the envelope.

We are now working on a layer 2 compatible. But actually, we've finished that. We haven't released it yet, other than to a couple of testers. We are working on an analyze-only version of Voltair. This is for our friends to the North.

Kirk: Can you speak more about what you said, layer 2? That was the subject of Nielsen's talk today about an enhanced coding that they're coming out with.

Geoff: PPM has three layers. Only two are really utilized that we know. Layer 2 has not been really... anything really done with it. What it is... the way that the system works is there are 10 frequencies on 12 channels. [Inaudible 00:52:41] and layer 1 and layer 2 are two different groups of these frequencies. So they're sort of mirror images of each other but they're at different center frequencies.

So, originally, they were using or I think that the original idea was to use layer 1 for radio, layer 2 for TV or layer 1 for local and layer 2 for network, but it was that the way to have multiple tones coexist on the same...

Kirk: So you could see who your local affiliate was and who the network originator was.

Geoff: Right, so you could interweave and that a single meter could pick them all up. What we started with, because it was a predominant in the US, was layer 1. We've got layer 2 done. We're now working on an analyze-only mode for Voltair, just for the monitoring functions because that has value. That was really something we actually had a bunch of requests for, especially north of the border.

Kirk: All right, cool. Any other things to say about it?

Geoff: I don't know. I'm just happy to have my barbecue here at WSB. It's quite a transmitter site. Who would have thought in the middle of a shopping mall you'd have a tower like this with the big, 18-foot walls like a castle.

Kirk: It is. What are your 50-kilowatt stations in your neck off the woods, the Boston area?

Geoff: WBC.

Kirk: WBC, yeah.

Geoff: BZ, did I say BZ? Did I mention them? Let's see who else. For AM, I think RKO, EEI, I think, some of the big legacies or legacy guys.

Kirk: Everyone's heard of WBC though.

Geoff: Yeah, I mean, listener, drive by them every day.

Kirk: Well, is their site in the middle of a park, above a shopping mall like this one? No?

Geoff: No. No. They actually got a link out to... there's a whole antennae farm out on 128th. I think they're out there. Actually, maybe they're not. I don't know. I have to ask Scott Fybush. He can tell you the chapter and verse, I'm afraid.

Kirk: But that is worth pointing out. We tend to talk about watermarking on FM stations. But it's on AM stations, too. The tones that are used are easily reproducible by...

Geoff: Well, they're in the 1 to 3-kilohertz range.

Kirk: If you don't have that on the air, you're not a radio station. Good deal. Thanks very much. Thank you very much, Geoff.

Geoff: Kirk, Chris. Great to see you, man.

Chris: Be well. Good to see you. Enjoy the show.

Kirk: I'm going to come get my T-shirt shortly. Eddie, who's next, if anybody?

Chris: [Inaudible 00:55:34].

Kirk: All right. Hey, we are live at the WSB transmitter site in Atlanta, Georgia. Here's a good, southern boy. How you doing?

Johns: Hi, I'm fine. How are you doing?

Kirk: I'm fantastic. Chris Tobin, I don't know if you know this gentleman. If you don't, you should.

Johns: Yep, Johns George.

Kirk: Johns George.

Chris: I know the name. I know the name.

Kirk: [inaudible 00:55:52] Chris Tobin is my cohost.

John: Yes, I know.

Chris: He might pepper you with questions from the northeast.

Johns: Oh, gosh. I'm in trouble then.

Kirk: You've been in radio a lot.

Johns: I have been, actually. I started in radio in this market in 1968 at a station called WUKXI FM.

Kirk: Kickxie.

Johns: Yeah, which later became Quicksie FM, which star...

Kirk: QXI?

Johns: Yeah, exactly.

Kirk: Well, I want to give a quick introduction to John. Now I've always known John as a sales rep for one company or another. But you started in radio.

John: I started in radio.

Kirk: You on the air?

John: On the air for a while.

Kirk: Did engineering?

John: Did engineering, sales and even ownership.

Kirk: So this is what I have a say about John, is that because he's done so many things, he's like a lot of us. Chris, you've been on the air. Andrew Zarian, running the show right now, he's been on the air on his own network for so long. So you come from this background of it, actually knowing what you're talking about.

John: That's right.

Kirk: What people like about you, John, is your easy-going style.

John: Well, thank you.

Kirk: People enjoy talking to you. So that's why I invited you to come talk to us for a while.

John: Thank you. Thank you.

Kirk: So with our specialty, I think one of the things that are interesting to talk about is what are people interested in nowadays. What's hot? What do people are asking about?

John: I think the two hot items that we deal with on a day-to-day basis, of course, of translators. That's the new intro into FM broadcasting. I mean, every market has a number of translators that are providing new signals and new sources of programming for those stations. At the same time, OPFM is big. Then, of course, audio over IP. We were just talking about that a few minutes ago with Jim.

People are still not grasping this move from ISDN into IP. I mean, that's the way to go. Those are the hot items these days.

Kirk: Now, one thing that I didn't hear you talk about was traditional broadcasters, people who've had a full power license for a while, what about them doing upgrades? Are you not seeing much of that action?

John: We're seeing some of that. A lot of those broadcasters will do an upgrade when they add a translator. For example, we just had a small market AM who add a translator who completely rebuilt their studios, added all new... well, I'll throw a plug in, Axia equipment and new audio processing. But it actually gave the AM station a brand-new life, not only having the FM there for the translator but it brought new equipment. The community really got excited about what was going on because it wasn't a run-down radio station anymore.

Kirk: Cool. Do you find... are a lot of your customers smaller broadcasters in rural areas?

John: We deal with all sizes, but we're seeing a lot of the large groups work directly with the manufacturers. So we deal a lot with middle size market and small-market broadcasters.

Kirk: Today I talked about streaming in my presentation at NAB. What do you hear from smaller broadcasters asking about streaming, if anything?

John: Well, I think every market, if they're not streaming now, they will be streaming shortly. In conjunction with the streaming, a lot of the really smarter broadcasters are taking their webpages and tying the stream in with the webpage, driving people from their webpage to their stream and back and forth so that if they're listening to a stream, of course, the stream will be off-air in a lot of cases or it may be an independent broadcaster or streamer. But they work it back and forth between their webpage and their stream and that way it makes it a lot more alive for the person who's listening. They can see, almost touch and feel.

Kirk: Got you. You know, some small broadcasters in small towns have the problem of too many high schools playing football on Friday night.

John: Streaming is the success.

Kirk: Exactly, You've got one radio station or maybe two, but you got as the streams as you want them.

John: Right. We have a friend of mine in northeastern South Carolina, up in a little town called Sharon. Bought an AM, she added a translator. She then started her own local newspaper. Now she's driving people to her stream, her translator, her local newspaper using two streams so that she can do both area high school football teams on Friday night and, of course, ties all this in together and co-promotes everything. I mean, it's great for the small broadcaster.

Kirk: Wow, and I remember back in the day when WEKY in Richmond, Kentucky put AM stereo on there and the owner, Mr. Bill Walters, whom I have a great deal of respect for, Bill said, "Can we put the Madison Central game on the left channel and the Madison High School game on the right channel?" I said, "Bill, that'll work for some people with AM stereo radios, but everybody else will hear two ballgames at the same time.

John: That's it. Well, I'll tell you a funny story. We're here at the WSB historic transmitter site. In the late '50s when stereo was really being played around with a lot, back in my hometown of Columbia, South Carolina, they experimented with stereo. They didn't know quite how to deal with it so they talked people into getting two radios. The station had an FM station and an AM station.

They did right channel, only AM and left channel... and you could put the radio side by side and you had stereo.

Kirk: Oh, my goodness. Oh, my goodness.

John: They only did that as a short experiment.

Kirk: When back in the analog days, the delay was about the same on either one.

John: That's exactly right.

Kirk: The digital's messed that up for us. John, thank you so much.

John: It was a pleasure.

Kirk: If folks want to get in touch with RF Specialties and you, where will they all go?

John: Well, you can go to our website, which is rfspec.com or R-F-S-P-E-C.com. They actually have contacts to all our different offices there. So you can get our email addresses, our telephone numbers and give us a call.

Kirk: Besides RF stuff, you have studio stuff, too.

John: Oh, yes, studio and RF. Everything from the microphone to the transmitting antennae.

Kirk: Just like this podcast.

John: Exactly.

Kirk: All right. Thanks a lot, John.

John: Thank you.

Kirk: Take care. Hey, you're watching This Week in Radio Tech. It's Kirk Harnack here at the WSB transmitter site along with Chris Tobin back in studio. Chris, have you got a tip you can come up with us right after our commercial break?

Chris: Actually, I think I do. I think I do.

Kirk: Good. Good, good, good. I'm glad to hear it. Hey, maybe we get one more guest over here? Come on over here, Mr. Mondy. How you doing?

Monty: I'm doing pretty good.

Kirk: Bring your lovely daughter with you. What?

Zipporah: Zipporah.

Kirk: Zipporah.

Monty: It means a small bird.

Kirk: I need to move the camera here real quick, get everybody in here. There we go. There we go. All right. I think we're good. I think we got it. All right. I'll squeeze in here. Everybody squeeze in close.

Monty: All right.

Kirk: Come on here, Zipporah. All right. So I want to introduce you to a friend of mine, Elijah Mondy. I was doing engineering for you when your poor, little broken down a radio station.

Elijah: Sure.

Kirk: You were in West Helena, Arkansas, where you still live.

Elijah: In Helena, Arkansas.

Kirk: Helena, Arkansas, right. I couldn't tell the difference in those two towns.

Elijah: Right.

Kirk: You had a little gospel station. FM, right?

Elijah: Right.

Kirk: That poor little transmitter had been through so many engineers who abused it so badly. It would go off the air and you'd call me from Memphis to come down there and fix it.

Elijah: Right, sure did. We had an AM transmitter, too, that was so old. It was older than dirt.

Kirk: I don't remember working on that one. I thought maybe you were too embarrassed to ask me to work on that one. But I would fix your transmitter and it would run good for another... a few months or something and something else would go wrong. Mice would get into it.

Elijah: Right, and you told me to run the snakes out and everything.

Kirk: Yeah, there you go. Zipporah, when I met you, you must have been a baby.

Elijah: She was a baby.

Kirk: Do you remember the day that I took your dad for an airplane ride over the radio stations?

Zipporah: No.

Elijah: Now, we don't want you be talking about that.

Zipporah: You know... you fly?

Kirk: Yeah.

Zipporah: You know I want to fly.

Elijah: You know what? No, I don't want you to be bringing that up.

Zipporah: Do you teach?

Kirk: Why?

Elijah: Because, see, I know you. You flew me all around. You used to fly down there. But she wants to fly and I don't want her to learn how to fly. Because I want her to learn how to drive first.

Kirk: Listen, it's safer than driving a motorcycle when you're drunk. It absolutely is.

Zipporah: See, dad? It's safer than driving a motorcycle when you're drunk.

Elijah: But I remember those great days. As a matter of fact, I remember one time we were having a problem with the IPA.

Kirk: Intermediate Power Amplifier on the transmitter, a little tube.

Elijah: There was a little... this has told me that you were a great engineer. You were standing there. You said, "We got a problem here." If there was a high-visual [inaudible 01:04:40] IPA, you're going to have to drive all the way from the studio out here to come out just to push this button to reset it. That's what you said. I think it was a little while later when we finally got that wired into the remote. But we got it wired in, I said, "Well, Kirk... " As a matter of fact, you were the one that wired it in.

Kirk: Okay, if you say so.

Elijah: Sure enough, that happened. I never have to... because I would have to go out there and hit that button. You'd predicted that was going to happen. Then you put the equipment in to make sure that I could do it from the studio.

Kirk: You can sit in the comfort of your studio and push a button [inaudible 01:05:13].

Elijah: I hit the button. I wanted to drop out there and do it.

Kirk: You wouldn't have to that nasty bean field.

Elijah: I said, boy, [inaudible 01:05:17] he's something else. He is great.

Kirk: Good deal.

Elijah: Great engineer. You're just awesome.

Kirk: Well, thank you.

Elijah: But not only that, you're talented. You're a comedian. You're a weatherman. You're an engineer. You're a cook.

Zipporah: A pilot.

Elijah: A pilot.

Kirk: You're too kind.

Elijah: Thank you very much.

Kirk: I'll have that check in the mail for you right away.

Elijah: Okay. Take care of yourself.

Kirk: All right, guys. See you guys [inaudible 01:05:38]. Zipporah, good to see you.

Zipporah: Good to see you.

Kirk: Good deal. All, take care. Bye.

Elijah: Take care of yourself.

Kirk: So Elijah got a big FM radio station in Greenville, Mississippi. He ran it for a few years, made it into a successful operation. Then myself and my partner, Larry Fuss, bought it from him. So that's one of our stations now in Greenville. So anyway, it's been good to know Elijah for a long, long time. We've got to go unless there's somebody else I got to put... okay.

Hey, I want to tell you about our last sponsor. That is the folks at Lawo and the Lawo crystalCLEAR IP audio console. Now, it's IP, but it also does traditional inputs and outputs as well. You know that folks at Lawo are famous for making great, big audio consoles. They have decades of experience in making German-engineered, fantastic, high-quality, well-built radio, television and installed sound consoles. Well, now they have a line called the CRYSTAL line of audio consoles and the crystalCLEAR is a natural outgrowth of that.

So what you do with the crystalCLEAR is you get a rack mount box. It's one rack unit in size. It's available with dual power supplies if you want to do that so you have more reliable power for it. It has all the audio inputs and outputs right on the back of it, mic inputs, line level inputs and outputs, also AES inputs and outputs and if you want to delve into audio over IP, it's got Ravenna, which includes AES 67 compatibility all right in this Ravenna CRYSTAL unit that goes in the rack. It's also got all the mixing functions, all the mixing engine, the DSP functions and audio processing is built-in.

So you can make your main mix, sub-mixes, program one, two, three. You can make automatic mix-minuses, back feeds to go to people's headphones or mix-minus to go to a hybrid or a codec. It's all built-in. Now, what about controlling it? Well, there are two ways to control it. One is with the traditional console surface that they make.

The other way is with the crystalCLEAR service. This is a 10-touch, multi-touch computer touchscreen. It's running an application which looks amazingly like an audio console. It has well-designed buttons and faders. They're designed to be touched so it's not a picture of a console pasted onto an app that you got to try to use your fingers on. It's designed from the ground up to be a touch surface.

Because it's in software, it can be all context-sensitive. So when you create a mix-minus, when you run a fader up and down or push an options button, it does what you need it to do for that kind of source going into that audio bus and producing a mix-minus of the right kind when you need it. All this stuff is... it knows where the destinations are so it's easy to use. A lot of features involved, of course, the beautiful time of day clock on that's kept the standards with an atomic clock over the Internet. You've got program one and two as I mentioned, as I said, mic inputs, line outputs, all the things you need to do to make a station. The console has eight faders on-screen at any one time and that can be easily changed to other sources.

Push a button and change the scene. You can memorize the scene easily. Hey, you know what? If you mess up and drop something on the multi-touch surface and mess it up or mess up what's selected, no problem. You can reload that profile with one easy button push. You ought to check this out. The technology is exciting.

The operating paradigm is very cool and interesting. Jocks love this. It's a touch screen. It's like their iPad that they're running the console on. Check it out on the web at Lawo, L-A-W-O. That's spelled L-A-W-O.com and look for radio products.

Look for the crystalCLEAR audio console, audio over IP console, from Lawo. Thanks for Lawo for sponsoring This Week in Radio Tech. All right. Chris, I'm due for a beverage right now.

Chris: So am I.

Kirk: Give me your engineering tip of the week. What has crossed your mind this week?

Chris: Two tips. The first one is I was just at a transmitter site the other day. There were some issues with the transmitter. This is a backup site. An issue with the transmitter and [inaudible 01:09:58] some other issues. The guys were like, "Something doesn't make any sense."

I'm like, "All right. Let's take a look what you have." So you picture two transmitters and two antenna switches, a dummy load and then off to the tower the antenna cables go. It turns out, two things. One, the antenna switch, for whatever reason, one of the two, you have to manually switch between transmitter one and transmitter two to the get to the antenna. That was a bad thing.

So the switch wasn't all the way in the proper position. Needless to say, the RF was sort of making it across the contacts. So the other thing was the dummy load. So the tip is to check your RF switches. It doesn't matter what time of the year it is. Manually cycle them. Go back and forth, make sure they're properly working.

Second, if you have a high-powered dummy load that has built-in fans, I suggest you put on a pair of goggles, turn on the fan and blow out the dust because when we turned on the dummy load this week, the room filled up with dust particles to the point where we couldn't breathe. We had to leave. So I was like, "When was the last time you ran this thing?" "Um, I don't know."

I said, "Okay. I can't see the ceiling. Let's get out of here." So something simple, check your RF switches and the dummy loads. It's on the floor. If the dummy load is at the ceiling, odds are you're okay. But if it's on the floor, it's probably accumulated dust. Blow it out because of you do have to use it and it heats up, it's going to be nasty.

The other tip I have was those of you, earlier, one of your guests mentioned the Burk remote control stuff. I just recently configured an iPhone to access a Burk. I only made the important channels available to see. So you can see it on one screen.

So if you've got a phone call or you got an alert that something was wrong, you can immediately look at your phone, log in and go, "Oh, there's green light, red light." You know exactly what's happening. So if you have access to a Burk arc plus and you haven't done it yet, set it up so you can access it by phone and properly do the screen because, before this, the screen had everything on it, as your guest mentioned, all the parameters of the transmitter. I was like, "Okay. How do I get to which transmitter is on?" I'm scrolling. I'm scrolling. I'm scrolling. It's like 72 channels.

Kirk: So is that... I lost the very tail end of Chis. Can you hear me, Chris?

Chris: I hear you just fine.

Kirk: No? Okay. Hey, we're back at the WSB transmitter site. That's going to do it for This Week at Radio Tech.

Chris: Are you kidding?

Kirk: I wanted to give you my tip, just a quick look here. I'm going to take the camera off the tripod that it's been on here and show you... now, I was warned by Charles Kinney that the DSL service out here was pretty bad. I don't know why it's bad. It's because of all the RF, might be, I don't know. But look at what we've been doing the show through. You all know Chris Tobin has appeared with us numerous times this way. But there is a cradle point router with a Verizon 4G LTE stick.

We've been getting a measured, pretty consistent, 10 to 12 megabits per second down and anywhere between 7 and 10 megabits per second up. That's what's been providing our connectivity for the show. Now you know, you can... if you needed conductivity to a transmitter site that's hard to get, you might be surprised at where an LTE signal is available from at least one of the carriers, whether it's Verizon, which has very good nationwide coverage. So does AT&T.

I have a transmitter site. I've mentioned to you before you in Mound Bayou, Mississippi, which is close to the middle of nowhere and our transmitter's out in a bean field. But we get... the first time I tested, 20 megs down, 20 megs up, consistent. Probably because nobody else was using it.

Recently, I was out there again. I tested. I was still getting about 17 down and 12 megabits up. So it's just amazing what you can get at a transmitter site. Now, I know you might have monthly caps. I'm not saying that if that's... if 4G is your only method of getting data somewhere, you probably can't use that for 24/7 audio, but you can use it for remote control, for example, as Chris was just showing.

If you don't have IP out there otherwise, you can use a carrier plan. We're going to have another show on the whole notion of using multiple carriers bonded together like television station's been doing. We're going to look at doing that for radio, see how that works out. Hey, thanks for watching. Thanks to the WSB crew and Charles Kinney, especially, for hosting this party, barbecue. Thanks to Telos for providing that, the food out here at the transmitter site.

Chris, thanks for you for showing up there. Enjoy Chris 195 and we're going to see you next week on This Week in Radio Tech. Bye-bye, everybody.
Topics: Broadcast Engineering
Subscribe

If you love broadcast audio, you'll love Direct Current! Get it delivered to your inbox weekly!