Wyoming Public Media: Bringing Wild Wyoming the World
By Tom Vernon on Jul 22, 2015 2:50:00 PM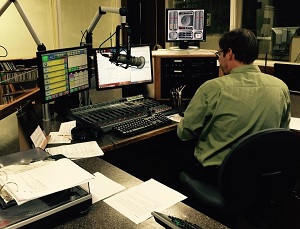 From its studios in the Outreach School on the UW campus in Laramie, Wyoming Public Media (WPM) reaches out across the Equality State with a network of 24 transmitters and 7 translators. The public broadcaster delivers three channels of programming. The main stream, Wyoming Public Radio, contains NPR and local news programs, while Classical Wyoming and Jazz Wyoming provide music. Content is delivered via analog FM, HD Radio, and through web streams.
WPM is also a place where you will find lots of Omnia, Telos, and Axia gear. Director of Engineering Paul Montoya is another satisfied customer of The Telos Alliance and its products.
Montoya came to WPM in September 2014, and inherited a facility that already had quite a bit of Telos gear, purchased by his predecessor, Shane Toven. "Much of it was already in place, but it's the direction I would have gone anyways," adds Montoya. He supervises a staff of four full-time engineers. Outside contractors are also hired for special projects.
At the core of WPM's network is a Cisco Catalyst 5500 Series switch. "You have to start with a top quality switch for IP audio," notes Montoya. He adds that the 5500 replaced a series of smaller HP and Cisco devices. Because Livewire places special demands on a network, Telos maintains a list of approved Ethernet switches.
WPM has all its servers and IP gear in a tech center, with KVM connections to the studios to keep them fan- and clutter-free. They also maintain main and backup servers for Axia's Pathfinder Routing Control for Windows. Pathfinder provides WPM with an amazingly rich sets of tools they can use to customize and command their entire Axia network, allowing them to craft extremely sophisticated routing functions. Users may also define automated switching events, construct custom software control panels, change between presets manually, on a daypart schedule, or via an external trigger.

It is a moderately large network, and WPM recently purchased iProbe IP Audio Network Management Software. With it, networked audio devices are managed using a standard Web browser to view, configure, and administer each device. iProbe helps simplify this process by scanning and collecting all the information and presenting it in a graphical interface. Along with this convenient central point of control, iProbe gives users powerful system tools like the Organizer, which performs advanced tasks such as gathering Livewire-enabled devices into logical groups for easy management and single-point administration of group settings. iProbe also helps with software version control, making it simple to upload software to single or multiple devices, back up device configuration, and more.
In addition to program distribution, the satellite uplinks bring WPM's Livewire network to most of the transmitter sites. There is also a connection between WPM's networks and the statewide IP network for greater flexibility in routing signals when outages occur.
The Laramie studio complex also has two Element and four Radius consoles. As Montoya notes, the ability to make changes on the fly was one of the selling points for Axia consoles. "We really appreciated the flexibility of distribution and routing with Livewire. Our needs can change quickly, and we're able to program the consoles as needed for different functions."
Talk is an important ingredient of WPM's local programming, and for that, they use a Telos VX Broadcast VoIP. VX is the world's first VoIP (Voice over IP) talkshow system. It connects to traditional POTS and ISDN telephone lines via standard Telco gateways. B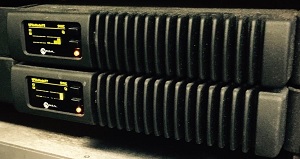 ut it also connects to VoIP-based PBX systems and SIP Trunking services to take advantage of low-cost Internet-delivered phone services.
WPM also has lots of Omnia gear onsite. Processing for the three program channels is done with an Omnia.9 at the studio. The signal is processed prior to uplink to the satellite for distribution to the transmitter sites. A few sites have Omnia ONEs for additional processing. Wyoming Public Media also streams their audio channels, and for that, they use the Z/IP Stream AX/E. "There's really not a lot involved in setting them up," adds Montoya. "We've found presets that work very well for us."
Topics: The Telos Alliance
Subscribe

If you love broadcast audio, you'll love Direct Current! Get it delivered to your inbox weekly!