Top Reasons to Start Your Facility's Transition to AoIP | Telos Alliance
By The Telos Alliance Team on Apr 25, 2018 12:00:00 PM
Top Reasons to Start Your Facility's Transition to AoIP
Updated August 29, 2018
Telos Alliance invented AoIP for broadcast in 2003 when we introduced Livewire, which has since become the foundation for our Axia brand. Today, broadcasters across the globe use Axia products, powered by Livewire, in thousands of AoIP studios worldwide.
Broadcasters are now beginning to understand the benefit of the AES67 interoperability standard (based largely on our Livewire protocol), which is to help them proceed confidently into the future of broadcast using AoIP as a backbone. With AoIP infrastructure and AES67, equipment from multiple manufacturers is interoperable. Clearly, now is the time to engage AoIP at all levels of your broadcast workflow.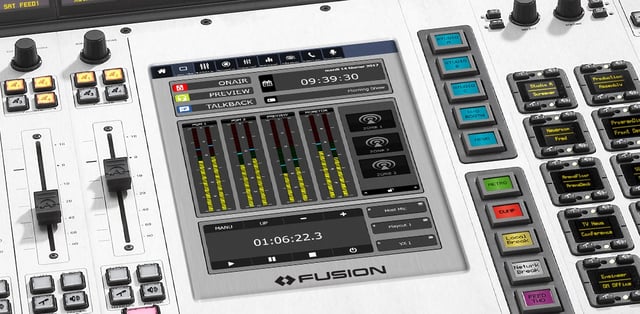 But why? What are the benefits of AoIP? We've worked with tons of customers, like Colorado Public Radio, who've told us time and time again how the transition to AoIP changed their worlds for the better. Here are their top reasons:
With AoIP Your Budget Stretches Farther
Waiting for a big budget windfall to happen? Wait no longer. AoIP is less expensive than you imagined. Traditional TDM broadcast systems are very labor-intensive to install, requiring pulling all the copper wire required for that type of system, which takes a boatload of labor. For Audio over IP, running CAT6 with RJ45s means there's one connector on everything. CAT6 cable is also a lot cheaper and you need less of it than with the antiquated systems. Because you are using AoIP, you are now able to use commoditized product from the computing world, like Cisco switches, also much cheaper than a TDM router. All of this contributes to saving on labor, time, and money!
Convert Your Facility Over Time with AoIP
Converting a facility to AoIP does not have to be done in one fell swoop like old TDM systems. Because existing analog and new Audio over IP can coexist nicely, the conversion to IP can be made gradually, one studio at a time, much like Cumulus Chicago did with their Axia AoIP system—a facility that won an award for Best New Facility from Radio Ink magazine. Older technologies before AoIP required a wholesale change involving robust infrastructure and many rooms of equipment resulting in very high cost. In fact, some of our customers have run analog and AoIP systems in tandem and gradually cut over to all AoIP.
Axia AoIP Means No Single Point of Failure
Unlike older systems, AoIP is a decentralized network, meaning there is no large piece of equipment at the center of it all that could fail at any time. With Axia, the equipment is in the studios, there are Axia xNode audio interfaces at different convenient places. You are no longer tied to putting everything in the same location. This also means there is not one single point of failure so systems stay online and on-air!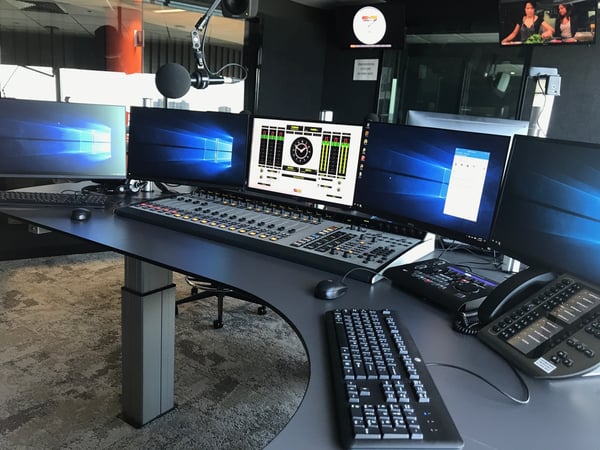 Axia Fusion console at Southern Cross Austereo's KOFM 102.9, Newcastle, Australia
In addition to these popular benefits among our customers, we've also been told that Axia customers love the infinite scalability of an AoIP solutions and the ability to create redundancy on the cheap. Livewire+ AES67 also offers built-in compliance with the AES67 standard (not just compatibility), for a completely open network.
The Telos Alliance can help you build your AoIP broadcast facility from start to finish, with solutions including AoIP radio consoles, full AoIP routing solutions, VoIP telephone systems, IP intercom, and beyond. All of our AoIP solutions help you take full advantage of the benefits of this exciting technology, including flexibility to upgrade over time, cost savings, space efficiency, improved audio quality, less wire, more efficient workflows, and total interoperability.
We invite you to explore all of our AoIP products below, and contact a dealer to learn more about how to update your broadcast facility to the latest AoIP technology.
AoIP Studio Products
AoIP Radio Consoles – 8,000+ facilities use Axia Radio Consoles for mixing, and 100+ partners are part of the Livewire AoIP protocol network. Learn why.
Virtual Radio – Virtual Radio is the future, and the future is here. Learn how Telos Alliance is leading the way in this exciting category.
Routing Control – Routing Control is about getting audio around your studio as efficiently as possible. Learn how we do it all via AoIP!
IP Intercom Solutions – Telos Alliance is breaking the mold with IP Intercom Solutions for Radio that unleash the full potential of distributed IP-Audio.
Broadcast Telephone Systems – Telos gives you more from your broadcast telephone solutions with VoIP and analog products that create more compelling talk content.
Audio Delays – It's about time! Learn how 25-Seven provides the broadcast audio industry with the most cutting-edge audio delays on the planet.
Audio Contribution & Distribution (Codecs) – Learn why Telos Audio Contribution & Distribution Codecs are the best way to hear from there!
Watermarking Monitoring & Enhancement – Learn about some of the most groundbreaking products in broadcast audio in the last decade.
Broadcast Audio Processors – For 20-plus years, Omnia has been obsessive about broadcast audio processors. Learn how we continue to innovate with what's next.
Stream Encoders & Processing – Learn how to dial in your stream's signature sound with industry-leading stream encoders and processing from Telos Alliance.
Download our AoIP eBook - AES67 & AoIP: The Time Is Now!
While you're at it, don't forget to download our AoIP eBook for everything you need to know to transition to an IP Studio from the folks who invented AoIP for broadcast. With so many protocols available, how do you know which is right for you? What's the difference between AES67 Compatibility and Compliance? Learn what these two terms mean, and why it should matter to you. Simply fill out the form and we'll send a copy straight to your inbox!

Further Reading
For more about AoIP implementation with the Telos Alliance, check out these stories:
Choosing a Baseline AoIP Protocol
5 Tips for Converting to an AoIP Studio
Telos Alliance has led the audio industry's innovation in Broadcast Audio, Digital Mixing & Mastering, Audio Processors & Compression, Broadcast Mixing Consoles, Audio Interfaces, AoIP & VoIP for over three decades. The Telos Alliance family of products include Telos® Systems, Omnia® Audio, Axia® Audio, Linear Acoustic®, 25-Seven® Systems, Minnetonka™ Audio and Jünger Audio. Covering all ranges of Audio Applications for Radio & Television from Telos Infinity IP Intercom Systems, Jünger Audio AIXpressor Audio Processor, Omnia 11 Radio Processors, Axia Networked Quasar Broadcast Mixing Consoles and Linear Acoustic AMS Audio Quality Loudness Monitoring and 25-Seven TVC-15 Watermark Analyzer & Monitor. Telos Alliance offers audio solutions for any and every Radio, Television, Live Events, Podcast & Live Streaming Studio With Telos Alliance "Broadcast Without Limits."
Subscribe

If you love broadcast audio, you'll love Telos Alliance's newsletter. Get it delivered to your inbox by subscribing below!