Bringin' the Funk (to Germany) with Omnia Audio | Telos Alliance
By The Telos Alliance Team on Jun 25, 2014 3:00:00 PM

Bringin' the Funk (to Germany) with Omnia Audio
Located in Bavaria, Germany, Regensburg is known for many attractions, including its remains of Roman fortress walls such as the Porta Praetoria. The large medieval center of Regensburg is a UNESCO World Heritage site, and it is also the home of Funkhaus Regensburg, a broadcast center which delivers six unique program formats through two FM stations, three DAB+ facilities and six webstreams. Formats for the many stations run the gamut from hot contemporary sounds to something more relaxing. Although Funkhaus Regensburg offers a variety of formats for a diverse listening audience, the preferred audio processor for the facility is the Omnia.9.
The engineering wizardry behind Funkhaus Regensburg is provided by Harald Hoffend, the facility's Technical Director. Harald was introduced to Omnia audio processors through a product demonstration in Regensberg given in October 2012 by Leif Claesson, the developer of Omnia.9, and Peter Passian, the European Director of Sales for the Telos Alliance. Hoffend was so impressed by Omnia.9's many features, and made the decision to purchase three of them.
Harald told us he was able to go from out of the box to on the air in short order using Omnia.9's Quick Start Guide.Setting up some of the additional features, like emergency failover, took a little longer, but Omnia.9 features simultaneous separate processing cores for FM and (Optional) HD1, HD2, HD3 DAB, DAB+ and DRM making it a single processing box that can perform many functions.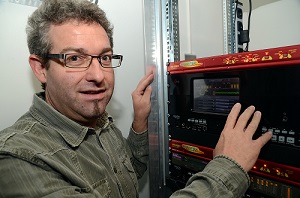 Getting the sound of a station just the way you want it can take some time, But with the library of presets included with Omnia.9, you'll be out of the starting gate close to the mark. Beginning with these presets as a jumping off point, Hoffend worked to develop his own toolbox of presets tailored to the many formats in use at Funkhaus Regensburg.
As Hoffend discovered when he spent more time with Omnia.9, there are lots of features that he really liked.
At the top of his list is the remote control software that enables users to access their Omnia.9s anywhere they have an Internet connection. "The remote software is very easy to use," says Harald, Users see the same user interface using the remote software that's displayed on the unit's front panel, as well as dedicated audio streaming to the remote application. "You can listen to every Patch Point in your processing chain," he enthuses.
He also liked Omnia.9's exclusive "Undo" technology. "The Undo feature works absolutely fine for over-processed titles," says Harald, referring to the built-in de-clipping algorithm and program-adaptive multiband expander which actually removes distortion from source material. It used to be that badly-recorded CDs or digital files run through cascading compression algorithms were simply something to be tolerated, but Omnia.9's "Undo" software fixes this for good.
The Internal Music Player, included with Omnia.9, is also on Harald's list. With it, stations can upload and store up to 15 gigabytes of their own .mp2, .mp3, .wav, or .flac audio files via Omnia.9's built-in FTP server to an internal music library. If normal program audio is interrupted, Omnia.9 can be set to automatically play back the files and avoid dead air until program audio returns.

While the three Omnia.9s are new to Funkhaus Regensburg, it is not the first time they have purchased Telos and Omnia gear. Hoffend has previously installed an Omnia.6 EX with DAB and FM for their Absolut relax format, an Omnia F/XE to perform file-based audio processing for the Radio Galaxy stream, and a Telos talkshow system (also for Radio Galaxy).
As the pace of technology quickens, the facilities of Funkhaus Regensburg are a work in progress. No matter what else happens though, Hoffend is sure of one thing: "The next processor I purchase will be an Omnia.9!"
Telos Alliance has led the audio industry's innovation in Broadcast Audio, Digital Mixing & Mastering, Audio Processors & Compression, Broadcast Mixing Consoles, Audio Interfaces, AoIP & VoIP for over three decades. The Telos Alliance family of products include Telos® Systems, Omnia® Audio, Axia® Audio, Linear Acoustic®, 25-Seven® Systems, Minnetonka™ Audio and Jünger Audio. Covering all ranges of Audio Applications for Radio & Television from Telos Infinity IP Intercom Systems, Jünger Audio AIXpressor Audio Processor, Omnia 11 Radio Processors, Axia Networked Quasar Broadcast Mixing Consoles and Linear Acoustic AMS Audio Quality Loudness Monitoring and 25-Seven TVC-15 Watermark Analyzer & Monitor. Telos Alliance offers audio solutions for any and every Radio, Television, Live Events, Podcast & Live Streaming Studio With Telos Alliance "Broadcast Without Limits."
Topics: broadcast audio processor
Subscribe

If you love broadcast audio, you'll love Telos Alliance's newsletter. Get it delivered to your inbox by subscribing below!