Explore Vegas' Past at the Neon Museum
By Tom Vernon on Apr 19, 2017 11:15:00 AM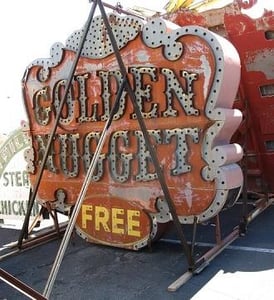 When you think about night life in Las Vegas, particularly during the Rat Pack era, one of the first things that usually comes to mind is those amazing neon signs. They were everywhere, and can still be recalled on popular films of the time such as "The Godfather," the 1960 "Ocean's 11," and the James Bond movie, "Diamonds are Forever." While neon signage had been a staple of downtown streetscapes in America since the late 1920s, it was always different in Vegas. In a city where over the top is the norm, the signs were not only bigger, but their design and display had been elevated to an art form.
The very first neon sign to go up in Vegas was at Downtown's Boulder Club. The golden age of neon spanned the 1940s through the '70s. The signs weren't just on the strip, they were everywhere. Today, if you want to see neon in its natural habitat, i.e. on rooftops, hanging from the sides of buildings, or in shop windows, you have to go to Fremont Street, where city code requires neon or animated signs.
Historic preservation has never been a big part of urban planning along the Strip, and virtually all the neon has disappeared as older casinos were blown up to make room for bigger and better gambling establishments. With the Riviera gone, the last holdout from the Rat Pack days is Circus Circus, whose neon clown has been keeping watch over The Strip since 1968.
The signs may be gone from The Strip, but they're not forgotten, and they haven't all been demolished. Over 150 been saved, and are on display at the Neon Museum. If you find yourself overwhelmed by the blizzard of cutting edge technology that is the NAB Show, a trip to this museum to view some low tech may be just the stress buster you're looking for.
The Neon Boneyard is located at 770 Las Vegas Boulevard North, and has humble origins. What is now a museum and tourist attraction started out as a storage lot where local sign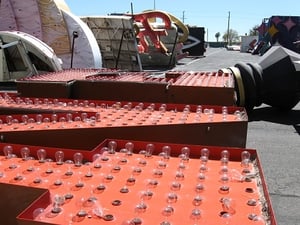 company YESCO used to park its old signs. The rest, as they say, is history.
The Boneyard is surrounded by a chain-link fence, so you can check it out and take pictures anytime. But if you want to see it all up and close, as well as learn some of the signs' history, then it's best to sign up for a guided tour. The tours attract around 12,000 people annually, so it's a popular destination.
Tickets for day tours are $19 for general admission; seniors 65+, students, active military, veterans, and Nevada residents are $15 (valid ID required for each discounted ticket: must show current ID upon arrival). Due to the broken glass and rusty metal, day tours are enjoyed best by children 10 and up.
Even more impressive are the night tours, where you can experience the nocturnal neon of the seven restored signs as well as the dramatic lighting of the unrestored signs. Ticket prices for night tours are $25 for general admission; seniors 65+, students, active military, veterans and Nevada residents are $22. Night tours are recommended only for children 12 and up. If you'd like to enjoy a night tour, don't wait until you get to Vegas; they sell out quickly, so you're well advised to reserve a spot early.
Whether day or night, the docents who lead the tours will tell you the full history of the signs, where they came from, the artists who created them, and the dates they were in operation.
In addition to the restored signs in the Museum's Fremont Street gallery and the boneyard, three classic signs – from the Silver Slipper, Binion's Horseshoe, and the Bow & Arrow – have been restored for the scenic byway project on Las Vegas Boulevard.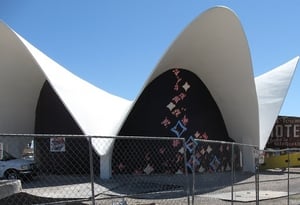 Even the museum's visitors' center is an artifact from the age of neon. This curvilinear, space-age structure started out as the La Concha Motel Lobby. Originally located next to the Riviera Hotel, where it was erected in 1961, it was saved from a high-explosive finale when the hotel was demolished in 2005. The fully restored structure includes many of its original interior design elements, along with two of the motel's original signs.
During the golden age of neon in Vegas, sign companies were busy full time, often operating 24 hours with three shifts, as neon benders, sheet metal workers and electricians struggled to keep up with demand. Today, the staff is a fraction of what it once was. And while neon benders used to be creative artists, today most of their time is spent doing maintenance on existing signs.
Neon was slowly eclipsed by other sign technologies, most recently LED displays. They have a lot of practical advantages, such as lower construction costs and higher energy efficiency. LEDs also offer a much larger palate of colors, running into the millions, as opposed to less than 100 mandated by the number of gasses that flouresce with high voltage. But neon still has a place in modern sign design, particularly where irregular curves must be delineated and consistent illumination are desired.
Some critics, while acknowledging the creative potential of LED displays such as the moving sign at the Wynn/Encore, dislike the medium because they feel it sends too much information to the brain, leading to information overload. Neon, they claim, is far more relaxing to look at.
Clearly, neon will always have its place in Americana, and its place in history–in the city that boasted the world's most elaborate neon signs–at Las Vegas' Neon Museum.
Topics: nab 2017, Las Vegas, Neon Museum
Subscribe

If you love broadcast audio, you'll love Telos Alliance's newsletter. Get it delivered to your inbox by subscribing below!