Sneak Peek: Broadcast Bionics at IBC 2017!
By Dave Sarkies on Sep 6, 2017 4:00:00 PM
With the trend toward virtuality in the broadcast world, we were curious what our friends at Broadcast Bionics have in store for this year's IBC Show. In a nutshell, innovation! As we've come to expect, Broadcast Bionics always brings something new to a tradeshow, either a product that solves an everyday problem, or a product or concept that gets people thinking.
Here, Managing Director Dan McQuillin and General Manager Duncan Smith give us a preview of their latest offerings.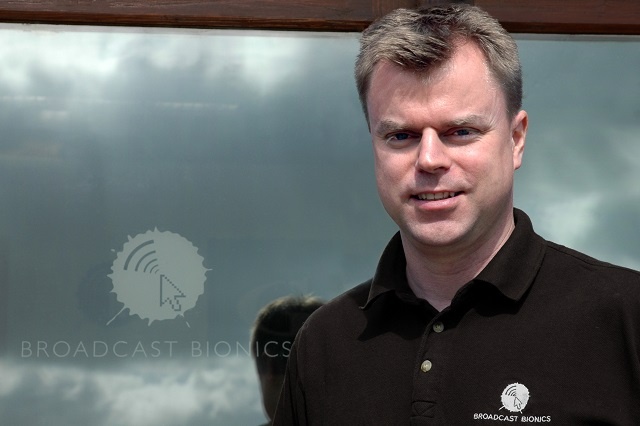 Dan McQuillin, Managing Director at Broadcast Bionics
What's new with Broadcast Bionics at IBC 2017?
Dan: Broadcast Bionics is excited to be launching and demonstrating a number of innovative products at IBC 2017, building on the success of the PhoneBOX talkshow, Oasis social media software, and the power of Axia Livewire+ AES67 facilities. We hope visitors will come find us in Stand: 8.D71!
It all sounds very exciting. We understand you're working with popular smart devices like Alexa from Amazon, Google Home, and others. Can you tell us what Broadcast Bionics is up to there?
Dan: Smart speaker technology (Alexa, Google Home, etc.) is transforming the way audio is consumed and interacted with in the home. The smart speaker enables broadcasters to build rich, natural language, bi-directional interactivity into smart speaker experiences, delivering frictionless and frustration free communication. Our intelligent language processing allows listeners to shout messages, voice their opinions, or ask the studio for additional information about artists, programs, news, weather, and the like.
There are no fixed commands, the toolkit understands naturally the information you need, the sentiment you are expressing or the message you want to deliver. The toolkit connects to existing sources of meta data, delivers messages alongside other calls and social media inside PhoneBOX and provides the listener richly informed additional content and information with no additional production workflow.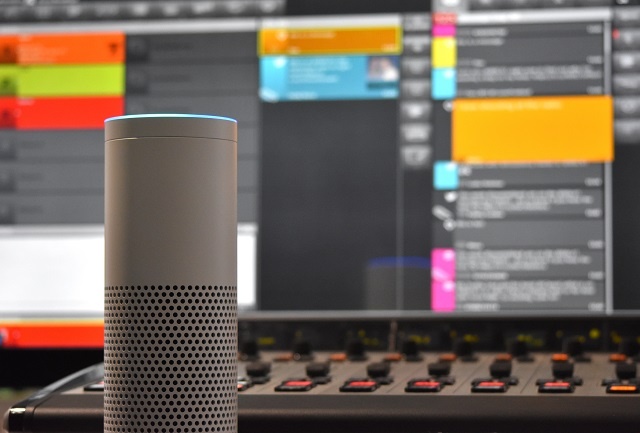 Smart Speaker Toolkit from Broadcast Bionics
Radio content can provoke strong emotions and responses. Broadcast Bionics has created a natural and immediate way to connect audiences more deeply with the content they love and the information they need. Listening to the radio will never be the same!
Virtual Director helps broadcasters connect with fans via social media. Tell us how it works.
Dan: With Virtual Director, radio broadcasters can create video clips that make content more shareable. We've helped stations rack up thousands of likes and shared clips to new audiences, introducing listeners to some of radio's most compelling content.
Switching cameras and creating graphics automatically based on the information already flowing through a Livewire+ AES67 network, Virtual Director enables your current radio workflow to deliver video clips to social media platforms, and live streams to Youtube Live, Facebook, and Periscope.
What can you tell us about Skype TX for Radio?
Dan: With Skype TX for Radio, Broadcast Bionics has partnered with Microsoft to deliver an affordable and scalable way to use multiple channels of Skype audio integrated with your existing call and social media workflows. For the first time broadcasters can easily control Skype, not just for contributing audio, but to deliver full multiline talk show control of up to 14 callers per Skype account, all with HD audio quality. And of course it's delivered natively into a Livewire+ AES67 facility over IP.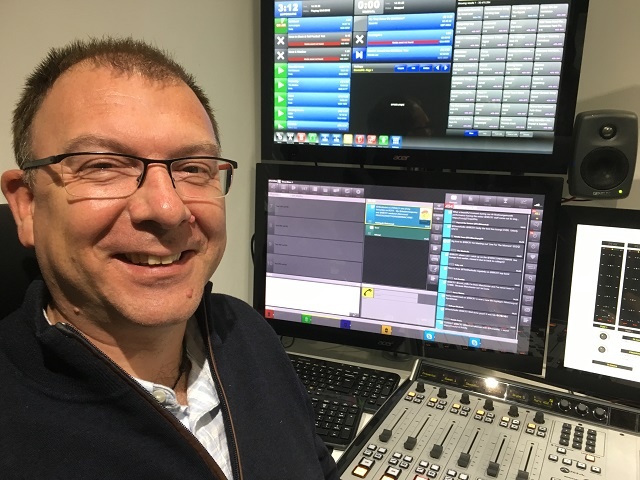 Duncan Smith, General Manager at Broadcast Bionics
It certainly brings a whole new level of interactivity to a radio broadcast! On another note, you mentioned Livewire+ AES67. Is Broadcast Bionics excited about its continued involvement with the Telos Alliance?
Duncan: Yes, as both a Telos Alliance dealer and a development partner, Broadcast Bionics continues to create products which not only stand alone in their own right, but also add value to Telos Alliance products by leveraging the power of Livewire+ AES67.
"Broadcast Bionics continues to create products which not only stand alone in their own right, but also add value to Telos Alliance products by leveraging the power of Livewire+ AES67."

—Duncan Smith, General Manager, Broadcast Bionics
What does the Broadcast Bionics team enjoy most about IBC?
Duncan: Products and people. IBC is a great platform for both showing and seeing new products, and a great opportunity to meet with new and current customers. Many of our best ideas evolve from conversations with our customers!
Anything else you're looking forward to at this year's show?
Duncan: A steak at Gauchos restaurant!
That definitely sounds like something to look forward to! Enjoy the show… And the steak! We look forward to seeing you there.
RELATED content
Virtual Radio: A Broadcast Workflow Revolution at IBC 2017
Visual Radio with Dan McQuillin at IBC2016
Virtual Director - Shareable Radio
Topics: virtual radio, IBC 2017
Subscribe

If you love broadcast audio, you'll love Telos Alliance's newsletter. Get it delivered to your inbox by subscribing below!