Infinity at InfoComm 2018: That's a Wrap!
AV Market specialist show InfoComm 2018 marked the first time that the Telos Alliance has had a dedicated booth. In previous years the company was represented via the Media Networking Alliance as part of the AES67 interop, but the launch of Telos Infinity IP Intercom, a product with huge Pro AV market crossover potential, was the catalyst for choosing our own space. Myself and Hal Buttermore attended the show, with a dedicated Telos Infinity demo system in a 10x10 booth on the edge of the Audio exhibit in Central Hall at the Las Vegas Convention Center.
The decision to exhibit at InfoComm 2018 might be regarded as a fishing trip. When the product was first conceived it was thought that there would be sales potential in vertical markets beyond broadcast TV and Radio but without Telos Alliance having an established brand identity or dealer reach into other markets, anything we thought might exist was purely speculative. Market research and a visit to an earlier InfoComm in Orlando backed up the notion that AV had untapped potential for Infinity, and in fact was fast becoming a destination for competing brands in both IP communications and IP audio as well as many of our broadcast industry friends and customers.
Exhibiting at InfoComm 2018 served the intended purpose, to prove that the product has potential in vertical markets outside of broadcast. Although traffic was nowhere near NAB numbers and our 10x10 booth almost anonymous amongst the bigger players, we had a steady flow of inquiries from AV Systems Integrators, potential dealers and end users from the Install market, Education, House of Worship, Live Sound etc. One unexpected inquiry was from a vendor who, having seen Infinity at Cabsat in Dubai, is interested in a possible OEM deal to take Infinity technology to market under the brand as a conferencing solution. Hopefully there'll will be follow up in the weeks to come.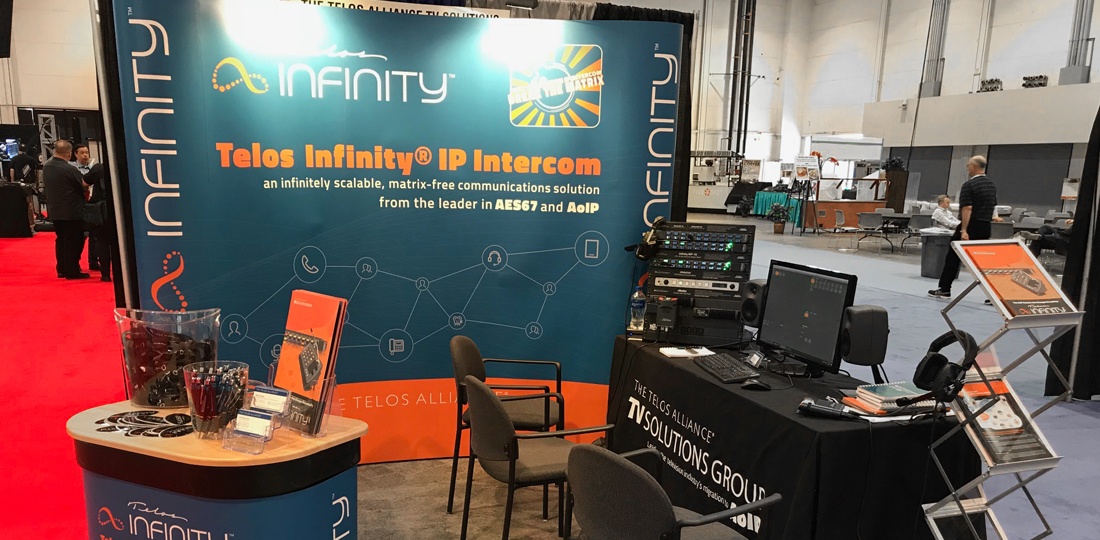 A common comment from other vendors was that one popular IP protocol is starting to lose ground. People are pushing back against their locked-in system management and proprietary control, but although AES67 is gaining ground, it is AVB that is again making headway in the AV audio market through AVNU Alliance. This is something to keep an eye on.
Proof once again that Broadcast, AV and Pro Audio markets are full of frustrated musicians, we gave away about 1000 Telos Infinity guitar picks to people, many who declared them 'best swag of the show'. A few lucky visitors took away Infinity T-shirts too.
On the final day, tangible proof came that Telos Infinity and IP intercom is something that the AV industry has sat up and taken notice of … AV Technology magazine awarded Infinity with InfoComm 2018 'Best of Show'.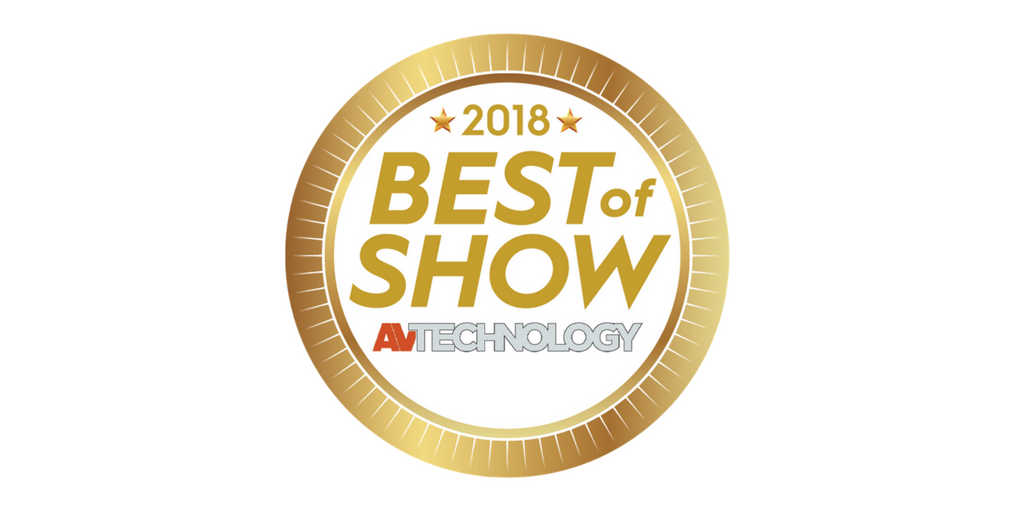 And finally, quote of the show goes to the young lady who took a guitar pick and in answer to Hal's question "Do you play?" sashayed away from the booth, looked back over her shoulder and with a teasing smile said "Darling … I do anything." Well it is Vegas after all.
You Might Also Like...
Infinity IP Intercom White Paper
Telos Alliance has led the audio industry's innovation in Broadcast Audio, Digital Mixing & Mastering, Audio Processors & Compression, Broadcast Mixing Consoles, Audio Interfaces, AoIP & VoIP for over three decades. The Telos Alliance family of products include Telos® Systems, Omnia® Audio, Axia® Audio, Linear Acoustic®, 25-Seven® Systems, Minnetonka™ Audio and Jünger Audio. Covering all ranges of Audio Applications for Radio & Television from Telos Infinity IP Intercom Systems, Jünger Audio AIXpressor Audio Processor, Omnia 11 Radio Processors, Axia Networked Quasar Broadcast Mixing Consoles and Linear Acoustic AMS Audio Quality Loudness Monitoring and 25-Seven TVC-15 Watermark Analyzer & Monitor. Telos Alliance offers audio solutions for any and every Radio, Television, Live Events, Podcast & Live Streaming Studio With Telos Alliance "Broadcast Without Limits."
Topics: ip intercom, Infocomm 2018
Subscribe

If you love broadcast audio, you'll love Telos Alliance's newsletter. Get it delivered to your inbox by subscribing below!