Innovative Products to Premiere to International Audience at IBC 2017 | Telos Alliance
By The Telos Alliance Team on Aug 23, 2017 10:15:00 AM
Innovative Products to Premiere to International Audience at IBC 2017
The Telos Alliance will introduce several new products to the European broadcast market at IBC 2017 next month in Amsterdam. A number of updates to existing lines will be featured as well. The Telos Alliance will exhibit September 15-19 in stand #8.D47 at the RAI Amsterdam.
In addition to the exciting announcement from the Telos Alliance TV Solutions Group that will break the day of the show, both Omnia and Axia are coming out strong at IBC 2017. Omnia continues to trailblaze in processing with products like the new VOLT processor and software updates that make existing Omnia processors more powerful, without users having to buy a whole new box. Meanwhile, Axia is redefining the future of radio with virtual radio, as well as introducing several new Axia Fusion console products that help broadcasters dial in their console to their tastes.
Below is an overview of Telos Alliance Radio products that will be demonstrated at IBC 2017: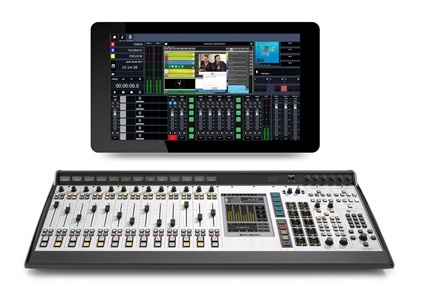 Axia IP-Tablet Virtual Radio Software
Axia IP-Tablet virtual radio software virtualizes monitoring and control of broadcast gear, putting the broadcaster's favorite functions on an app and lessening the need for physical equipment. IP-Tablet controls networked HTML5-enabled gear, the Axia Fusion console, and other Telos Alliance gear, including xNodes, Omnia.9 and Omnia.7 processors, the Omnia VOCO 8 mic processor, Telos VX and VX Prime phone systems, Telos Z/IP ONE IP Codec, and Axia Pathfinder Routing Control. There's even a Metadata Tools license that pulls metadata from the automation system to display on the tablet screen. Choose from one of the predesigned templates, or design a layout specific to your needs through the simple drag-and-drop design interface.
Broadcasters can mount the IP-Tablet-enabled device either in the console itself with the IP-Tablet Fusion Mount (which occupies four fader positions) or use the tablet externally. Designed by Livewire® partner IP-Studio, IP-Tablet is testament to the power and innovation of the Livewire network, with more than 70,000 connected devices and 100-plus partners.
---

Omnia VOLT Broadcast Audio Processor
Omnia celebrates its 20th Anniversary this year, and with the new, award-winning Omnia VOLT™ Broadcast Audio Processor, the brand has rewritten the rules for broadcast DSP once again, giving broadcasters more sonic performance and processing power in one rack unit than others offer in three. Sharing technological lineage with top-of-the-line Omnia products like the Omnia.11, VOLT has a next-gen clipper designed by Frank Foti and dynamics design from Omnia Chief Algorithm Designer, Cornelius Gould. Six separate AGC sections (one wide-band, five multiband); five time-aligned limiter sections; deep bass, warmth, and stereo enhancers; and the Omnia factory presets all contribute to pristine audio. VOLT's new QuickTweak™ lets users nail their signature sound in minutes whether using Omnia's advanced presets or their own settings, right from the VOLT's front panel or a PC. VOLT is versatile, with DSP|Core firmware that allows broadcasters to alter the functionality of VOLT to fit their changing needs and applications, whether it's FM, AM, HD/DRM, or Studio Processing. VOLT can even be used as a standalone stereo generator. All of this functionality is underscored by a fresh new industrial design that signifies a major leap forward in sonic performance.
---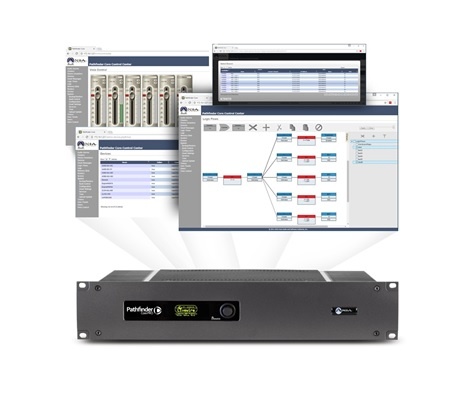 Axia Pathfinder Core PRO Routing Control Appliance
Axia Pathfinder Core PRO offers reliable system-wide routing control that is independent of a PC. Axia has taken everything it's learned over the 10 years since the launch of the Pathfinder family of routing control software and ported that knowledge into a completely new appliance, designed from the ground up to provide pro-grade routing that gives users easier, more intuitive control over audio workflows. Pathfinder Core PRO's intuitive web interface means simple configuration and monitoring from any device. This Linux-based appliance makes efficient use of the processor, while freeing users from a Windows-based server. Control protocol for third-party integration is also included: Pathfinder Core PRO Device Emulators allow it to "look like" another protocol, emulating third-party protocols and translating them into the Axia language. Finally, Logic Flows—a new flow-chart-style events system—makes events easier to create, adjust, and monitor in real time.
---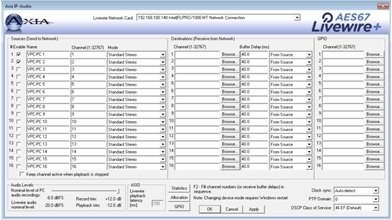 Axia Livewire+ AES67 IP-Audio Driver
Axia has been implementing AES67 compliance across the Telos Alliance product line since the AES67 standard was ratified. With v2.0, Axia is excited to announce that its IP-Audio Driver is now fully AES67-compliant. The Axia Livewire+ AES67 IP-Audio Driver lets users send and record single or multiple channels of stereo PC audio directly to and from Axia networks via Ethernet—no sound cards needed. Up to 24 channels of stereo audio can be sent simultaneously over a single CAT-5 Ethernet connection. v2.10 adds AES67 features like the ability to sync to PTP, support to define multicast addresses outside of the Livewire range, and SIP/unicast support for RTP streaming.
---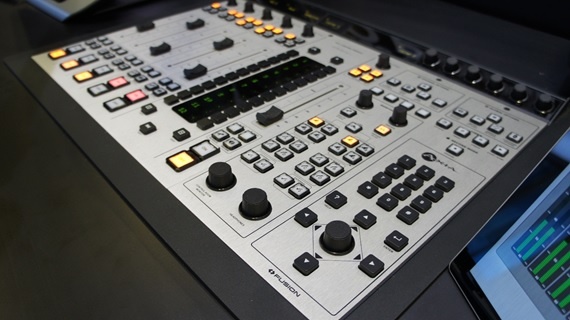 Axia Fusion FlushMount Mainframe
Break out of the console box with Axia Fusion FlushMount modules. These new mainframe options allow users to mount their Fusion consoles into a desk for a sleek, modern, and convenient setup that freshens up the look of any studio. FlushMount modules are available in 4-channel, 5-channel, 8-channel, and 12-channel versions, which can be connected to build larger consoles.

---
Axia Fusion 4-Fader T Module
With the new Fusion 4-fader "T" module, Axia has taken the standard 4-fader module and simply rearranged the buttons. The T module has the same functionality as the standard "S" 4-fader module (which is still available), with a slightly different layout that includes Toggle On/Off, a larger Preview button, and an extra programmable button. The 4-fader T module can be used with any line, mic, hybrid, or code sources. The Rotary Options control knob can be programmed to trim source or fader gain when turned, and invokes Options screen when pressed.
---

Omnia.9sg Stereo Generator and Final Stage Processor v3.16
The processor-agnostic Omnia.9sg was always more than just a stereo generator. With the latest software update, v3.16, this final-stage processor takes its next leap forward with a new psychoacoustically-controlled distortion masking clipper that is louder, cleaner, and more efficient than the previous iteration. V3.16 also makes the 9sg a Livewire+ AES67 product, with 100% AES67-compliance. 9sg is processor-agnostic, meaning it can be used to improve the audio quality and loudness of any station with any processor from any manufacturer, with no-compromise split processing where the main processor is at the studio and final stage limiting and stereo generation is done at the transmitter. The software update also gives the Omnia.9sg the ability to store audio on its SSD for internal file playback. The playback system can be used as a backup source in case something upstream in the chain fails or for the insertion of local ads, IDs, weather, or other programming. Finally, research shows that ratings encoders and/or enhancement devices such as Voltair benefit from being fed processed audio. Some processors have special "insert points" that make this possible internally, but many do not. Placing the main processor and the encoder at the studio and using Omnia.9sg at the transmitter can help facilitate this.
---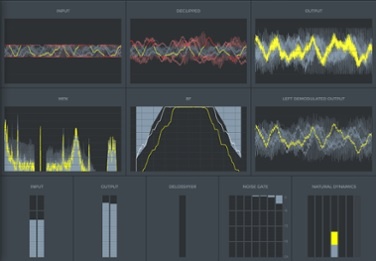 OmniaSST Audio Processing Software
OmniaSST is full-featured, professional software that transforms Windows PCs into Omnia audio processors. Based on a powerful processing engine, OmniaSST is the first processor to support the Telos Alliance's revolutionary µMPX™ codec. µMPX, a specialized codec purpose-built for FM radio, is able to transport high-quality Multiplexed FM signals over a small 320kbps data pipe, slashing bandwidth requirements up to 83%. Reduced data requirements mean high-quality multiplexed audio and RDS signals can be directly routed over IP from a processor to a decoder application, opening tremendous possibilities for efficient MPX audio transport.
Omnia SST has the '3 Ds' for a broadcaster's audio needs—Declipper, Delossifier, and Dehummer. With Declipper, OmniaSST repairs incoming audio, optimizing it before it hits compression, limiting, and final processing stages. Delossifier repairs the sound of lossy compressed audio such as MPEG2/MP3 material. Dehummer removes unwanted sounds such as 50/60 Hz hum from bad cables. OmniaSST includes purpose-built Omnia presets, FM pre-emphasis, stereo and RDS encoding, and shares the same FM reception-improving composite final clipper as found on the Omnia.9sg. Using an i7 class processor, latency can be reduced to as low as 5ms.
---

Telos Systems VX VoIP Broadcast Talkshow Systems
Telos Systems VX VoIP Broadcast Talkshow Systems are the world's most advanced, allowing broadcasters to replace expensive traditional phone service with Internet-based VoIP phones and begin seeing a return on their investment in as little as 18 months. The VX Talkshow system is so powerful it can run all of the on-air phones for your entire plant. It connects to traditional POTS and ISDN telephone lines via standard Telco gateways, but also connects to VoIP-based PBX systems and SIP Trunking services to take advantage of low-cost Internet-delivered phone services. The VX Prime VoIP Talkshow System offers the same functionality as the VX system, but is priced and sized ideally for smaller facilities with two to three studios.
---
For more details on products to be shown at IBC and our presence at the show, check out our IBC landing page.
If you plan to attend, we hope to see you in September at IBC 2017! We look forward to bringing our latest broadcast solutions to you – and the world!

Telos Alliance has led the audio industry's innovation in Broadcast Audio, Digital Mixing & Mastering, Audio Processors & Compression, Broadcast Mixing Consoles, Audio Interfaces, AoIP & VoIP for over three decades. The Telos Alliance family of products include Telos® Systems, Omnia® Audio, Axia® Audio, Linear Acoustic®, 25-Seven® Systems, Minnetonka™ Audio and Jünger Audio. Covering all ranges of Audio Applications for Radio & Television from Telos Infinity IP Intercom Systems, Jünger Audio AIXpressor Audio Processor, Omnia 11 Radio Processors, Axia Networked Quasar Broadcast Mixing Consoles and Linear Acoustic AMS Audio Quality Loudness Monitoring and 25-Seven TVC-15 Watermark Analyzer & Monitor. Telos Alliance offers audio solutions for any and every Radio, Television, Live Events, Podcast & Live Streaming Studio With Telos Alliance "Broadcast Without Limits."
Topics: Telos Alliance, IBC 2017
Subscribe

If you love broadcast audio, you'll love Telos Alliance's newsletter. Get it delivered to your inbox by subscribing below!