Lee Sherwood's Radio Journey: Stella Nebraska to Major Market Hitmaker
By Geoff Steadman on Apr 16, 2014 12:13:00 PM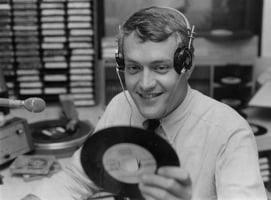 My uncle was a guy with a golden voice and a master story teller's delivery. He could have read the ingredients on a box of cake mix and make you want to listen.
From my early memories of the promotional LP's that he sent my dad, to the WQAM Tiger sweatshirt my mom used to wear around the house, having your father's only sibling on the radio brought our industry into my young mind.
With little warning, cancer took him from us in February. He left an enormous digital footprint of creativity, accomplishment and contribution to broadcasting. I proudly write in tribute to his legacy.
Dennis Lee Steadman, ("Denny" to my dad and grandmother, but "Lee" to everyone else) was raised in 1939 in tiny Stella, Nebraska (pop. 300). His career in radio would transport him from the cornfields of the Midwest to the top radio markets in the country. He helped shape the industry in an era when AM was king. With a natural talent for knowing what would work on air, he picked songs that would become national hits. As a storied program director, he focused deeply on listener experience. He was always listening, paying attention to smallest details, always striving to connect with his audience.
Back when the industry still had "farm teams" Lee got his first radio job straight out of high school in Falls City Nebraska. In his first year on air, he set a life goal: he would work his way up, and some day he would be the voice at the end of a national program doing the network ID.
Following his parents in a move to Ohio in 1958, Lee attended Ohio University in Athens. He met his wife Claudia at WATH, and daughter Stacy arrived in 1960. Lee worked the graveyard shift in a station in Huntington, WV, then relocated to Florida at the height of the Cuban missile crisis.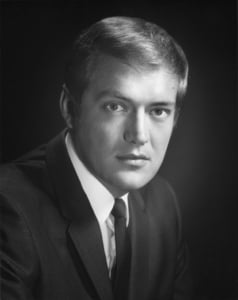 He was working at a little station in Palm Beach when south Florida radio legend Charlie Murdock heard potential. In 1963, he started overnights at WQAM where he would take on the stage name "Sherwood". Accompanied by an imaginary dog named "Sherbert", his show titled "Sherwood's Forest" came to life. In a meteoric rise at WQAM, Lee would own Miami morning drive in the 1960's, becoming the voice that awakened half of south Florida.
Lee often spoke of the shared experience of these days. A top station in a major market was cultural glue, tying a region together. New songs added to rotation would mark a place and time and serve as a kind of sonic bookmark to the happenings of a season or event. I remember him telling of driving along the inter-coastal highway in Miami at night, with so many homes and apartments tuned to AM 560 that you could hear the station for miles just by having the windows rolled down.
This was part of AM's "golden age", where WQAM enjoyed an unprecedented 60+ market share. The station's "Tiger DJ's" with their matching gold jackets were celebrities in their own right, and just one degree of separation from The Beatles, Elvis, The Monkees and others.
My cousin tells the story shouting "get off my daddy" when a gang of screaming girls burst through the front door of the family apartment and mobbed her father. Stacy also told me fond memories as a four year old, wanting to hear her favorite songs "Sugar Shack" and "Bird Dog". Her mom would pick up the phone and minutes later her songs would be coming out of the radio, like magic. (For a taste of the time, visit this WQAM tribute site lovingly curated by Steven Geisler.)
In 1968, Lee left Florida for a Program Director position at WFIL in Philadelphia followed by a stint at KISS in Los Angeles and a couple years as a programming consultant and format change agent for stations from Detroit to New Orleans.

Throughout the 60's and 70's, Lee produced jingle and imaging packages with the PAMS company of Dallas, Texas. (PAMS' website has some great jingle samples you can listen to.) An innovation Lee brought to this endeavor was to produce jingles that sounded more like the music on the station, often echoing themes and hooks from hit songs. 1970 PAMS Series #39 was named "The Sherwood Series", in his honor.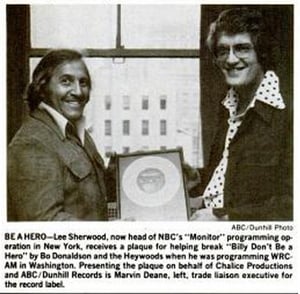 Any child feels a sense of pride and connection to the adult world of his relations, but even as a third grader, I could scarcely conceive of a better job than playing records and talking on the radio. My first visit to a radio station was in 1973. Uncle Lee was Program Director of WRC, "The Great 98" in Washington D.C. He asked my brother and me what songs we liked. I said "Rocky Mountain High" by John Denver, my brother favored "Dead Skunk" by Loudon Wainwright III. He stepped from his office, reappearing with fresh 45's for each of us. Talk about taking song requests! I think that was the moment where the radio business hooked me.
In 1974, Lee became an Executive Producer at NBC in New York, working on nationally syndicated programming at Rockefeller Center. Fulfilling a life goal set as a teen, his voice completed programs with the tag "this is the NBC Radio Network".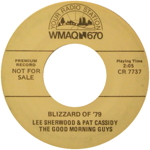 NBC deployed him to Chicago in 1975 with the bold mission of flipping WMAQ to country. (Click the record label to hear one of his many in-house productions for WMAQ.) Returning to morning drive, Lee changed the way Chicagoans answered the telephone, inventing the "WMAQ's gonna make me RICH!" campaign, a contest with one of the highest purses radio had ever seen. WMAQ would go from #15 to #3 in a single book and 1.5 million cars (including his own, complete with a factory installed AM stereo!) would wear this bumper sticker:

In 1980 Lee took an offer he couldn't refuse, attempting to transplant WMAQ's country format success to KHJ in Los Angeles. Surviving a nearly fatal car accident shortly after arriving, the station set up a temporary studio so he could do his morning show from a hospital bed in his home.
During his time in LA, Lee stood in for Casey Kasem, guest hosting American Top Forty. A Billboard magazine editor from August 1982, was critical of KHJ's efforts, but wrote "a glimmer of hope remains in the form of morning man Lee Sherwood… he is the only person I ever heard who can humanize a liner card with warmth and impish personality. He has the talent of making you feel good about him and yourself each time he opens his mouth."
KHJ's country format venture lasted only 3 years. Lee moved on to St. Louis in late 1982, taking on mornings at KUSA with co-host Frank O. Pinion and news man Robert "The Country" Fox. I got to hang out on his show a couple times, and was particularly excited that he'd made friends with the station's copter pilot, who, at my uncle's request, graciously took us up for a spin around St. Louis.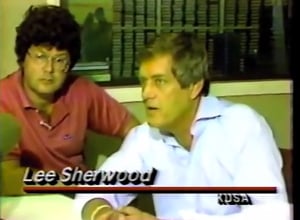 I remember him telling me on one such visit that he thought management should not allow tours of radio stations because listeners built such rich "theater of the mind" images of a station in their head. He felt the actual nuts and bolts of a studio tour washed it away, (particularly, some stations!) Click the screen capture to see Lee's KUSA morning team in a local TV news feature about radio shows pushing the "taste" envelope.
KUSA would be Lee's last radio gig. One Friday after his morning shift, the GM came in and told him the station was flipping formats the next week and his services were no longer needed. He decided then and there he was done. He told me years later "if I had known it was going to be my last day on the radio I would have made an aircheck".
My uncle left our industry quietly in the late 1980's. Being the creative person that he was, it didn't take too long for him to write a new chapter. His wife Nancy was a tour director with some great connections at several of the major cruise lines. Together, they reinvented themselves as a husband and wife video production team. Lee bought some gear, taught himself video editing, and effectively transplanted the skills he had built in radio as a story teller, producer, director and voice over artist to a new medium. Thus began an equally successful second career. For nearly three decades, Lee and Nancy traveled the world pitching, writing, shooting, editing and producing in-house videos for major cruise lines such as Cunard, Norwegian and Seabourn. If you've been on a cruise in the last 25 years, you've probably heard Lee's voice in your cabin.
I had always hoped that I could lure Lee back for a cameo appearance on my side of the radio industry, perhaps bringing him out to an NAB show. He was intrigued by the technology side of the business, particularly once he had his own studio. I remember explaining using Audio Time Manager to backtime into the network. "Do you know how many years it took me to do perfect backtimes?" was his response. I expect he figured using our box was cheating, but I know he was proud I was in radio and doing creative things.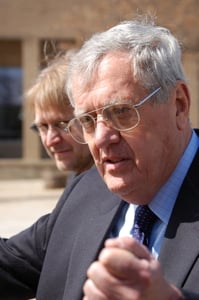 I know that many former colleagues figure Lee just vanished when he left the business. I am certain he didn't do much reaching out to counter this, and the fact that "Sherwood" was a stage name didn't help anyone looking for him. While he did not raise a fuss, he was particularly miffed about a jock in Missouri or someplace using the "Lee Sherwood" name on air. He figured this was a kind of identity theft (unless I suppose, you actually have that name on your birth certificate.) I hope this may clear up any confusion.
In any event, I'm sure he would not mind me sending this sign-off for him. I write in thankfulness for his influence on me, and the love for music, spoken word, and radio we shared. As all those waves head into space, he will be forever on the air.
Photos: Lee at WQAM in 1967 by Miami Herald staff photographer John Walther. 1968 WFIL publicity photo by E. Allen Becker. "Be a Hero" from a Billboard Magazine clipping. Geoff Steadman listens as his uncle Lee "Sherwood" Steadman tells a story at the memorial service for Geoff's father in 2008 in a photo by Elizabeth Steadman.
Topics: Radio History
Subscribe

If you love broadcast audio, you'll love Telos Alliance's newsletter. Get it delivered to your inbox by subscribing below!