Telos Alliance Welcomes Lindsay Fogle as Trade Show Manager | Telos Alliance
By The Telos Alliance Team on Jul 19, 2018 6:15:38 AM
Telos Alliance Welcomes Lindsay Fogle as Trade Show Manager
Did you know that the Telos Alliance participates in more than 30 trade shows around the world every year? These shows are an essential opportunity to help customers learn about all the broadcast audio solutions we offer. We recently hired a new Trade Show Manager to coordinate these events and provide her can-do attitude and enthusiasm to make them better than ever. Learn about Linday Fogle here.
Where did you grow up? Where did you attend college?
I grew up in Canal Fulton, Ohio—a small city between Akron and Canton, south of Cleveland. I went to school at Kent State University where I mostly attended the Stark Campus but commuted to Kent Main for my last semester. I earned a Bachelors Degree in Communication Studies and set off into the job market!

What industries have you worked in before?
I've held positions in several different industries including a server at a party center and front desk specialist at a salon + spa, and as an inside sales representative at Diebold and Securitas Electronic Security, where I also helped with events, trade show coordination and assignments.

What attracted you to the Telos Alliance marketing team?
I have always enjoyed marketing, events, and trade show coordination. There is something about the project coordination aspect that draws me in. I like to take ideas and bring them to fruition to create a memorable experience for clients and guests. It's satisfying and rewarding. I even like to help with events in my personal life like surprise birthday parties and bridal showers.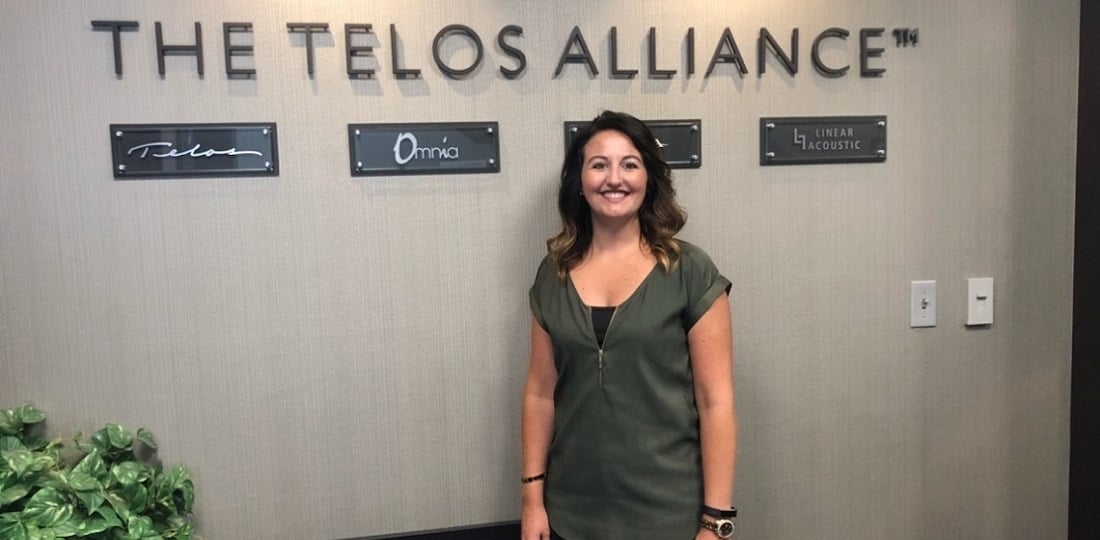 What is your favorite radio station to listen to?
I listen to Sirius XM Radio mostly. The Highway (Country), The Pulse (Pop Hits), and The Message (Christian Pop/Rock) are my main go-to stations.

When you aren't working, you're...
I like to run half marathons (because I'm only half crazy) and love to work out at the gym as well. I also enjoy spending time with my family and love having wine and game nights with the girls! I spend entirely way too much time on Pinterest, but it has turned me into a baker and an aspiring cook. I really enjoy making crafts, which can include anything from wreaths and wine glasses to any number of other home décor items.

What is your favorite sports team?
My dad is from a small town near Pittsburgh so when I was growing up, I was a Steelers fan, but my mom's side of the family and my boyfriend are Browns fans. I guess I fall somewhere in the middle and just love the experience of cheering on a favorite team with loved ones. I live in the Cleveland area so I of course have love for the Cavs and the Indians as well. My favorite sport to play is soccer. Careful, I can get competitive!

Any family details?
I'm an only child. My relationship with my parents and family is very important to me. I like to joke with my parents and tell them that they stopped at perfection. :)
Anything else you'd like to add?
I love seafood, cheese hot dogs, and ice cream. Those are probably my three favorite foods. OK, I lied, I love chips and salsa too. Food really is the way to my heart.
Learn more about upcoming events and trade shows on our Shows and Events Page!
Telos Alliance has led the audio industry's innovation in Broadcast Audio, Digital Mixing & Mastering, Audio Processors & Compression, Broadcast Mixing Consoles, Audio Interfaces, AoIP & VoIP for over three decades. The Telos Alliance family of products include Telos® Systems, Omnia® Audio, Axia® Audio, Linear Acoustic®, 25-Seven® Systems, Minnetonka™ Audio and Jünger Audio. Covering all ranges of Audio Applications for Radio & Television from Telos Infinity IP Intercom Systems, Jünger Audio AIXpressor Audio Processor, Omnia 11 Radio Processors, Axia Networked Quasar Broadcast Mixing Consoles and Linear Acoustic AMS Audio Quality Loudness Monitoring and 25-Seven TVC-15 Watermark Analyzer & Monitor. Telos Alliance offers audio solutions for any and every Radio, Television, Live Events, Podcast & Live Streaming Studio With Telos Alliance "Broadcast Without Limits."
Topics: Telos Alliance, Trade Shows
Subscribe

If you love broadcast audio, you'll love Telos Alliance's newsletter. Get it delivered to your inbox by subscribing below!