Live(wire) in Canada!
By Dave Sarkies on Oct 4, 2017 11:30:00 AM
This past weekend was the annual conference of the CCBE (Central Canada Broadcast Engineers) outside Toronto. The proceedings featured a small-scale interoperability event similar to the AES Plugfest, and a keynote presentation on the benefits of AES67 and AES70. Our Jeff McGinley attended along with Tyler Everitt, from our Canadian dealer Pippin, so we caught up with them for a review.
How did this year's CCBE go?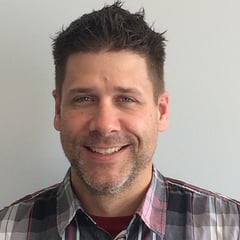 Tyler: The conference was well-attended by various levels of engineering, as well as a lot of higher-level management types. It was a great cross-section of people who were able to see the significance of AES67 on display. I was impressed with the number of attendees for the AES67 presentation.
What was significant about this year's conference?
Tyler: Over time we're getting a clearer picture of what AES67 can do for a broadcast facility. As time has moved along we're starting to get a much better idea of the significance of how AES67 can improve the day-to-day operations of a broadcast facility. Now we're moving toward television as well, so we're able to see how a common protocol can improve broadcasters' access to equipment and make workflows run more smoothly.
Tell us why you decided to give away 150 copies of the Axia Livewire+ AES67 IP-Audio Driver.
Tyler: We thought it would be great opportunity to give people the technology that allows their equipment to talk AES67. We did the giveaway in conjunction with the AES67 presentation, so it gave us a chance to explain to attendees what the driver is, and answer any questions they had about the AES67 standard and Axia gear.
Jeff: There were a lot of questions, and some attendees already had the driver, while others don't have Axia, but as Tyler points out, the giveaway is a great opportunity to answer questions and give attendees the information they're looking for when it comes to the AES67 standard.
You mentioned the AES67 / AES70 presentation from Anthony Kuzub of Ward-Beck Systems. What was the key point Canadian broadcasters could take from this presentation?
Tyler: Interoperability. We're able to demonstrate that broadcasters can interoperate across brands and products. As was pointed out by the speaker, we've been locked into different brands for so long, and now with AES67 we can interoperate between them. That's a significant thing for people to know because it's not possible for one brand to offer every single item. Even a juggernaut such as the Telos Alliance—who has a deep penetration of products in their catalog—doesn't make monitor speakers or certain other endpoint type items that might be accessible through AES67. So it gives broadcasters the ability to completely network all the way out to the very edge of their systems.
"We're able to demonstrate that broadcasters can interoperate across brands and products... We've been locked into different brands for so long, and now with AES67 we can interoperate between them."

—Tyler Everitt, Sales Manager, Pippin Technical
Jeff: It's important that the presentation touched upon not only AES67 but also AES70 (Control over IP), which will provide even more flexibility for broadcasters over time, beyond equipment from different manufacturers playing nice with each other.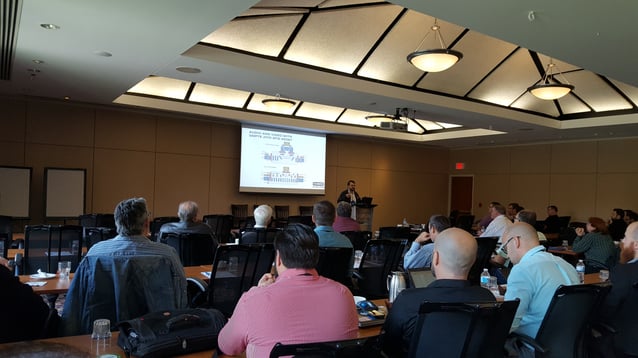 Anthony Kuzub of Ward-Beck presents on AES67
Tyler: We've demonstrated over the years that AES67 does not have to be a hugely difficult and complicated ordeal. With the proper preparation it can be implemented successfully relatively quickly. You need to know what you're doing, but we've demonstrated that it can be done successfully and it doesn't take four days to set it up. And as Jeff said, Anthony did a good job of intertwining AES67 and AES70, and showed that they're two separate protocols, but two very complementary protocols.
How did the Micro Interop event go?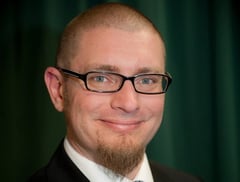 Jeff: It was a big success. We successfully passed streams between gear from six manufacturers—The Telos Alliance, ENCO, RCS, Ward-Beck, Roth, and Covleoz. It was a wild success and everyone was very excited. There was a lot of talk about how we got it done and the future of interoperability.
How have AoIP–and Livewire specifically–been received by Canadian broadcasters over the years?
Jeff: There is so much Livewire up in Canada! The presentations I give in Canada are attended by so many smart, engaged customers that want to learn more about their Livewire networks. From legacy facilities to new facilities. It's been very well received. The Canadian market is all about it.
Tyler: We've been selling and installing Axia now for more than 13 years, and now, that's all we do. Our company does everything from small community, northern, native stations all the way up to the top billing stations in Canada, and we've installed Axia products at every single level there is. It's the only product we put in, from the very smallest to the very largest.
Great to hear that Axia is providing Canadian broadcasters with the tools and information they need to push their facilities into the future. Thanks for your time guys!
Further Reading
For more on interoperability, read these blog posts:
Manufacturers Plug in at AES Plugfest
Shay: Manufacturers Plugged In to AES67
Subscribe

If you love broadcast audio, you'll love Telos Alliance's newsletter. Get it delivered to your inbox by subscribing below!