Open Broadcaster Appeals to International Audience with Livewire Partnership | Telos Alliance
By The Telos Alliance Team on May 17, 2018 6:51:50 AM
Open Broadcaster Appeals to International Audience with Livewire Partnership
Telos Alliance is on a roll adding new Livewire partners in 2018, now with more than 115 software, hardware, and integrator partners worldwide. We caught up with Rob Hopkins of Open Broadcaster to learn how this new Livewire partner is using the AoIP protocol to appeal to a wider international audience.
Can you tell us a little bit about yourself and how Open Broadcaster came to be?
I live in Yukon Territory, an hour and a half south of Whitehorse in a small town. I was trying to figure out what type of work I was going to do many years ago and what kind of business opportunities were out here—not much being a small town. I got into communications and realized the importance of communications for small communities, then tried to figure out what people wanted. Everybody wanted to know information, where the jobs were, and where opportunities were.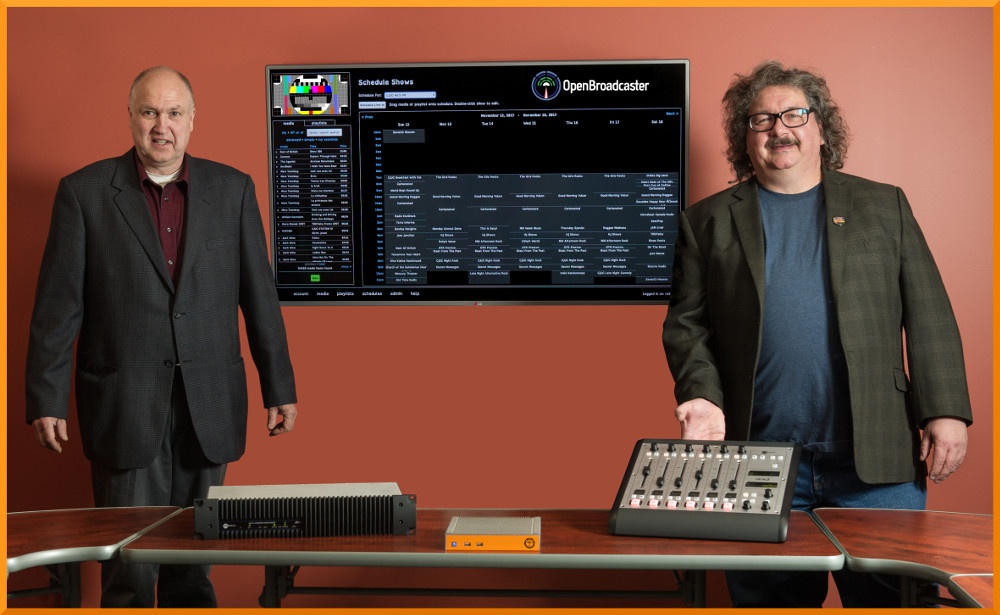 Rob Hopkins and Bill Polonsky with Axia QOR.16, OBPlayer and Axia DESQ
I started thinking about broadcast radio as a delivery of that type of message. That's where I started to get into realizing the importance of emergency communications as well. Back in the day, I initially set up my own long distance telephone network. I connected Whitehorse to Tagish 120 kilometers away.
Right after that, I set up a radio station, an under-regulated radio station (aka a pirate station). I pitched the Yukon government for seed money to develop a software application to run my radio station and other radio stations through a web browser. This has turned into my main business.
What exactly is the idea behind Open Broadcaster software?
Going back 20 years, in the north, internet was around but very, very expensive. General streaming services are pretty out of the question for a lot of the communities. My idea was to have open source software to be able to manage a radio station and have it use that as the method of delivery of the information through FM radio as the last-mile delivery. So, the idea was that you could use internet as a communications tool to create the content, but it would be delivered as an analog FM radio signal.
That's really fascinating stuff that can obviously be a huge benefit to a lot of folks.
Right. Everybody's in on information—kids, government, adults. But who has really missed out on it is First Nation, American Indian elders, and older people. They don't necessarily have a computer or the time to learn it all. But using Open Broadcaster, they get the benefit of the internet. The information is delivered through the internet, but they pick it up through conventional FM radio.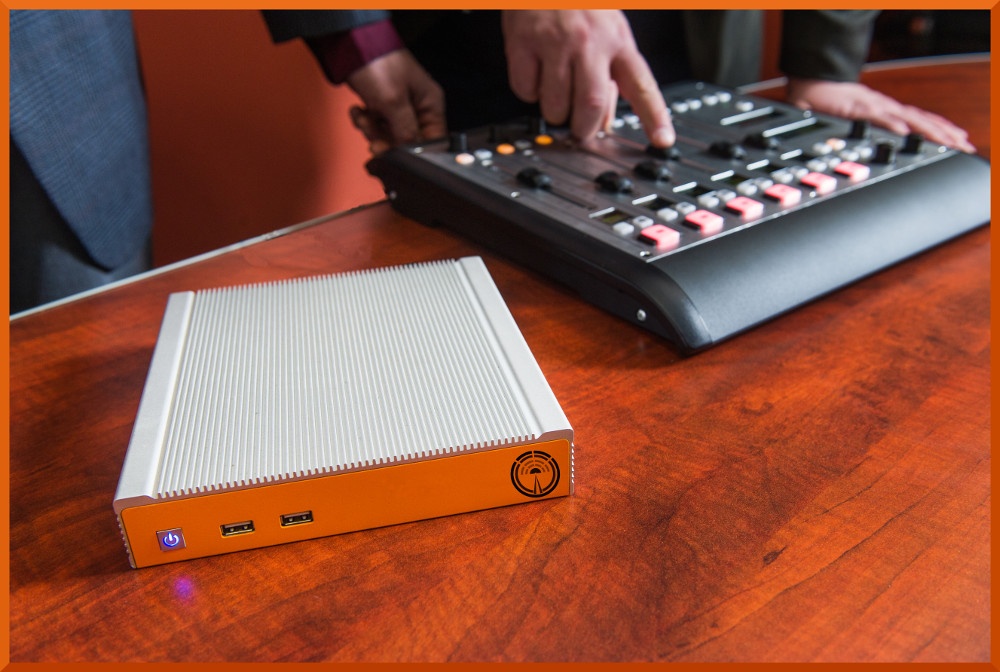 Does Open Broadcaster affect the way a radio station runs?
All our source code, intellectual properties are in the public domain. All of our tools run through a single unified web browser. So there are no applications to install on your desktop computer. You can work on one computer through a browser and then go to the news office and go to another browser and run your radio station or network of radio stations on a Windows, Mac, Linux computer. As long as you can get Google Chrome going, everything works.
It makes it easy in terms of operations, certainly. The old model...if you had a radio station, you'd have 10 people—the station manager, owner, program director, music directors, advertising, sales, news department, different DJs, etc. You can't run a radio station like that anymore, because the cash flow is not there. What Open Broadcaster does is it allows the audience to be able to run the radio station from a remote computer.
Tell us about the emergency broadcasting part of the business and how it relates to Livewire.
Integrated EAS and emergency messaging based on CAP (Common Alerting Protocol) is being rolled out internationally. We work with international technical EAS groups making systems compliant with upcoming emergency alerting directives from regulators. Our EAS systems are disruptively priced and open source, can run as a broadcast appliance or as a service in a virtual environment. When a country serviced by Axia\Telos infrastructure has the capability to participate in unattended country-wide EAS, we will be able to offer this as a service! Stations with multiple repeaters and networked stations typically have to buy this gear to receive alerts. Making our EAS product work with Axia Livewire makes it plug-and-play, saving a lot of time and resources. Our EAS provides CAP alerting in many languages, including indigenous peoples regional dialects of the Americas.
"When a country serviced by Axia\Telos infrastructure has the capability to participate in unattended country-wide EAS, we will be able to offer this as a service! Stations with multiple repeaters and networked stations typically have to buy this gear to receive alerts."—Rob Hopkins, Open Broadcaster
Can you give us examples of other applications for Open Broadcaster/Livewire?
Off hours to enable existing stations to capitalize on user-generated community-type programming to create an additional draw for off-peak and specialty listeners as an additional revenue stream. An example is small-town radio that runs 6:00AM–6:00PM with LIVE studio and established programming and a random radio\train wreck programming off hours. Stations use our systems to allow local community time slots so the local Jazz or Blues aficionado can run a show from home as a volunteer from say 8:00–10:00 PM. The station adds some original programming to the mix presenting opportunity for micro-advertising of niche market goods and services.
Additionally, our gear runs on a $35.00 USD Raspberry Pi for the DIY Maker Space community, including support for Livewire/AoIP. It's all very exciting!
You Might Also Like...
GatesAir® Joins Family of 115+ Livewire Partners
5 Tips for Converting to an AoIP Studio
Telos Alliance has led the audio industry's innovation in Broadcast Audio, Digital Mixing & Mastering, Audio Processors & Compression, Broadcast Mixing Consoles, Audio Interfaces, AoIP & VoIP for over three decades. The Telos Alliance family of products include Telos® Systems, Omnia® Audio, Axia® Audio, Linear Acoustic®, 25-Seven® Systems, Minnetonka™ Audio and Jünger Audio. Covering all ranges of Audio Applications for Radio & Television from Telos Infinity IP Intercom Systems, Jünger Audio AIXpressor Audio Processor, Omnia 11 Radio Processors, Axia Networked Quasar Broadcast Mixing Consoles and Linear Acoustic AMS Audio Quality Loudness Monitoring and 25-Seven TVC-15 Watermark Analyzer & Monitor. Telos Alliance offers audio solutions for any and every Radio, Television, Live Events, Podcast & Live Streaming Studio With Telos Alliance "Broadcast Without Limits."
Topics: Telos Alliance 24/7 Support
Subscribe

If you love broadcast audio, you'll love Telos Alliance's newsletter. Get it delivered to your inbox by subscribing below!