Making Sense of the Next Generation of TV Audio | Telos Alliance
By The Telos Alliance Team on Mar 12, 2020 1:44:04 PM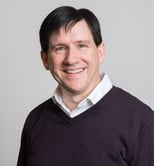 Making Sense of the Next Generation of TV Audio
A television engineer once told me that he'd been in the industry long enough to remember when audio was the simple part of TV: "If you turned up the volume and heard sound, you were all set." The transition to DTV changed all of that as broadcasters wrapped their heads around multichannel audio as well as loudness and compliance issues, and now the emergence of immersive audio and the deployment of ATSC 3.0 has introduced an entirely new television audio lexicon. We thought it might be time to help untangle the ball of TV audio twine.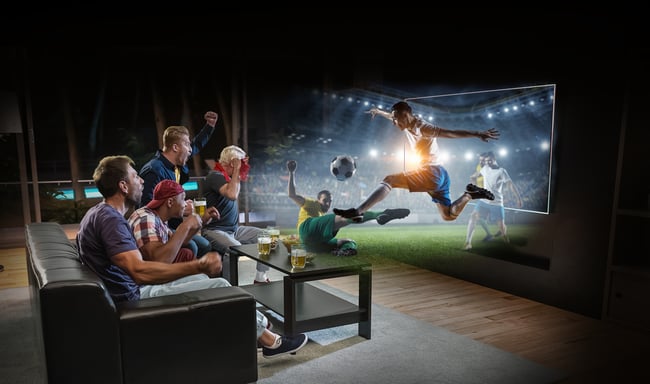 Resource: Bringing NextGen TV Audio to Life
Immersive Audio



Let's start with the broadcast possible term: Immersive audio. Generally speaking, "immersive" refers to multichannel audio that goes beyond the standard 5.1- and 7.1-channel formats and includes additional overhead height channels and, in some cases, additional ear-level channels as well. For broadcasters, this typically translates into 5.1.4 (the usual 5.1-channel format plus four height channels) and 7.1.4 (5.1-channel plus two additional ear-level channels and four height speakers).

For consumers, this translates to a more engaging and, well, immersive experience. The use of object-based audio, additional overhead channels, and sound reflecting off walls eliminates the perception that individual sounds are coming from a particular speaker. Instead, sounds can be located spatially within the room for a more realistic and accurate soundfield.

Notice that when referring to immersive audio, there's no mention audio codecs nor is there any reference to a delivery method such as OTA, OTT, streaming or Blu-ray.


Dolby Atmos®


There are several ways to create immersive audio, but one of the best-known is Dolby Atmos®. Atmos is best thought of as an "experience" rather than an application-specific technology, and enjoys widespread use for OTA, OTT, streaming platforms, and Blu-ray discs for home viewers. Atmos at home can be accomplished by using a home theater system with a room full of speakers or fewer up-firing speakers that reflect sound off the ceiling, an advanced soundbar, video game consoles, and certain smart speakers such as the Amazon Echo with Atmos music service. A version even exists for listening through headphones on a

computer, tablet, or smartphones. Atmos is also available in many movie theaters.
From a technical standpoint, today Atmos is delivered to viewers as a bitstream using Dolby Digital Plus® JOC. For ATSC 3.0 and future formats, it will use Dolby's own AC-4 codec.

Next Generation Audio
Next Generation Audio – or NGA – is sometimes incorrectly used as a synonym for immersive audio. Rather, Next Generation Audio describes the newer generation of audio codecs (more about those later) that not only support immersive audio, but offer a multitude of additional features. These include personalized audio, object-based audio, improved audio description capabilities for visually impaired viewers, the ability for the viewer to boost dialog levels, and more.



There are three competing Next Generation Audio codecs to choose from: Dolby AC-4, Xperi DTS:X, and MPEG-H from Fraunhofer. AC-4 and DTS:X have their roots in film and theatrical applications; MPEG-H was designed specifically for broadcast television. A full comparison is beyond the scope of this blog post, but suffice it to say that all three have broadly similar feature sets while each brings some unique offerings to the table.



ATSC 3.0 and NEXTGEN TV



ATSC 3.0 is a new standard for OTA broadcast television. As of this time, the United States and South Korea have adopted ATSC 3.0, though other regions may do so in the future.

From an audio standpoint, ATSC 3.0 specifies the use of two audio codecs to provide the benefits of Next Generation Audio: Dolby AC-4 and MPEG-H. The U.S. has opted for AC-4, while MPEG-H is the choice in South Korea.



Technically speaking, NEXTGEN TV is exactly the same as ATSC 3.0, but ATSC 3.0 will be mostly familiar to broadcasters. The consumer-facing NEXTGEN TV logo is what consumers are more likely to see when they walk into their local electronics store to shop for a television offering the most current features and technology.


Helping Broadcasters Get Prepared



If you're still with us, congratulations on navigating a minefield of acronyms and jargon! Now the question for broadcasters is, "What do I need in order to get on board with this new wave of television audio technology"?

Glad you asked. Telos Alliance – specifically the Linear Acoustic and Minnetonka Audio brands – are experts in TV audio and have everything broadcasters need to ready themselves. In many cases, we are the only manufacturer with the proper tools. Here's a look at some of our immersive and Next Generation Audio products.


Linear Acoustic® LA-5300 Broadcast Audio Processor

The LA-5300 is a single turnkey solution for OTA broadcasters looking to make the jump to ATSC 3.0/NEXTGEN TV. It includes upmixing, loudness control, audience measurement watermarking, monitoring, and the transmission of Dolby Atmos content using the Dolby AC-4 codec.



Linear Acoustic UPMAX® ISC Immersive Soundfield Controller


The UPMAX ISC creates an immersive 5.1.4- and 7.1.4-channel soundfield from 2-, 3-, 5.1-, and 7.1-channel sources. Designed primarily for live broadcasts, its output can be encoded downstream by any codec supporting immersive audio including Dolby Digital Plus JOC, or Dolby AC-4 and MPEG-H for ATSC 3.0/NEXTGEN TV transmission.



Linear Acoustic LA-5291 Professional Audio Encoder
The LA-5291 is a Dolby transcoder primarily for use the production of live, real-time Dolby Atmos content using the Dolby Digital Plus JOC codec. It is also intended to facilitate the transport and distribution of Atmos content via cable, satellite, OTT, and streaming platforms.



Linear Acoustic AMS Authoring and Monitoring System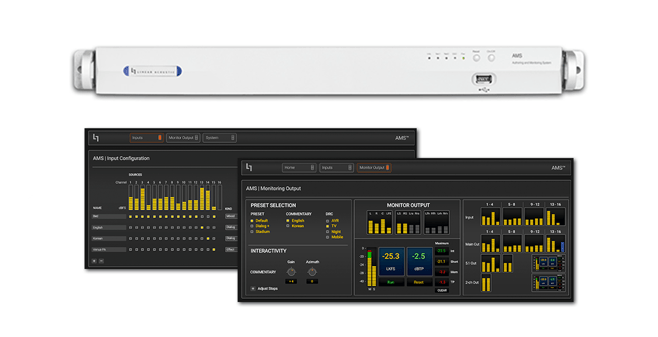 AMS authors and manipulates the metadata used to help create immersive and personalized audio for ATSC 3.0/NEXTGEN TV transmissions using the MPEG-H codec. It also offers Linear Acoustic APTO™ loudness control and the ability for the operator to hear what the audio will sound like in various consumer listening environments.



Minnetonka Audio AudioTools Server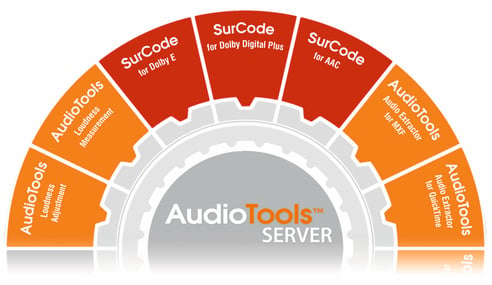 For decades, the AudioTools Server platform has been the premier enterprise-ready solution for television loudness measurement and compliance processing, upmixing, Dolby® coding, and quality control for automated file-based workflows. Now, ATS adds immersive Linear Acoustic upmixing, a full MPEG-H production library for ATSC 3.0/NEXTGEN TV workflows, and Dolby Digital Plus JOC encoding to bring the Dolby Atmos experience to the file domain. It also offers loudness processing that meets the unique and stringent requirements for immersive content on Netflix, joining the list of approved vendors on the Netflix Best Practices Document V1.2.

Stay updated with NEXTGEN TV audio content by filling out the form below!


Bringing NextGen TV Audio to Life
MPEG-H Next Generation Audio Trial
Why You Can't Afford NOT to Process Your On-Demand Content
Telos Alliance has led the audio industry's innovation in Broadcast Audio, Digital Mixing & Mastering, Audio Processors & Compression, Broadcast Mixing Consoles, Audio Interfaces, AoIP & VoIP for over three decades. The Telos Alliance family of products include Telos® Systems, Omnia® Audio, Axia® Audio, Linear Acoustic®, 25-Seven® Systems, Minnetonka™ Audio and Jünger Audio. Covering all ranges of Audio Applications for Radio & Television from Telos Infinity IP Intercom Systems, Jünger Audio AIXpressor Audio Processor, Omnia 11 Radio Processors, Axia Networked Quasar Broadcast Mixing Consoles and Linear Acoustic AMS Audio Quality Loudness Monitoring and 25-Seven TVC-15 Watermark Analyzer & Monitor. Telos Alliance offers audio solutions for any and every Radio, Television, Live Events, Podcast & Live Streaming Studio With Telos Alliance "Broadcast Without Limits."
Subscribe

If you love broadcast audio, you'll love Telos Alliance's newsletter. Get it delivered to your inbox by subscribing below!