NAB 2017: Surviving the Show
I've been attending NAB for the past ten years, and off and on before that. It seems like a long time until I talk with people who haven't missed a show in 40 years or more. It's a big week, and it's beneficial to prepare ahead. So I've devised a plan for surviving NAB with most of my sanity intact, one that I tweak and refine every year when I get home. Of course, the show changes over time as well, so it's a bit like trying to hit a moving target. If this is your first show, then some of the things I've learned the hard way may be beneficial for you at NAB 2017.
Plan Ahead
This may be obvious, but you can't see everything there is at NAB in the allotted four days; no one can. Set priorities, both in terms of sessions you want to attend and booths you want to visit. After you register, take advantage of the myNAB Show Planner to search listings for the products you're looking for, create a target list of companies you want to visit, and a floor plan to get you there as efficiently as possible. You can also use it to schedule meetings and add sessions to your schedule. When you're all done, take it with you on your mobile device.
Planning and organization aside, you still need to be flexible and ready for the unexpected. NAB is the place where companies unveil new products or make monumental announcements, and they usually keep it a secret until the last minute. That's why the first day is important. Everyone's looking for the surprises, so it's important to pay attention to the conversations around you. Maybe a company has unveiled just the product you're looking for. Maybe a new company has shown up with technology that's a total game changer. Maybe the exhibitor at booth C4691 is giving away canvas tote bags, shirts, or other great swag. Maybe Elvis or Santa Claus have landed in a drone in the outdoor exhibit area. Hasn't happened yet, but it could.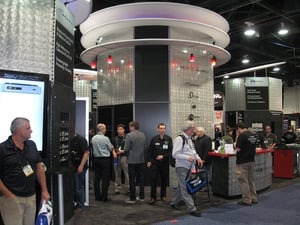 Day by Day
Each day of the show has a different feel to it, and a different purpose. Monday is for discovering the surprises, but it is also the time for visiting the small booths, and perhaps the outdoor exhibits, and maybe taking in a couple extra sessions. It is definitely NOT the time for visiting the large booths, hands-on experiences, or asking detailed questions; the crowds are simply too huge. Tuesday is only slightly better. Most of the people who come for two days do Monday-Tuesday, so Wednesday is the best day for in-depth experiences. Thursday, the show closes for good at 2 PM. It's a day for tying up loose ends, more in-depth conversations, and saying goodbye to friends and colleagues until next year. Don't forget to stop by the Telos Alliance booth shortly before 2 for our unique closing ceremonies!
Pack Light
There are a few things you should bring to the show, but a lot you can leave behind. My rather small tote bag contains only the essentials. A large bottled water is a must. Sure, there are water fountains in the Convention Center, but just try to find one when you're really thirsty. The air is much drier in Vegas, and dehydration can sneak up on you. I usually grab a few bananas and apples from the hotel buffet for my light lunch the next day. Protein bars are good too. Your other alternative is standing in long lines for overpriced hot dogs and watered down sodas, or perhaps leaving the convention center and finding a restaurant that isn't too crowded. Good luck with that.
My tote bag also contains a legal pad and digital recorder for the sessions. During the six-hour flight home, I can play back the recording and organize my scattered notes into something that will be useful in the coming months.
Even in the digital age, business cards still seem to be required. I always give out several, and come home with a 2-inch stack that needs to be sorted out. Speaking of paper, grab a copy of the show catalog on your way in, unless you've got it all on your smartphone.
The Las Vegas Convention Center has become a lot more focused on terrorist threats and security issues in the past couple years, and discourages people from bringing large tote bags into the exhibit halls. They add that any bags you do bring in are subject to search, so even more reasons to pack light.
Feets Don't Fail Me Now
Just for fun, I wore a pedometer while in Vegas last year. I put it on when the plane landed at McCarran, and took it off when I was seated for the trip home. In six days, I walked 77.5 miles. My daily logs show that I traveled a little less than 50 miles walking from my hotel to the convention center, and while walking the halls. Not surprising when you consider the convention center has over a million square feet of exhibit space. The point is, wear comfortable shoes. You often see men and women in nice suits at NAB, only they're wearing running shoes or sneakers. There's a reason for this.
Dress Accordingly
Forget about dress for success or dress to impress; if you're an attendee, just dress for comfort. Think casual Fridays. It's also good to bring along a light jacket or hoodie, because while it will probably be sunny and in the 80s, the Convention Center and most other establishments will have the AC cranked.
Take Some Time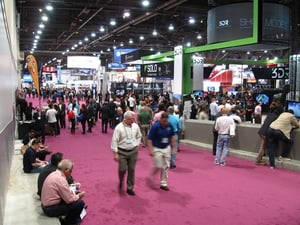 Spending four full days in the convention center can be bad for your mental, physical, and emotional health. It's good to plan ahead for some down time. Over the years, I've become a bus tour junkie. These day trips take you to worlds where there are no internet, WiFi, or Ethernet connections. So far I've visited Hoover Dam, the Grand Canyon (twice), Red Rock Canyon, and the Valley of Fire. Next up: Death Valley.
If you can't take a full day off, there are lots of things to do in Vegas that don't involve gambling or adult entertainment, although they may take a bit of sleuthing to find. One of the best-kept secrets of Sin City is that is does have a very good public transportation system, so even if you don't rent a car, getting around is not a problem.
The Neon Museum is where many of those great casino signs from the Rat Pack era have gone for retirement. A few have been restored to their former glory; many are as they were when taken down before the inevitable demolition that marks the end of all casinos along the Strip. Day and night tours are available.
If your interest is more along the line of dinosaurs and the great outdoors, then the Las Vegas Natural History Museum may be a good destination. The exhibits include an African savanna gallery which showcases the beauty of southern Africa, featuring a watering hole, and predator-prey relationships.
There's also an Egyptian exhibit which includes exact reproductions of the contents found in King Tut's tomb. What's this got to do with natural history? Not much, really. It was originally commissioned for the Luxor Hotel, who later donated the exhibit to the Museum. You may also explore an Egyptian mummy by using state-of-the-art technology that allows the user to "scan" a mummy replica in real time and view actual medical imaging taken of a real mummy.
In the marine life gallery, you are submerged in the special effects of an ocean experience. Live sharks and stingrays occupy a 3,000-gallon tank, while other colorful and fascinating creatures from the deep occupy additional jewel tanks. Life-size recreations of various species of sharks and fish hang from the ceilings and walls.
This next one is not in any of the tour guides, but the Xeric garden at UNLV demonstrates how drought-tolerant plants and an efficient irrigation system combine to save water and create an attractive landscape. It was the first large-scale demonstration garden of its kind in the Las Vegas Valley. Plants from arid climates around the world are tagged for easy identification. With over 9,000 square feet of paved pathways, benches, arbors, and bridges, there are plenty of places to wander or just sit and enjoy the scenery. If you're still long enough, you may see the Whiptails and hummingbirds who are full-time residents of the garden.
Welcome Home
Even if you plan your trip well and take it easy from time to time, you still might feel run down when you get home. But if you've organized your time at NAB, you'll have made some good contacts, be more up to speed on new equipment, gained some useful knowledge at the sessions, and had a bit of fun along the way.
Telos Alliance has led the audio industry's innovation in Broadcast Audio, Digital Mixing & Mastering, Audio Processors & Compression, Broadcast Mixing Consoles, Audio Interfaces, AoIP & VoIP for over three decades. The Telos Alliance family of products include Telos® Systems, Omnia® Audio, Axia® Audio, Linear Acoustic®, 25-Seven® Systems, Minnetonka™ Audio and Jünger Audio. Covering all ranges of Audio Applications for Radio & Television from Telos Infinity IP Intercom Systems, Jünger Audio AIXpressor Audio Processor, Omnia 11 Radio Processors, Axia Networked Quasar Broadcast Mixing Consoles and Linear Acoustic AMS Audio Quality Loudness Monitoring and 25-Seven TVC-15 Watermark Analyzer & Monitor. Telos Alliance offers audio solutions for any and every Radio, Television, Live Events, Podcast & Live Streaming Studio With Telos Alliance "Broadcast Without Limits."
Topics: Telos Alliance, nab 2017, Las Vegas
Subscribe

If you love broadcast audio, you'll love Telos Alliance's newsletter. Get it delivered to your inbox by subscribing below!