NAB 2023 in the Rearview Mirror
By Jim Kuzman on May 30, 2023 4:05:29 PM
Looking Back on the Most Important NAB Show Ever
The 2023 NAB Show was different from any other in our industry's history. When we all left the Las Vegas Convention Center in 2019, no one could have imagined it would be three years before we'd return. Things were starting to get back on track by 2022, but one of the most common sentiments about this year's show was that it finally felt, for lack of a better word, "normal" again.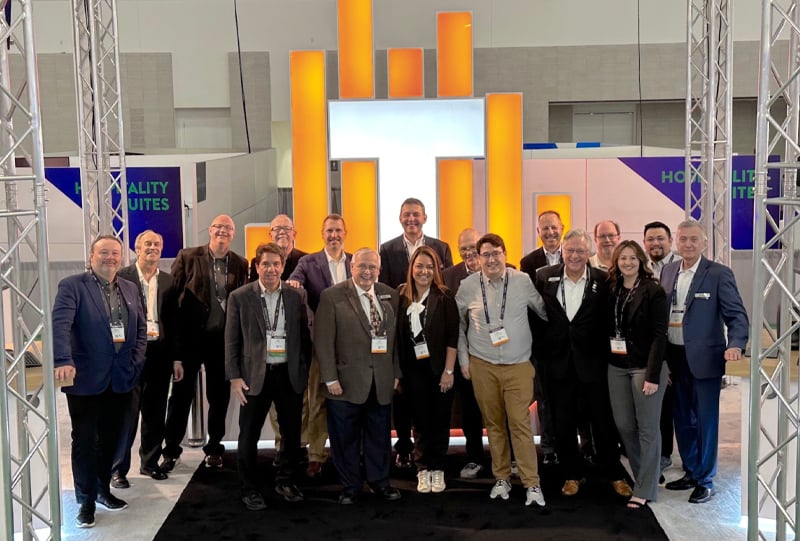 The Telos Alliance crew all ready for the 2023 NAB Show to open.
Anyone who has ever attended a NAB Show can tell you how much preparation is involved. You have to have a plan going in because you can't see and do everything, and much like Las Vegas itself, the NAB show floor is packed with shiny things vying for your attention and taking full advantage of the "squirrel!" factor. So you plan, you go, you walk, and then you go home and don't think about it again until next year.
Exhibitors do not have that luxury. For us, NAB never goes away entirely; we're always aware the next show is looming. It's kind of like having a cat. Sometimes you are only vaguely aware of its presence because there's less food in the bowl, and you think you saw something dart past out of the corner of your eye. And sometimes you wake up in the morning to find a giant whiskered face inches away from yours, blotting out the morning sun and just…staring. But it's always there.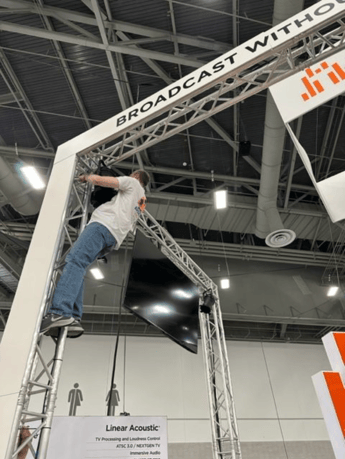 Don't all CEOs climb the rigging and help build the booth? Or maybe someone told Scott Stiefel there was an Iron Maiden CD hidden up there.
No one knew exactly what to expect this year, so, like most of our colleagues and industry friends, we relied upon our strategic wits and the occasional shake of our trusty Magic 8 Ball. Now, looking in the rearview mirror, the 2023 NAB Show was, in many ways, the most important ever.
Broadcasting - a term whose definition has broadened substantially in recent years - has never been a static world. It continually reinvents itself as technology evolves, but its evolution has never been more accelerated than in the past three years. If the notion of challenging "the way we've always done it" was in the back of our collective minds in 2019, the pandemic turned "someday" into "right now" in nearly every way.
Looking at the products we featured at NAB tells the same story. Quasar XR and SR are the sixth generation of Axia® AoIP consoles and represent our most mature offerings to date, and they sure dress up a tradeshow booth.
We introduced Axia® Altus, our new virtual mixing console; Omnia® Forza, our new processor for HD, DAB, and streaming audio; and the very clever VIP App to expand the usefulness of our Telos Infinity® Virtual Intercom Platform. All are examples of software-based solutions that support and expand upon our decades-long legacy of trusted and innovative hardware.
Speaking of innovative hardware, Jünger™ Audio's AIXpressor is one example where having a traditional purpose-built, rack-mountable, standalone product makes perfect sense. But, when the need arises, it can join flexAIserver as part of the larger networked flexAI platform for television processing and coding. Immersive and Next Generation Audio continue to gain attention, as did our Linear Acoustic® LA-5291, LA-5300, and UPMAX ISC offerings.
Coming full circle to software, the newly-released WorkflowCreator for Minnetonka Audio® AudioTools Server makes it easier than ever to wrangle a very powerful product by making it possible to build custom workflows entirely from scratch, something ATS customers have had on their wish list.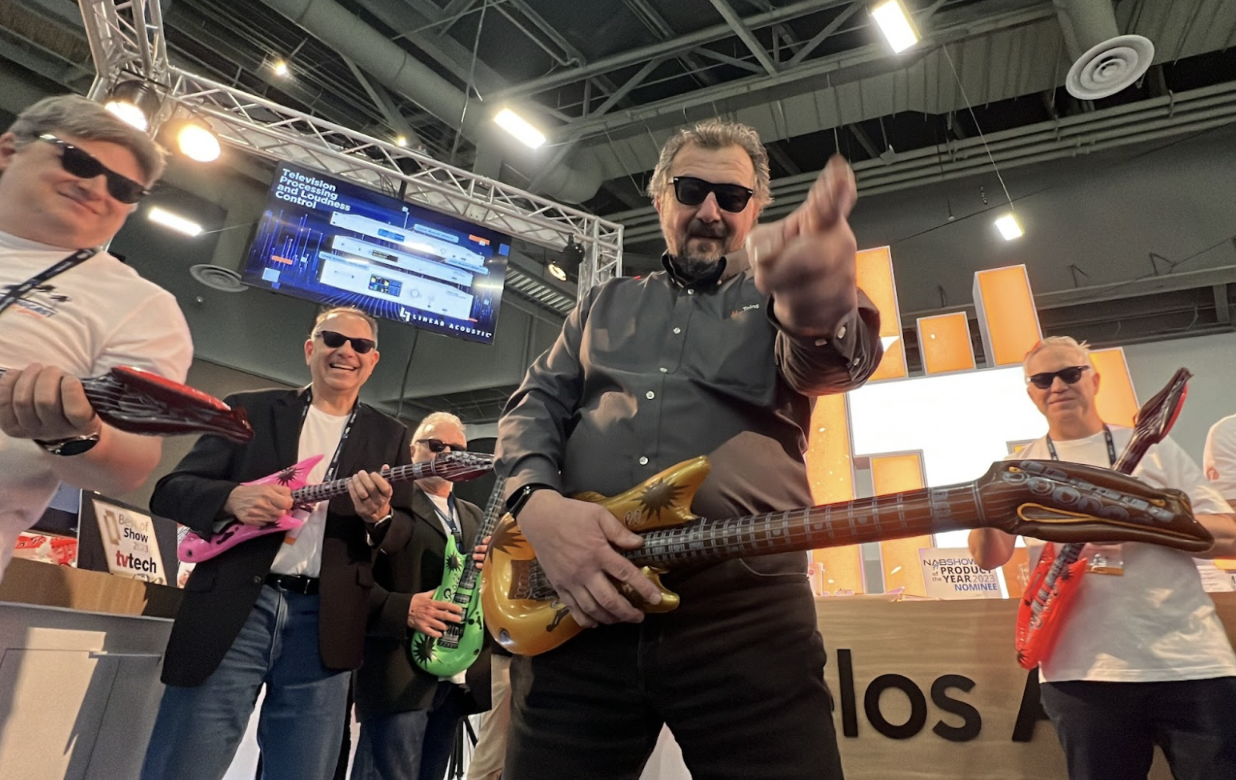 When you walk by the booth and see this, you know the neighbors are about to call the authorities and complain about the noise.
We were humbled to be on the receiving end of six awards this year: TVTechnology Best of Show for VIP App and WorkflowCreator, TVBEurope Best of Show for AIXpressor, Radio World Best of Show for Altus and Forza, and a special honor, NAB Show Product of the Year for Altus.
But perhaps the best part of the show was sitting down and catching up with our colleagues and customers and learning about what they've been up to, face to face, right on the show floor. Doing so was once a "given" every April, but we have a new appreciation for it this year. Things really did feel like they were finally back to normal, and it sure felt good.
Telos Alliance® is a global leader in audio, trusted by the biggest names in the media landscape. Telos Alliance's focus is to deliver innovative, intuitive solutions that inspire the creation of the most exciting and engaging audio experiences imaginable. From the very beginning, we've brought the newest technology to our industry to provide our customers with capabilities they never thought possible. Nothing is more important than supporting our customers. That's why our Professional Services offering is part of our ongoing commitment to provide customers with the best possible experience and includes pre-sales consulting, remote and onsite configuration, container deployment and configuration, proof-of-concept work and more. We also offer TelosCare™ PLUS, a service-level agreement that goes beyond basic support with proactive, holistic service and membership perks, focusing on service solutions broadcasters need most, such as configuration and integration. Telos Alliance product portfolio includes Axia® Audio, Linear Acoustic®, Minnetonka Audio®, Omnia® Audio, Telos Infinity®, Telos® Systems, and 25-Seven® Systems. Telos Alliance is also the exclusive distributor of Jünger Audio products. Headquartered in Cleveland, Ohio, USA, Telos Alliance supports the diverse needs of audio professionals around the world with best-in-class support 24/7.
Topics: Broadcast Engineering, Trade Shows, NAB2023
Subscribe

If you love broadcast audio, you'll love Telos Alliance's newsletter. Get it delivered to your inbox by subscribing below!