Off-Air Monitoring with Omnia.9
By Clark Novak on Jun 3, 2013 3:30:00 PM
Resolving audio delay issues with the Omnia.9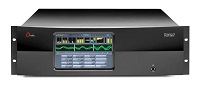 Sanif Sentosa of CityRadio 95.9 in Indonesia writes:
I've just purchased and installed my Omnia.9 Processor. We use it for Stereo FM, HD Radio and Streaming. I've got a problem in the latency. There is approximately 1-2 seconds delay between the output from my mixer and the output of the audio processor. Could you please help me with that?
David Jablonski of Engineering Support replies:
Yes, there is a delay of 1 second. This is because the Omnia.9 is doing an enormous amount of DSP processing to give you the cleanest, clearest audio possible. This is not a buffering delay; every millisecond is used to improve the audio. "Undo" uses 300ms, and the psychoacoustic composite clipper uses about 700ms. So, for off-air monitoring, we suggest that you use the Omnia.9's low-delay output. The most recent Omnia.9 software update allows you to have a completely separate input for the low-delay path, making it possible to feed directly off the board, before any profanity delays. It could even be fed from PFL. Check to ensure you have the latest software or contact technical support to get it.
Topics: Omnia Audio, Radio Audio Processing, Audio Quality Monitoring & Analysis
Subscribe

If you love broadcast audio, you'll love Direct Current! Get it delivered to your inbox weekly!