Get Powerful OmniaSST Processing Software Updates with New Release
By Dave Sarkies on Jan 17, 2018 11:32:00 AM
Since its initial release, Omnia and our audio processing powerhouse Hans van Zutphen have been working hard to make OmniaSST, the software package that transforms your PC into a powerful audio processor, even more robust. Now we're ready to release the exciting upgrades included in v8.53, the latest version.
The most notable feature addition in this new version of SST include a new Auto EQ, and improved anti-phase repair. With Auto EQ users can now automatically control the spectrum before the AGC, making it possible to use the multibands to very precisely control how deep each band will go down, and thus how much density can be added to your audio, regardless of how the input material sounds. Automatic phase repair utilizes advanced DSP to allow the restoration and control of pure anti-phase signals, rivalling processors costing thousands more.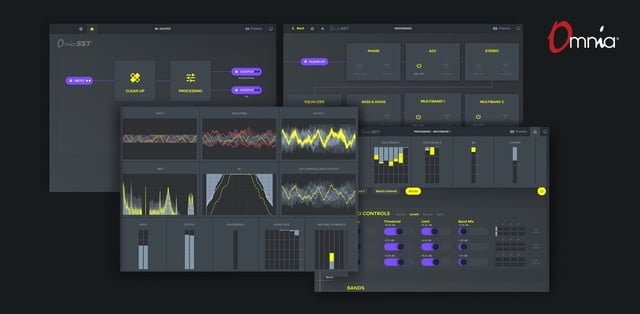 Powerful functionality added to OmniaSST.
As the first processor to support the Telos Alliance's revolutionary µMPX™ codec, Omnia was sure to include some important µMPX enhancements in this new version of SST, as well. µMPX, which allows users to send a full multiplexed FM signal with RDS through a narrow 360kbps pipe, now features a new packet reception display that allows users to gauge the quality of service of your network connection, which integrates directly into SST's user interface. In addition, our standalone µMPX decoder and encoder executables are now manageable from the easy-to-use GUI.
If your airchain includes processing on a PC and you haven't tried SST, now is the time! Check out the demo version of the software or purchase it now.
Further Reading
For more about OmniaSST and its developer, Hans van Zutphen, check out the following:
Cutting Edge Music Deserves Cutting Edge Audio
Topics: Omnia Audio, omniasst, Hans van Zutphen
Subscribe

If you love broadcast audio, you'll love Direct Current! Get it delivered to your inbox weekly!