TWiRT 364 - Stereo Tool & Omnia Processing with Hans & Matt
By Kirk Harnack [TWiRT] on Sep 17, 2017 1:00:00 PM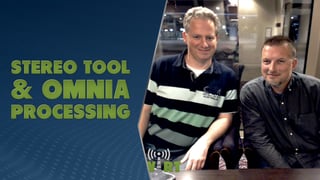 Stereo Tool is a popular PC-based audio processor for FM, DAB, and web streaming. Radio Engineer, Matt Levin, tells us about installing and using Stereo Tool. Plus, Hans van Zutphen, the author of Stereo Tool, describes how Omnia audio processors benefit from Stereo Tools users' feedback.
Guest:
Hans van Zutphen - Audio Processor Designer & CEO at Thimeo Audio Technology
Matt Levin - Chief Engineer at CVCO, Inc.
Show links:
OmniaSST broadcast audio processing for PC, with µMPX
StereoTool broadcast audio processing for PC
Hosts:
Chris Tobin, IP-Solutionist
Kirk Harnack, The Telos Alliance, Delta Radio, & South Seas Broadcasting
Follow TWiRT on Twitter and on Facebook
Watch the Video!
Topics: Broadcast Engineering, Streaming Audio, audio, audio quality
Subscribe

If you love broadcast audio, you'll love Direct Current! Get it delivered to your inbox weekly!