The Bisset Brief: Planning Your AoIP Radio Installation | Telos Alliance
By The Telos Alliance Team on Jan 9, 2018 8:40:00 PM
The Bisset Brief: Planning Your AoIP Radio Installation
John Bisset, Telos Alliance Radio Products Sales Manager for the Western U.S., tells us about his travels across the country, where he has helped facilitate a number of AoIP radio facility installations. He shares some of his experiences here.
One of the most frustrating things is to run out of Ethernet cable runs between your TOC (Technical Operations Center) and each studio. In talking with Greg Dahl of Second Opinion Communications, one of our Axia project integrators, he recommends pulling 12 runs of CAT6 cable between your TOC and each studio. In addition to using the CAT6 for your Livewire+ AES67 network, the cabling can also be used for other studio computers or control wiring of broadcast equipment.
CAT6 is only slightly more expensive than CAT5e, so choosing the CAT6 gives you a future advantage. CAT6 offers a higher signal to noise ratio (SNR), and lower crosstalk than CAT5e.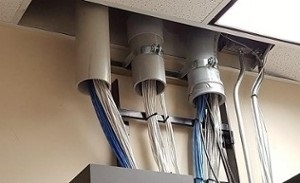 The idea behind twelve runs of cable is that those 12 runs can be terminated in half of a 24 port Ethernet patch panel in the TOC. Studio 1 would terminate in patch panel ports 1 through 12, Studio 2 would terminate in ports 13 through 24. Greg uses an RJ45 Mini Punch block for the 12 cables in the studio. A variety of styles and suppliers of these blocks are available. Many have the color code and punch down information stenciled on the back, as you see in the figure above. Check with Amazon, and make sure you specify CAT6 Patch Panels.
Ethernet cabling comes in colors, too. Simplify your network troubleshooting by Identifying networks with different colors. For example, the Livewire network can be red, your automation/playout system can be blue, and green cabling can be used for office/internet network. A little thought and pre-planning can simplify your AoIP operation.
Got an idea that made your Livewire System more efficient? Send your tip and get a Telos Alliance t-shirt. Email your submission to john.bisset@telosalliance.com.
Further Reading
For more tech tips, or details on setting up an AoIP network with Livewire, check out these blog posts:
Untangling EAS with Pathfinder
Always Remember... Don't Panic!
Telos Alliance has led the audio industry's innovation in Broadcast Audio, Digital Mixing & Mastering, Audio Processors & Compression, Broadcast Mixing Consoles, Audio Interfaces, AoIP & VoIP for over three decades. The Telos Alliance family of products include Telos® Systems, Omnia® Audio, Axia® Audio, Linear Acoustic®, 25-Seven® Systems, Minnetonka™ Audio and Jünger Audio. Covering all ranges of Audio Applications for Radio & Television from Telos Infinity IP Intercom Systems, Jünger Audio AIXpressor Audio Processor, Omnia 11 Radio Processors, Axia Networked Quasar Broadcast Mixing Consoles and Linear Acoustic AMS Audio Quality Loudness Monitoring and 25-Seven TVC-15 Watermark Analyzer & Monitor. Telos Alliance offers audio solutions for any and every Radio, Television, Live Events, Podcast & Live Streaming Studio With Telos Alliance "Broadcast Without Limits."
Subscribe

If you love broadcast audio, you'll love Telos Alliance's newsletter. Get it delivered to your inbox by subscribing below!