To Infinity and Beyond: Celebrating 2017
Every year the Telos Alliance attends broadcast industry trade shows and events across the globe to introduce exciting new products and innovations. But 2017 was different, as we debuted some of our most innovative products yet, from the versatile Omnia VOLT audio processor to the groundbreaking Telos Infinity IP Intercom.
Winning Big in Vegas
NAB 2017 saw the introduction of the latest addition to the family of Omnia audio processors, VOLT. With more power and functionality in one rack unit than some processors provide in three, the VOLT took NAB by storm. Also debuting was TVC-15 from 25-Seven Systems, providing watermark analysis to assist broadcasters in their efforts to boost ratings. On the TV side, the Linear Acoustic AMS, providing real-time authoring, rendering, and monitoring of advanced MPEG-H audio, premiered as well.
Reaffirming our excitement for these three new products – Omnia VOLT, 25-Seven TVC-15, and Linear Acoustic AMS – was the recognition they received at NAB 2017 in Las Vegas, where all three were honored with NewBay Best of Show Awards.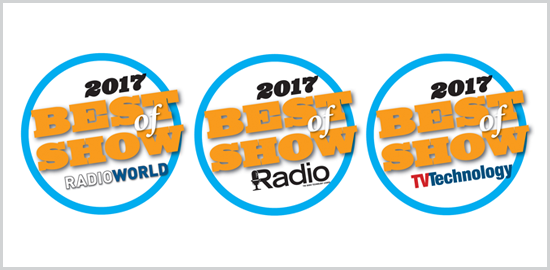 NAB NewBay Best of Show Awards
I is for Infinity at IBC
As if all that wasn't enough, a few months later we were off to Amsterdam for IBC to mingle with our European friends and host a reception for yet another huge new product announcement, the Telos Alliance TV Solutions Group's disruptive Telos Infinity IP Intercom. Martin Dyster, TVSG VP of Business Development, presided over the ceremony with a brief presentation to industry media and friends, which was followed up with complimentary wine, beer, and cheese.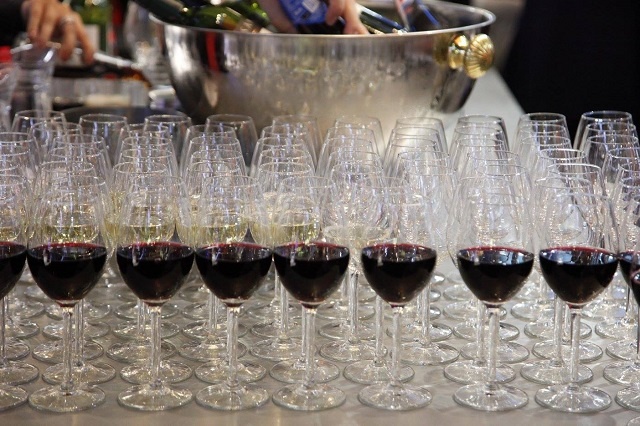 Telos Infinity reception at IBC
Infinity replaces outmoded matrix technology and unleashes the full potential of a distributed IP audio network solution that provides superior functionality in a simple, elegant form. Being matrix-free allows the addition of plug-and-play networked hardware and software devices without worry.
The Axia IP-Tablet, designed by our friend Jerome Gahery at Telos Alliance dealer and partner ip-studio in France to virtualize control of Axia Fusion consoles on a Windows-based tablet or PC, also drew lots of attention and rave reviews.
By show's end, Infinity and IP-Tablet were the latest Telos Alliance award winners, claiming Best of Show awards from TVB Europe and Radio World, respectively.
Here, There, and Everywhere
Besides the obligatory NAB and IBC, we made stops around the world and closer to home at trade shows large (like BCA and CABSAT) and small (including NAB New York and the Wisconsin Broadcasters Association Clinic, as well as the Ohio Broadcast and Media Technology Conference in our own back yard) throughout the year.
The Telos Alliance is proud to have presented essential new innovations to our broadcast brethren this year, and we will continue to provide solutions for the future of broadcast as we move forward. See you in 2018!
Pics and Videos
NAB 2017
Catch the excitement of NAB and IBC with these pics and videos.
IBC 2017
Telos Alliance has led the audio industry's innovation in Broadcast Audio, Digital Mixing & Mastering, Audio Processors & Compression, Broadcast Mixing Consoles, Audio Interfaces, AoIP & VoIP for over three decades. The Telos Alliance family of products include Telos® Systems, Omnia® Audio, Axia® Audio, Linear Acoustic®, 25-Seven® Systems, Minnetonka™ Audio and Jünger Audio. Covering all ranges of Audio Applications for Radio & Television from Telos Infinity IP Intercom Systems, Jünger Audio AIXpressor Audio Processor, Omnia 11 Radio Processors, Axia Networked Quasar Broadcast Mixing Consoles and Linear Acoustic AMS Audio Quality Loudness Monitoring and 25-Seven TVC-15 Watermark Analyzer & Monitor. Telos Alliance offers audio solutions for any and every Radio, Television, Live Events, Podcast & Live Streaming Studio With Telos Alliance "Broadcast Without Limits."
Subscribe

If you love broadcast audio, you'll love Telos Alliance's newsletter. Get it delivered to your inbox by subscribing below!