Using Voltair to Maximize Your PPM® Encoding
By Geoff Steadman on Mar 31, 2016 8:29:00 AM
You probably know that not all of your programming encodes equally well in PPM®, and some content encodes downright badly. But you may not know which of your programming is problematic.
So, how to know? Some Voltair® users simply watch Voltair's color-coded screen and note the orange. But that's not everyone's idea of a good time, so we designed a better way.
Voltair keeps a history of its enhancement level minute-by-minute, and gives you a nifty color-coded spreadsheet for each broadcast day, with a confidence level for each minute of your programming.
Voltair's spreadsheets allow you to see your greens, yellows and oranges—minute-by-minute, day-by-day —without staying glued to your Voltair screen. Savvy programmers use this feature to identify the voices, commercials, and songs that don't encode well.
Below is an example of a voice that doesn't encode very well. Not to mention any names, but he's a well-known personality, with a daily syndicated radio show, and an evening TV hour on a major news network.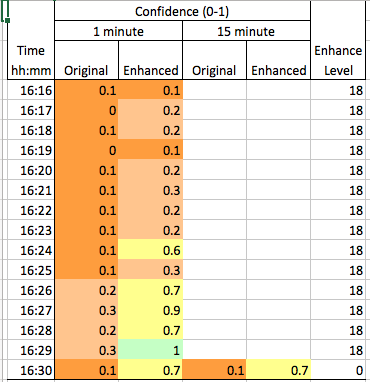 Notice the yellows and oranges. Those are periods when our mystery voice showed very low encoding confidence levels on Voltair. As you can imagine, his ratings suffered during the oranges.
We've offered Voltair's data export feature free for more than a year, and it's still free for a limited time. If you don't have it— even though your competitors probably do—you can follow this link to get your free data export license.
Please feel free to contact us with any questions. We love to talk about Voltair.
Voltair and 25-Seven are trademarks of TLS Corp. All other trademarks are the property of their respective holders.
Topics: Voltair
Subscribe

If you love broadcast audio, you'll love Direct Current! Get it delivered to your inbox weekly!