xNodes Link Community Radio for Northern Colorado | Telos Alliance
By The Telos Alliance Team on Nov 30, 2016 11:45:00 AM

xNodes Link Community Radio for Northern Colorado
With its beginnings on the University of Northern Colorado campus in 1967 as KCBL, 91.5 KUNC serves residents of Northern Colorado with a unique blend of locally-produced news, music, and other popular public radio programming. Now owned and operated by Community Radio for Northern Colorado, the group has grown to a network of over 14 stations and translators throughout Colorado.
In February of 2016 the group launched another flagship station, KJAC. The main idea was to allow KUNC to carry primarily news, while KJAC - nicknamed The Colorado Sound - would carry music. The two stations were already co-located at the same transmitter site, but a second audio path from the studios to feed the new station would be needed. The short-term solution was a T1 line, but with month-to-month billing, this was a very expensive stopgap measure. Once the acquisition of KJAC was finalized a couple of months later, the plans for a more permanent solution to feed both stations were put into motion.
KUNC was using a digital 950 MHz link for their signal, but modifying the system to add a second stereo audio pair made the signal far too fragile and unreliable. The path from the studios to the transmitter site is 32.7 miles, and passes over a heavily populated area. A second 950 MHz link was quickly ruled out due to lack of available frequencies and equipment. In addition, there was a desire to extend the office LAN and other studio systems out to the transmitter site. 99.999% availability was the target, and unlicensed links were out of the question for this application. High reliability was more important than maximum throughput.
KUNC/KJAC Director of Engineering and Information Technology, Ken Broeffle, took this opportunity t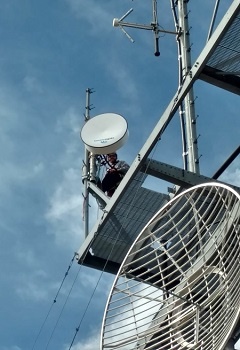 o design their new STL system with an eye toward the future. He wanted to ensure that this link would last for at least the next 10-15 years and handle anything that the future might bring.
About 5 years ago, the FCC eliminated a rule which had prohibited broadcasters from using "Part 101" frequencies for STL purposes. This opened a number of new possibilities for extremely flexible and robust STL systems, while avoiding the overcrowded 950 MHz band. Once the license transfer for KJAC was final, Broeffle began the process of securing a frequency and path.
He worked with Gray Haertig of Gray Frierson Haertig & Associates to plan and license the system. Path studies showed that the 6 GHz band and 3-foot dishes on each end proved to offer the best balance between link robustness and tower loading in this case.
Radyn Inc. performed the frequency coordination. This coordination process took nearly 2 months and involved notifications to over 170 different spectrum users within a 150-mile radius. After the coordination was complete, it was time to order the equipment.
Jeff Hollenrid of wireless equipment integrator DoubleRadius provided a pair of Cambium PTP820S radios, directly attached to matching 3-foot RadioWaves dish antennas. These radios provide a full-duplex 100-megabit link, and can scale back bandwidth as necessary to maintain reliability, even under adverse link conditions. According to Broeffle, "Cambium has provided excellent support—but make sure you are running the latest version of firmware on your radios... We found that ours were a couple of versions behind, and that caused some issues." The radios were connected via fiber to a Cisco 2960 switch at each end of the link, which in turn connected to Axia xNodes for audio I/O.
Gray had this piece of sage advice: "Set everything up together on the ground BEFORE bringing it up the tower... You won't regret it." It turns out that this advice was well worthwhile. After un-boxing everything at the tower site for an "on the ground" test, it was discovered that the dishes shipped with the radios were not the ones specified.
"Set everything up together on the ground BEFORE bringing it up the tower... You won't regret it."

—Gray Haertig, Owner-Principal Engineer, Gray Frierson Haertig & Associates

"It pays to stay in touch with vendors and keep tabs on all of the little details during a project like this, even if it means double- and triple-checking things at every step of the way." said Broeffle. "Aside from that, understanding how to configure the VLANs in the switches at both ends was probably the biggest challenge—and even that was pretty straightforward once all of the pieces were in place. We have an 'office' and an 'audio' VLAN… Ultimately the plan is to migrate all of our automation systems to this 'audio' VLAN and use the 'office' VLAN to possibly extend things like Voice over IP to the site."
Despite these issues early in the project, everything else has gone smoothly. Axia Audio support engineer Jeff McGinley was instrumental in getting the system up and running, including the audio and office network VLANs between the two sites. The xNodes on the link were configured in "Unicast" mode rather than using the standard Livewire "Multicast" traffic. Since this was a nailed up link, the additional channel discovery and other features present across a Livewire network were not necessary in this case.
"Setting the system up as Unicast put fewer demands on the link and used less bandwidth. It worked really well for this application. Our goal was to have the ultimate reliability even under the worst possible conditions, and this proved to be the best option for us." said Broeffle. "The link has been very solid—and as a bonus, sounds FAR better than the T1 and 950 links we had been using. The xNodes will carry up to 4 stereo pairs of bi-directional audio, all with pristine quality. We've essentially got a giant Ethernet cable between the studios and the transmitter now that will stay linked even under the worst possible conditions!" The T1 line has now been retired, and in a somewhat unique twist, while it should seldom be needed, the 950 MHz link has since been re-purposed as a "dual mono" backup link. The left channel carries mono audio for one station, and the right channel carries audio for the other.
Telos Alliance has led the audio industry's innovation in Broadcast Audio, Digital Mixing & Mastering, Audio Processors & Compression, Broadcast Mixing Consoles, Audio Interfaces, AoIP & VoIP for over three decades. The Telos Alliance family of products include Telos® Systems, Omnia® Audio, Axia® Audio, Linear Acoustic®, 25-Seven® Systems, Minnetonka™ Audio and Jünger Audio. Covering all ranges of Audio Applications for Radio & Television from Telos Infinity IP Intercom Systems, Jünger Audio AIXpressor Audio Processor, Omnia 11 Radio Processors, Axia Networked Quasar Broadcast Mixing Consoles and Linear Acoustic AMS Audio Quality Loudness Monitoring and 25-Seven TVC-15 Watermark Analyzer & Monitor. Telos Alliance offers audio solutions for any and every Radio, Television, Live Events, Podcast & Live Streaming Studio With Telos Alliance "Broadcast Without Limits."
Further Reading
For additional reading on Axia Audio xNodes, check out these posts:
Dinner Music over IP in Finland
Subscribe

If you love broadcast audio, you'll love Telos Alliance's newsletter. Get it delivered to your inbox by subscribing below!