Z/IPping Along at the RNC
By Dave Sarkies on Jul 20, 2016 1:30:00 PM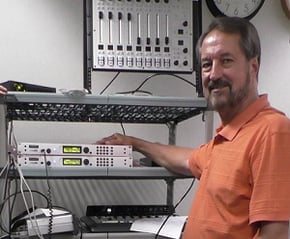 Steve Neumann is Program Director at WINT in Willoughby, Ohio, about 15 miles to the east of Cleveland. When the station decided to broadcast live from the Republican National Convention in downtown Cleveland next week, they needed to know they'd be able to provide a stable remote feed back to their studios. Fortunately for WINT, Steve goes back a ways with Telos Alliance CEO Frank Foti.
"Frank and I go back more than just a ways," Steve jokes. We met back in the early days of our broadcasting careers. Both of us worked at 1330 AM, which is now WINT. Back then it was WELW. We were both young pups in high school who had always been fans of radio, and we ended up working at the same station."
That relationship proved beneficial, as the Telos Alliance was able to loan two Telos Z/IP ONEs to WINT for use at the RNC. The Z/IP ONEs will not only assist in providing a stable remote broadcast, but will provide a big cost savings as well.
One of the issues Steve discovered when making plans for their RNC broadcasts was the extreme costs associated with pulling cable. "Whether it was phone lines using POTS systems, or whether it was being hardwired into the network at the Q (Quicken Loans Arena) for the RNC, there were a lot of costs associated with that. There's a lot of overhead that really can impact the budget and a station's ability to broadcast from the event."
Wireless broadband access will be provided at the arena, and some attendees may try using software or smartphone apps that allow for live broadcasts, but many of these applications aren't sophisticated enough to handle adverse, changing conditions, as may be experienced at the RNC, with hundreds or even thousands of people accessing that bandwidth.
"We needed a solution that could address those changing issues and handle the drops in bandwidth that would not result in dropouts of our signal, latency, or the strange noises you sometimes hear when you're using the internet," Steve points out. "The best solution that I know of is the Telos Z/IP ONE units, because they constantly analyze and adjust for field conditions, and use different algorithms and codecs that we can select to make sure we have a stable broadcast."

For Steve, with something as mission critical as the convention, there was no other choice but the Z/IP ONE. With live broadcasts Monday through Friday during the week of the RNC, and updates each afternoon providing listeners with a preview of events for the coming evening, it's essential to have technology that can be relied upon.
"We're going to be broadcasting our morning drive program, the Wake Up show, live from the RNC," says Steve. "We'll hopefully be able to snag some interviews with some of the movers and shakers, the news makers, who are going to be involved in the convention process."
And there's an extra bonus for the station – the staff is excited that nationally syndicated talk show host Laura Ingraham, heard exclusively in Northeast Ohio on WINT, will broadcast live from the WINT studios while in town for the convention. Ingraham's producers initially suggested installing ISDN lines at the station to send back her show to their studios in Washington, but limited availability and outrageously high installation costs meant another answer had to be found. "They told us they've had great success using the Z/IP ONE from other remote locations doing her show. It was a welcome solution and a no brainer for us." So Uusing another Z/IP ONE at WINT, they'll be sending Ingraham's program back to her studios in Washington, which will then be sent out nationally.
As a Cleveland native himself, it gives Steve extra satisfaction knowing the technology is coming from a local company. "We're really glad to be able to partner with a Cleveland company… Frank is a guy who's proud of his hometown roots here, and we're proud of our history going back to the early '70s. We're very appreciative of Frank and everything he's done to assist us in making this happen."

It's exciting times for WINT, and they're looking forward to broadcasting live from such a huge national and historically significant event. With the launch of the stations' new presence at 101.5 on the FM dial happening that week as well, and a coming expanded AM signal, WINT is marking a milestone in its history. "It's going to be a lot of fun… There's no doubt about it. We're happy we'll be able to bring our listeners into the convention, through the technology that Telos provides with the Z/IP ONE. "And it's going to be a permanent part of our equipment upgrades," Steve adds, "along with other Telos solutions like the Axia console, as we become a much bigger presence in the northeast Ohio market."
Topics: Telos Z/IP ONE
Subscribe

If you love broadcast audio, you'll love Telos Alliance's newsletter. Get it delivered to your inbox by subscribing below!