The Stream Locomotive Is Leaving the Station. Don't Get Left Behind. | Telos Alliance
By The Telos Alliance Team on Mar 30, 2016 12:46:44 PM

The Stream Locomotive Is Leaving the Station. Don't Get Left Behind.
By 2018 nearly 25% of your terrestrial radio station's annual advertising revenue will come from online listening, according to forecast data from BIA/Kelsey. For broadcasters, streaming is more important than ever. Luckily, we have better options and technology than ever before to create streaming content that is music to listeners' ears.
So the question is not if you should be streaming; the question is how you should be streaming. The short answer: Make your online programming sound terrific, and therefore offer a better experience for listeners, no matter what device they're using. The new Z/IPStream™ R/2 Streaming Processor and Encoder from the Telos Alliance® gives you the features and quality to Stream Like You Mean It. Here's how.
5 Ways to a Better Stream with Z/IPStream R/2 Stream Encoder/Processor
1) Encoding and Streaming, Plus Industry-Leading Audio Processing
The Z/IPStream R/2 gives you a competitive edge by including legendary Omnia® audio processing alongside comprehensive encoding and streaming capabilities. It's able to stream web-ready processed streams out to your traditional streaming services—Content Delivery Networks or CDNs—including servers like Shoutcast, IceCast, Adobe Flash, Triton Digital, and Wowza. Broadcasters can also opt for the enhanced audio processing from the Omnia.9 for an even more refined sound.
Because on-air and streaming content require different processing, it's important not to use the same settings from your on-air signal for your stream processing. You want a processor dedicated to streaming—one that you can customize per stream. Because Z/IPStream R/2 has built-in audio processors, you can customize all eight streams to create a sonic signature for streaming, taking into account factors like the stream's bitrate. Processing your streams with an on-air processor will compromise stream quality and listenability. That's why R/2 (and all Z/IPStream encoders) include audio processing for each encoder, letting you dial in your streaming sound!
2) Adaptive Streaming for the Best Streaming Audio with Changing Bandwidth
One of the challenges with traditional streaming is that every listener is in a different Internet connection environment. Some have plenty of bits available to listen at a high-quality bitrate. Others are mobile, using 3G or 4G cellular connections. Still others are on WiFi, perhaps at a coffee shop or hotel. Streaming broadcasters have been forced to choose between offering low bitrate streams that may not sound as good, or high bitrate streams that sound great, but drop out and buffer for some listeners. Offering several streams but making the listener choose is a poor compromise.
Adaptive streaming addresses varying bitrate by creating several time-locked encoding rates, plus a much smarter player or "client." The client actually figures out how much bandwidth it has available and can dynamically switch bitrates accordingly. It knows how to ask the server for a different bitrate so that the stream adapts in real time to current conditions. The Z/IPStream R/2 supports protocols for adaptive streaming, including Apple HLS and Microsoft Smooth Streaming.
The advantage for a broadcaster is offering the listener the best possible experience, giving them a reliable, stable stream as they move from one network to the next, while maximizing the audio quality by dynamically switching bitrates. Z/IPStream R/2 encodes the content at multiple bitrates, simultaneously, keeping the content frame aligned, so that adaptive clients can seamlessly switch between bitrates as needed, without experiencing any glitches.
Want to learn more? Get a quick primer in the informative interview video below, in which Telos Alliance's Kirk Harnack and lead developer of streaming products Ioan Rus explain how adaptive bitrate streaming works.
3) Z/IPStream R/2 Gives You Fraunhofer xHE-AAC!
The MPEG AAC family recently added the xHE-ACC codec, which stands for Extended High-Efficiency AAC. This is the latest codec from Fraunhofer, the guys that invented MP3 and co-developed AAC. The Telos Alliance uses only the real deal (no poor-sounding Fraunhofer copycats here) and has been since we became the first company in the US to license MP3 from Fraunhofer years ago. Whereas, other codecs like AAC and MP3 sound much better for music than they do for speech, xHE-AAC sounds great on both, even at the lowest bitrates. Meanwhile, mobile device users enjoy reduced buffering times and increased service reliability.
If your station has a preponderance of talk content, xHE-AAC may work great for you, and being able to stream at a lower bitrate and get the same audio quality could save you money. How you ask? By lowering bandwidth requirements and reducing CDN costs for program providers. It also benefits the listener by preventing data-plan overages, saving them money. Best yet, your stream will sound superior to competitors using less sophisticated encoding algorithms. While xHE-AAC isn't widespread in end-user devices like smartphones or tablets yet, having it in the R/2 and other Telos Alliance Z/IPStream products means you're way ahead of the game.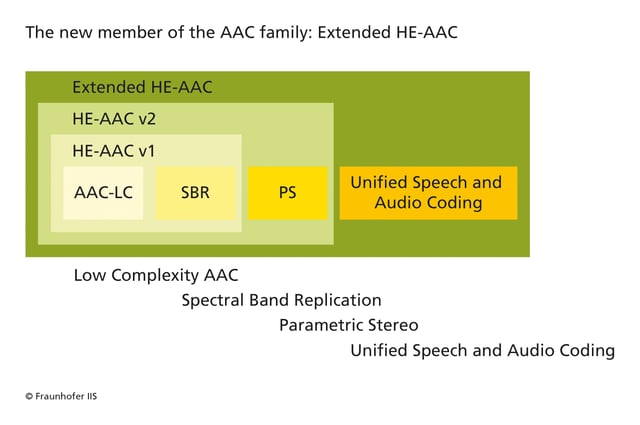 4) More Streams, Less Rack Space
Up to eight different programs can be processed and encoded at the same time with the Z/IPStream R/2, which is a big advantage. A lot of radio stations don't have space in the computer room for extra gear, so they like the fact that the R/2 is a single-rack-unit device that can handle up to eight stereo Program Inputs, from which dozens of stream types and bitrates can be generated. Those seeking a reliable hardware stream encoder will love that you can install the R/2 and essentially forget about it. But if you prefer a software version running on a PC, check out our Z/IPStream X/2 and 9X/2 software, which have many of the same features as the R/2.
5) New Metadata Processor Keeps It Real
R/2 includes a new metadata processor, which allows it to not only accept metadata from multiple play-out systems, but lets the broadcaster tweak the fields they want to present to listeners. If a song's Title and Artist data is typed in all uppercase, for example, the R/2's metadata processor can return it to title case. Missing fields can be filled with other station info, avoiding "dead air" in the data presentation. Metadata may then be sent out to multiple destinations—which is an all-new feature in the Z/IPStream R/2. The technology is very flexible in the way it interprets metadata so that it can extract and assemble the pieces that you want to present to the world.
Get up to speed on today's modern streaming technology. The Telos Alliance makes it easy with white papers, presentations, additional videos, and more at the Z/IPStream product page. All aboard!
Telos Alliance has led the audio industry's innovation in Broadcast Audio, Digital Mixing & Mastering, Audio Processors & Compression, Broadcast Mixing Consoles, Audio Interfaces, AoIP & VoIP for over three decades. The Telos Alliance family of products include Telos® Systems, Omnia® Audio, Axia® Audio, Linear Acoustic®, 25-Seven® Systems, Minnetonka™ Audio and Jünger Audio. Covering all ranges of Audio Applications for Radio & Television from Telos Infinity IP Intercom Systems, Jünger Audio AIXpressor Audio Processor, Omnia 11 Radio Processors, Axia Networked Quasar Broadcast Mixing Consoles and Linear Acoustic AMS Audio Quality Loudness Monitoring and 25-Seven TVC-15 Watermark Analyzer & Monitor. Telos Alliance offers audio solutions for any and every Radio, Television, Live Events, Podcast & Live Streaming Studio With Telos Alliance "Broadcast Without Limits."
Topics: Streaming Audio, Z/IPStream R/2, adaptive streaming, xHE-AAC
Subscribe

If you love broadcast audio, you'll love Telos Alliance's newsletter. Get it delivered to your inbox by subscribing below!