Are You (Adaptive) Streaming Like You Mean It? | Telos Alliance
By The Telos Alliance Team on Oct 12, 2016 3:21:15 PM
Are You (Adaptive) Streaming Like You Mean It?
At Telos Alliance, one of our most popular pages on the site, consistently, is our Streaming Like They Mean It page, where we post live streams from around the globe of broadcasters who are using our Z/IPStream streaming software and hardware. We think that's because the quality of these streams is so good, people are tuning in to check it out, but then come back again and again, just to hear this great, and great-sounding, content. You can stream like these folks too, with a little help from our Z/IPStream X/2 and 9X/2 software, or our latest hardware edition, the Z/IPStream R/2—all three of which feature adaptive streaming technology.
Read on to learn more, and check out our special promotional pricing on Z/IPStream software to get started!
What Is It?
People are no longer listening to streams solely on their computer. They listen on the go. Smartphone listening and internet-connected cars make adaptive streaming more important than ever, because the bandwidth variability in mobile platforms is a big challenge for traditional streaming. One minute, a listener may have plenty of bandwidth connected to his or her home WiFi. But leave the house and switch to 4G, and the available bandwidth can quickly drop. Adaptive audio streaming players detect this, and work in the background to provide the best possible listening experience
Encoding the audio at a higher bitrate improves the audio quality, but if the listener doesn't have enough bandwidth available, they will experience audio dropouts and annoying periodic rebuffering. Selecting a bitrate that is too low will frustrate listeners, especially ones that have plenty of bandwidth available. Adaptive audio streaming works to deliver the highest bitrate for the currently available bandwidth, switching bitrates as networks' conditions change. Two examples of adaptive audio streaming implementations are Apple HTTP Live Streaming, and Microsoft Smooth Streaming.
"Adaptive audio streaming works to deliver the highest bitrate for the currently available bandwidth, switching bitrates as networks' conditions change."
How it Works
Adaptive streaming encoders prepare audio segments at different bitrates. This is done in a clever way, so that segments encoded at different bitrates can be seamlessly joined together without any audio glitches. The segments are delivered to a server along with a manifest file, which describes the bitrates available, and other stream information. Adaptive players use the manifest file to determine what the server can offer, then they constantly monitor the available bandwidth and ask the server for the audio segments encoded at the appropriate bitrate. With adaptive, listeners don't have to worry about bitrates, bandwidth, or all the work that goes on in the background. They just get the highest possible audio quality for their available bandwidth, with no rebuffering or audio drop-outs.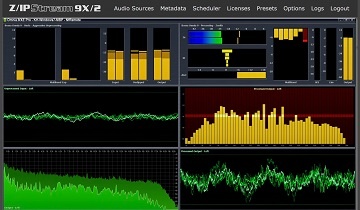 Z/IPStream 9X/2 Stream Encoding Software is not simply a streaming processor/encoder,
but a complete audio management system that will actually improve the flaws found in most recorded source material
—both music and voice—as well as address the specific technical challenges of Internet distribution.
What You Need to Adaptive Stream
The first item is a streaming encoder capable of encoding adaptive streams. For example, Telos Alliance Z/IPStream X/2, 9X/2, and R/2 products use the latest Fraunhofer codecs (including AAC-LC, HE-AAC, HE-AAC v2, and xHE-AAC), can encode at a variety of bitrates simultaneously, and can package the stream as Apple HLS, Microsoft Smooth Streaming, or both, at the same time. Our Z/IPStream products can simultaneously process and encode your audio in many formats, both as standard and adaptive streams. You can do all of this either using a software encoder (X/2 or 9X/2) or dedicated streaming encoder appliance (R/2). On the distribution side, Apple HLS may be served by a regular HTTP server. Or you may want to work with a Content Delivery Network (CDN) that can handle the stream distribution for you. Many CDNs are able to deliver adaptive audio streams today. Give your CDN a call.
In terms of bandwidth, an adaptive streaming encoder creates multiple versions of the audio, encoded at different bitrates, so there needs to be enough bandwidth available to carry the aggregate bandwidth of these several signals to the media server. For example, if you encode a stream at three different bitrates, let's say 64kbps, 96kbps, and 160kbps, the total bandwidth from encoder to server will be 320kbps. Since the listener always selects one of the streams from the server, the bandwidth between the server and listener will be just one of the streams, the 64, 96, or the 160kbps stream.
"As streaming moves away from the desktop PC to smartphones and connected cars, Adaptive Streaming will play a bigger role in providing the best possible listening experience for the end user."
As streaming moves away from the desktop PC to smartphones and connected cars, adaptive will play a bigger role in providing the best possible listening experience for the end user. If you want to stream like you mean it and provide crisp streaming audio for your listeners, you need to be Adaptive Streaming.
Want to learn more about streaming audio, adaptive streaming, and Telos Alliance Stream Encoders? Visit the following links:
All About Adaptive Audio Streaming
Hardware Versus Software Streaming: Which Is Right for Your Facility?
The Stream Locomotive Is Leaving the Station. Don't Get Left behind.
Telos Alliance has led the audio industry's innovation in Broadcast Audio, Digital Mixing & Mastering, Audio Processors & Compression, Broadcast Mixing Consoles, Audio Interfaces, AoIP & VoIP for over three decades. The Telos Alliance family of products include Telos® Systems, Omnia® Audio, Axia® Audio, Linear Acoustic®, 25-Seven® Systems, Minnetonka™ Audio and Jünger Audio. Covering all ranges of Audio Applications for Radio & Television from Telos Infinity IP Intercom Systems, Jünger Audio AIXpressor Audio Processor, Omnia 11 Radio Processors, Axia Networked Quasar Broadcast Mixing Consoles and Linear Acoustic AMS Audio Quality Loudness Monitoring and 25-Seven TVC-15 Watermark Analyzer & Monitor. Telos Alliance offers audio solutions for any and every Radio, Television, Live Events, Podcast & Live Streaming Studio With Telos Alliance "Broadcast Without Limits."

Topics: Streaming Audio, adaptive streaming, broadcast streaming, streaming for radio
Subscribe

If you love broadcast audio, you'll love Telos Alliance's newsletter. Get it delivered to your inbox by subscribing below!