AoIP Comes to IPR
Gary Langley is Chief Broadcast Engineer at Interlochen Public Radio, a service of the Interlochen Center for the Arts consisting of two radio stations featuring fine arts and public affairs programming for Northwest Lower Michigan and reaching into the state's Upper Peninsula. A relative newcomer to Audio over IP, Gary says learning the ropes of AoIP was simple thanks to a fresh Axia installation at IPR shortly before he came on. But it wasn't just a transition to AoIP for Gary—it was a transition to radio from the TV world. Gary tells us how Axia, AoIP, and VoIP have made his dual transitions easier than he'd have expected.
Gary started working in television engineering in 1997 after he got out of the Marine Corps, where he was a ground radio repair man for four years. "I worked on a lot of commercial radio gear, mostly two-way repeater sites, UHF, EHF radio, secure communications, frequency hopping, all that jazz. I got out in December of '96. It just so happened there was a local TV station in my area that was looking for a supervising engineer."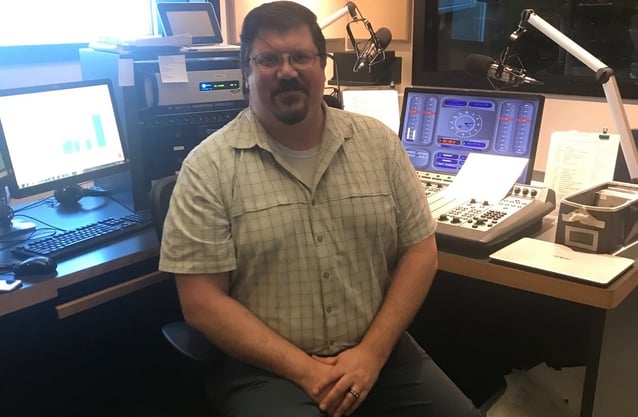 Gary Langley, Chief Broadcast Engineer, Interlochen Public Radio
Gary applied and got the position, though he says his knowledge of television left something to be desired at the time, so it was a little bit of trial by fire. "I took manuals home—big, boring, technical manuals—for about the first four months I worked there and basically studied and got up to speed with what we had going on there. This was at WEYI in Clio, Michigan."
A broadcast engineer moving from the TV side to the radio side isn't an everyday occurrence, but after nearly two decades in television, Gary made the move when he joined Interlochen Public Radio in 2016.
This time, despite some differences in the two broadcast engineering emphases and not having worked with Audio over IP before arriving at IPR, it wasn't nearly as much of a trial by fire situation this time. In fact, Gary says Audio over IP made the transition that much easier.
"Fortunately our Axia network was installed before I got here—it's been less than five years—and I think Axia actually helped make that transition smoother." Gary explains, "The network and how the routing is done is much like any router I would have encountered at a TV station. If you've got all your sources, you route what you need to wherever you need it, which is exactly how Axia and Pathfinder work. So, it was a fairly easy transition for me to have the Axia network here."
"If you've got all your sources, you route what you need to wherever you need it . . . It was a fairly easy transition for me to have the Axia network here."

—Gary Langley, Chief Broadcast Engineer, Interlochen Public Radio
Despite the easy transition, Gary notes that there were some small bumps in the road, but Telos Alliance Support Engineer Jeff McGinley was a big help. "Jeff was the tech that did a lot of the work here, and when I first started, the EAS system was not quite where it should be as far as how to route the audio. With Jeff's help and Pathfinder, we got up to speed quickly. We set it up so that as soon as there's an alert, like a required monthly test or weather warning, it automatically goes through the system and kicks the on air lights on." Gary explains, "Then it automatically routes audio to the last hop in the chain through our xNodes, then out to our transmitter sites. It was super easy to do."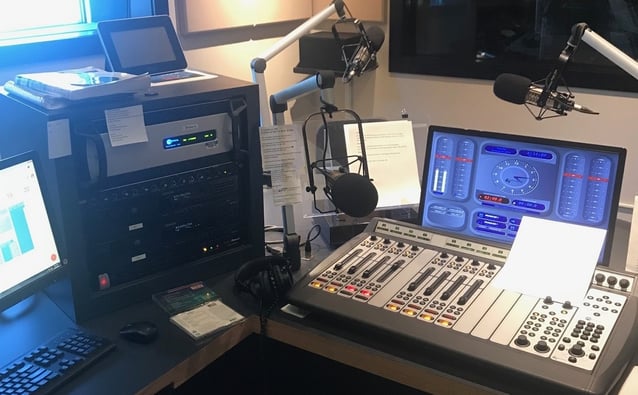 IPR studio with Axia Element console
Since making the adjustment, Gary has found Audio over IP a huge plus over analog systems. "The system is terrific because with the old analog boards, you never had the capability to send an alert if something went wrong. But with the Axia system, down to each node, the control board, the PowerSation, the StudioEngines, everything can give you an alert right to your email or via text using Pathfinder if there's a problem. You're alerted right away. That's really nice."
In addition to all the Axia and AoIP gear in house at IPR, they've also adopted the Telos VX VoIP Broadcast Telephone System. Gary says the VX system is so simple and straightforward that he doesn't really have to think about it much. "That thing is pretty much set it and forget it. It's never been a problem and has worked like a charm. The quality is good and it sounds terrific."
While Gary hasn't had many problems with his Axia and Telos tools, he knows he can rely on Telos Alliance Support if concerns should arise. "Support's been great. They've been very prompt to return calls, very knowledgeable. Like I said, I worked a lot with Jeff when I first started here, getting a few things sorted out. Recently I worked with Addison and Brett and both of those guys were top-notch. Some of the stuff was on the weekend and after hours. The call back was right there. It's really good to know that when you've got an issue you're going to get a call back right away with someone who knows what they're talking about. I appreciate that."
Further Reading
For more stories of Axia and Audio over IP, check out these blog posts:
Into the Valley of AoIP at VPR
Minnesota Public Radio Sticks with Axia for Complete Facility Upgrade
Spokane Public Radio Sets AoIP on Fire
Telos Alliance has led the audio industry's innovation in Broadcast Audio, Digital Mixing & Mastering, Audio Processors & Compression, Broadcast Mixing Consoles, Audio Interfaces, AoIP & VoIP for over three decades. The Telos Alliance family of products include Telos® Systems, Omnia® Audio, Axia® Audio, Linear Acoustic®, 25-Seven® Systems, Minnetonka™ Audio and Jünger Audio. Covering all ranges of Audio Applications for Radio & Television from Telos Infinity IP Intercom Systems, Jünger Audio AIXpressor Audio Processor, Omnia 11 Radio Processors, Axia Networked Quasar Broadcast Mixing Consoles and Linear Acoustic AMS Audio Quality Loudness Monitoring and 25-Seven TVC-15 Watermark Analyzer & Monitor. Telos Alliance offers audio solutions for any and every Radio, Television, Live Events, Podcast & Live Streaming Studio With Telos Alliance "Broadcast Without Limits."
Subscribe

If you love broadcast audio, you'll love Telos Alliance's newsletter. Get it delivered to your inbox by subscribing below!