Minnesota Public Radio Sticks with Axia for Complete Facility Upgrade
By Krissy Rushing on Jan 10, 2018 12:00:00 PM
Years ago, Minnesota Public Radio was one of the very first Axia customers, outfitting its entire facility with the popular Axia Element consoles. Over the years, the Element console has seen the facility through thick and thin, so much so, that now—more than a decade later—MPR Chief Engineer Bill Dahlstrom and Director of Engineering and Facilities Tom Nelson decided to stick with Axia for their studio-wide console upgrade, installing Axia Fusion consoles throughout. We sat down with Bill to learn more about his experience and why MPR decided to stick with Axia all these years.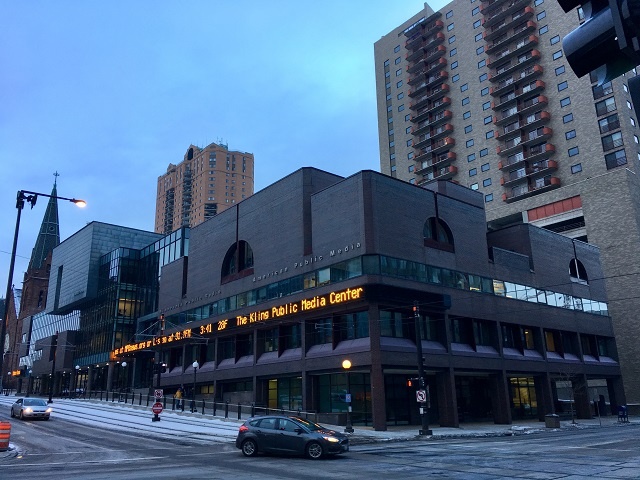 Minnesota Public Radio headquarters in St. Paul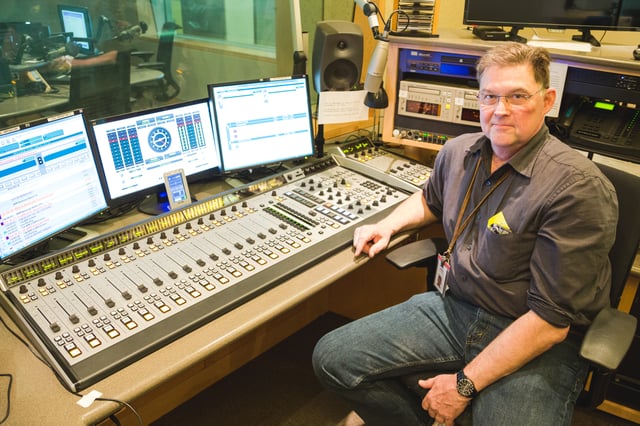 Bill with an Axia Fusion in one of the most-used studios at MPR, the main news control room in St. Paul. At his right elbow you can see the 'side car'—an extra 4-channel module on the desktop made using a retired Element console frame.
Telos Alliance: Why did you decide to upgrade your facility?
Bill Dahlstrom: Essentially we are one of the earliest adopters of Axia. Our Axia Elements were more than 10 years old and had served us well. We were so impressed by Element and it gave us such good service that we decided to replace them with more Axia. There are other consoles out there, and we certainly did our due diligence: We had to know what was available since installing Elements more than 10 years ago, and we owed it to ourselves to investigate. In the end, we took our 24 Axia Element consoles and replaced all but one with Axia Fusions.
The beauty of AoIP is that you can upgrade a little at a time. How are you rolling out the change over to Fusion? All at once? Little by little?
We are doing it room by room, starting with the main, most-used rooms, which have already been upgraded, then going through production areas and secondary backup studios one by one. We started a year ago, and are finishing up the rest of the rooms over the next few months. It's exciting.
Why did you decide to stick with consoles and equipment from Axia?
For one, we've been using it so long, it's what we understand. Additionally, with Axia we have always found a way to do what we needed to do. As the Axia product line has evolved, we never felt roadblocked in any way by Axia's capabilities. We do a lot with our Axia Pathfinder server and routing control, and that also works impeccably with the Fusion consoles.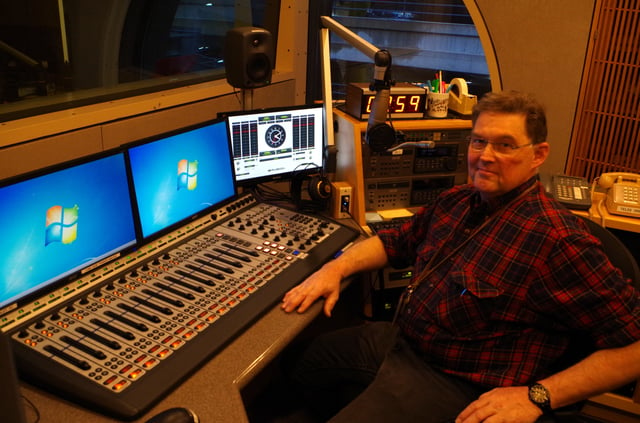 Bill with the tried and true Axia Element console—the only one that will remain in the facility.
What are the benefits, in your opinion, of Livewire over the other protocols out there?
Being part of the Livewire ecosystem certainly simplifies things. It cuts costs because we are not interfacing physical outputs on devices. Additionally, we are early adopters in the Livewire ecosphere and favor products from other manufacturers that are a part of the Livewire community. As more and more devices use different protocols, we found that when it came to choosing one product over another, the one with Livewire was the one that won. Everything we have is Livewire.
"As more and more devices use different protocols, we found that when it came to choosing one product over another, the one with Livewire was the one that won." —Bill Dahlstrom, Chief Engineer, MPR
Were there any installation challenges?
Not particularly, because the gear is so straightforward. There was one situation where we added onto a Fusion console. We wanted another mixer as part of the console, so we attached it via the Canbus and added even more mixers!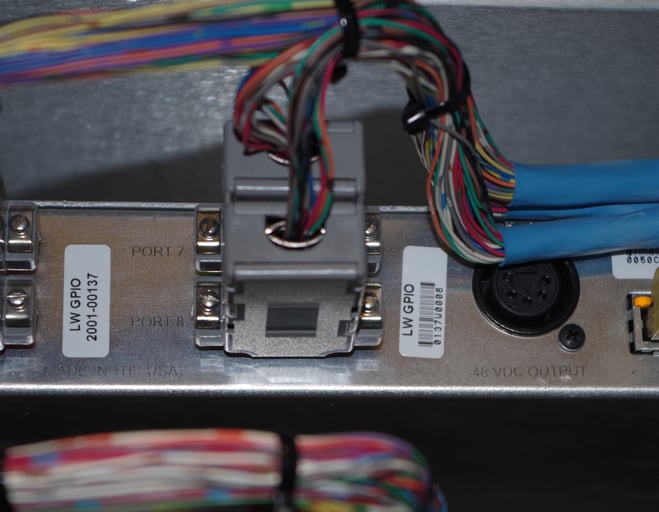 Being one of the earliest adopters means you have some very early gear! Bill shares with us the back panel of this Axia GPIO xNode, serial number 0006. Still going strong!
Further Reading
For more about other great Axia and Livewire setups, check out these stories:
KHOWL Radio Runs with the Big Dogs
High School Station Bullish on Axia
Topics: Axia Audio, Livewire, MPR, Studio Upgrade, Minnesota Public Radio, AoIP Upgrade
Subscribe

If you love broadcast audio, you'll love Direct Current! Get it delivered to your inbox weekly!