High School Station Bullish on Axia
In recent years, low-power radio stations have hit the FM band all across the U.S., from larger cities to remote outposts and all points between. One such LPFM is WNBI, or Bison Radio, affiliated with New Buffalo Area Schools on the shores of Lake Michigan – part of the "Michiana" area in the corner of southwest Michigan, not far north of the Indiana line.
Broadcasting a mix of older and current music, along with high school sports, local news, and special features produced by the students, WNBI-LP started as an extension of Radio Harbor Country, which included WRHC and WRHZ in nearby Three Oaks, Michigan, providing additional programming for residents of the New Buffalo area. Since hitting the airwaves two years ago, the Bison Radio has been well-received by the local community.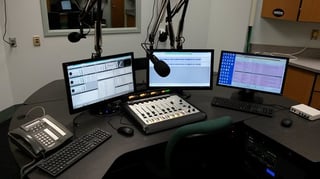 When WNBI was in its planning stages, the decision was made to go with an Axia Radius broadcast console. Station Manager and resident engineer John Herrbach says with a staff primarily consisting of beginners to the world of radio, Axia was the ideal choice for its ease of use. "I find the Axia consoles easy to use and easy to expand. I was in radio in the days of the Gates Yard consoles and RCA transmitters, and found the transition to Axia quite easy," John says. Of course, he admits a background in IT may have helped too.
John points out that the students are able to control the Radius mixer without problems, as the virtual labels on the faders help them to know what audio source has been assigned to each one. He says with a large number of remote broadcasts, such as high school basketball games and the like, the students have learned how to operate the board with ease. "We have to switch profiles for various remotes and all it takes is to change the profile assignment and the Axia mixer is ready to go. It's very simple for the students to do."
"We have to switch profiles for various remotes and all it takes is to change the profile and the Axia mixer is ready to go. It's very easy for the students to do."

—John Herrbach, Station Manager & Engineer, WNBI-LP Bison Radio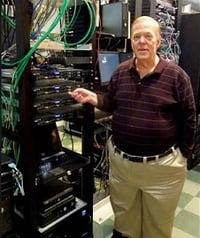 The facility includes not only the Radius console—powered by a QOR.16 Integrated Console Engine with the latest update for full Livewire+ AES67 functionality, making it 100% AES67 compliant—but also three Telos Alliance analog xNodes, an Omnia ONE processor and Z/IPStream X/2 software for clean, crisp audio both over the airwaves and via internet stream, and a 25-Seven Program Delay Manager, which is likely to come in handy with broadcast newbies in the fold.
His status as engineer has placed John in something of a teaching role, something of a role reversal for the former New Buffalo High student. But John relishes seeing the younger generation learn about broadcasting. "It's interesting to see how the students react to radio these days. They're listening to a wide variety of sources, so you have to start over with the basic concepts of what broadcasting is and what broadcasting can do. The concept of 'theater of the mind' is brand new to them."
An experienced radio and IT guy like John makes an excellent broadcast instructor, and we're happy to know Telos Alliance gear makes those teaching chores a little easier, and all while helping to bring along the next generation of broadcasters.
*Pictures 1 & 2 courtesy of John Herrbach; 3 & 4 courtesy of Harbor Country News, where you can learn more about Bison Radio here.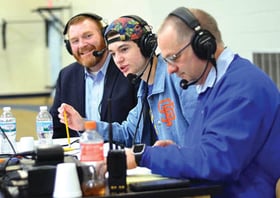 Further Reading
For more great Axia user stories, check out these blog posts:
Axia Sets the Tone for UK College Station
Newfound Simplicity with Axia, AoIP at Canada's Newcap
Telos Alliance has led the audio industry's innovation in Broadcast Audio, Digital Mixing & Mastering, Audio Processors & Compression, Broadcast Mixing Consoles, Audio Interfaces, AoIP & VoIP for over three decades. The Telos Alliance family of products include Telos® Systems, Omnia® Audio, Axia® Audio, Linear Acoustic®, 25-Seven® Systems, Minnetonka™ Audio and Jünger Audio. Covering all ranges of Audio Applications for Radio & Television from Telos Infinity IP Intercom Systems, Jünger Audio AIXpressor Audio Processor, Omnia 11 Radio Processors, Axia Networked Quasar Broadcast Mixing Consoles and Linear Acoustic AMS Audio Quality Loudness Monitoring and 25-Seven TVC-15 Watermark Analyzer & Monitor. Telos Alliance offers audio solutions for any and every Radio, Television, Live Events, Podcast & Live Streaming Studio With Telos Alliance "Broadcast Without Limits."
Subscribe

If you love broadcast audio, you'll love Telos Alliance's newsletter. Get it delivered to your inbox by subscribing below!