Axia Sets the Tone for UK College Station
By Tom Vernon on Jan 25, 2017 1:55:00 PM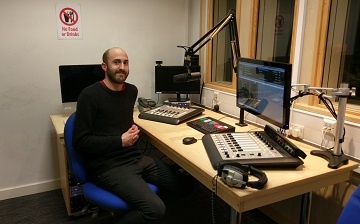 For Tone Radio, the student-run radio station at the University of Glousterchire in the UK, the time for a change was long overdue. They started out in 2006 with a limited FM signal that covered the campus. In 2008, Tone began streaming online. Jack Higgins, Audio and Music Technician at the university, explains the decision point.
"We started out with mostly analog gear. Over the years, our broadcast consoles had completely broken down, and were replaced with live music soundboards which were difficult for some of our volunteers to use." Higgins and the students worked with Richard Lawley of Radio Studio Services Ltd., who helped in the procurement and design for new studios and equipment. The three studios were equipped with QOR.32 integrated console engines and Axia iQ AoIP mixing consoles, with the one in the control room having a 6-channel extender board.
For Higgins, the choice to go with Telos was a no brainer. "The iQ consoles are easy for our less-experienced announcers to use, but for more advanced operators, they offer the flexibility for more creative endeavors. And while we just finished a major overhaul, renovations and upgrades are always ongoing. We keep coming back to Telos Alliance equipment because we know it will work with what we've already got."
"We keep coming back to Telos Alliance equipment because we know it will work with what we've already got."

—Jack Higgins, Audio and Music Technician, Tone Radio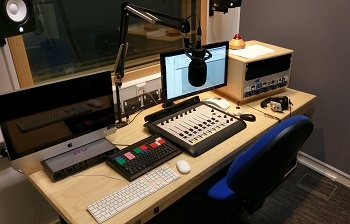 Recently, they decided to add a Telos Z/IPStream R/1 to the equipment inventory. Z/IPStream combines audio processing with MP3 and AAC encoding, When combined with Axia consoles and Livewire+ audio, the sound of Tone Radio is about as good as it gets.
The format for Tone Radio is eclectic, with the bulk of the music being Top 40. There are also a number of specialized shows. For the times when no operators are available, the station is automated using RCS GSelector. Burli software is used in the newsroom. Higgins adds, "We utilize Axia's IP Audio driver software on our automation machines. Livewire audio delivery is a real game changer!"
While Tone Radio provides students with varying skillsets the opportunity to do their own radio shows, the station also has more academic connections to the University. The Media Production program at Glousterchire awards BA degrees with specialties including: Animation, Film Production, Journalism, Music and Media Management, Sports Journalism and of course, Radio.
In 2016, the station received an award from the Student Radio Association for Best Audience Initiative. The award recognized Tone Radio's sale of Core Blimey Cider, whose proceeds benefit the station's general funds. The Student Radio Association is the volunteer-run representative body which supports and acts on behalf of the UK student radio community.
For Jack Higgins, the radio bug bit at an early age. "As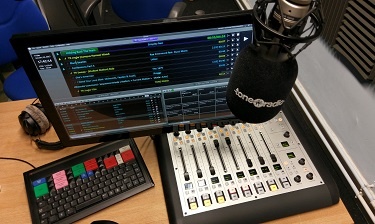 a youngster, I had a vinyl player with a microphone attached. I used to do my own pretend radio shows as a child. That's what got me hooked. I took another step as a teenager when I had an opportunity to work in a real radio station."
He began his formal education in broadcasting at Gloucestershire, where he completed an undergraduate degree in Radio Production. He joined up with Tone Radio in 2009, while still a student. Upon graduation in 2012, he was hired by the University as an Audio Technician. His duties include assisting the students in running the station, as well as training in studio operations.
The University of Gloucestershire is a public institution based in Gloucestershire, and it is located over three campuses, two in Cheltenham and one in Gloucester, namely Francis Close Hall, Park, and Oxstalls. The university provides almost 100 undergraduate courses and around 57 taught post-graduate courses within two faculties: the Faculty of Applied Sciences and Business and the Faculty of Art and Technology. Gloucestershire is ranked in the top 20 in the UK for media and film studies, and the top 10 for film production and photography.
Further Reading
Want to read about other Axia installs? Check out these blog posts...
Newfound Simplicty with Axia, AoIP at Canada's NewCap
Topics: Axia Audio, college radio, ip consoles
Subscribe

If you love broadcast audio, you'll love Telos Alliance's newsletter. Get it delivered to your inbox by subscribing below!