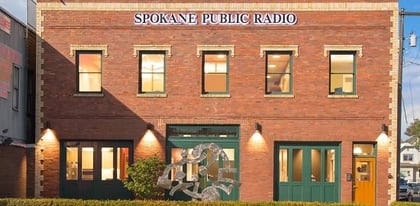 Spokane Public Radio Sets AoIP on Fire
When Spokane Public Radio / 91.1 KPBX moved into a new facility, that new facility was actually anything but new. In fact, it was a historic firehouse, and therefore the station needed to meet certain requirements that would not only maintain the integrity of the structure, but allow Spokane Public Radio to update to an all AoIP studio, including a VoIP broadcast phone system, AoIP console, and IP infrastructure.
"Part of the reconstruction was that we had to maintain the building's historical look, so we couldn't run huge cable bundles," says Chief Engineer Jerry Olson. "We were interested in getting a more modern facility—where we were before was an analog plant. For the new facility, we wanted to go with Audio over IP."
Stage One: The IP

Infrastructure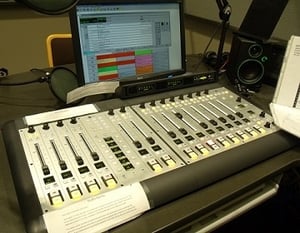 Converting to an AoIP studio has big advantages, especially in a historic building like this. Jerry says making penetrations through the masonry walls and main floor would have been quite difficult had cable been required, which was the major consideration as far as the building was concerned. "We didn't want to have to go back and open up great big holes to run analog bundles through because they're never big enough when you do it the first time."
Additionally, the efficiency of using AoIP over analog was huge. "The time it would have taken to install an analog system would have been crazy, so that's where the AoIP system really saved us as far as doing a quick move-in to the building," Jerry points out.
And a quick move-in it was! "When I got the green light it was the middle of October, we got the gear on Halloween, and had to be on the air with it on the 17th of November," he says. Telos Alliance Support Engineer Bryan Jones got Jerry started with the install on the phone and he was off and running for the rest of it, which speaks to the simplicity of Axia and AoIP's quick learning curve. "With AoIP and Axia, there's much less wrangling of connections and wires... I would still be working on it now if this was an analog plant," Jerry notes.
Jerry says the flexibility of Axia has been a huge plus for the SPR staff. "People will ask, 'Can I get this source in that room?,' and it's usually just a few clicks to get whatever source you want anywhere you want it." Like the rest of the staff, even Jerry was a novice when it came to AoIP, but the Axia Fusion console and Pathfinder system have simplified workflows for everyone.
"There's much less wrangling of connections and wires… I would still be doing it now if this was an analog plant."

—Jerry Olson, Cheif Engineer, Spokane Public Radio
Stage Two: The VX Broadcast VoIP Phone System
Jerry and his team chose Axia and Livewire for the AoIP studio infrastructure. The simplicity of Livewire connection in turn presented the possibility of using the Telos VX broadcast VoIP phone system. Unfortunately, in the immediate aftermath of the move, there wasn't time to install the phone system, so the VX install wasn't completed until KPBX had long been established at their new location. More than a year after moving in, Telos Alliance Support Engineer Joe Mauk visited and performed the VX VoIP phone system install.
While KPBX does very little live, on-air interviewing, when they'd done so in the past, it had been a challenge to get the previous system to sound decent. "You couldn't get a call on the air without clicks, beeps, bad levels, and all the other fun stuff that sometimes goes along with live on-air interviews over the phone, so we were very happy to go with the VX system," says Jerry.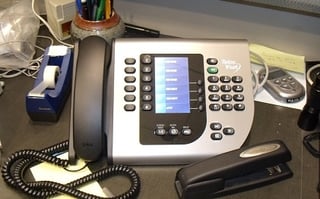 One challenge for Joe in the install process was that KPBX has a different workflow than many broadcast facilities, with studio phones and office phones all on the same network. Fortunately, he was able to integrate both sets of phones so the two systems talk to each other. Jerry says four of the KPBX studios have the call control in the console, but they also installed handsets for general use.
The folks at Spokane Public Radio are thrilled with their new facility, as well as the new Axia AoIP gear and VX IP phone system. The new, yet historic, facility seems fitting for a modern studio with a classic public radio format; KPBX features NPR programming and classical music, with a smattering of jazz and folk. The building also hosts two other SPR program streams—91.9 KSFC and 90.3 KPBZ—and thanks to the AoIP gear, future plans include the expansion of KPBZ into a training ground for students interested in pursuing radio.
In a beautiful building that nods to the past, the future is bright at Spokane Public Radio, and AoIP is leading the way.
Further Reading
For more stories of AoIP adoption, check out these blog posts:
Newfound Simplicity with Axia, AoIP at Canada's NewCap
Telos Alliance has led the audio industry's innovation in Broadcast Audio, Digital Mixing & Mastering, Audio Processors & Compression, Broadcast Mixing Consoles, Audio Interfaces, AoIP & VoIP for over three decades. The Telos Alliance family of products include Telos® Systems, Omnia® Audio, Axia® Audio, Linear Acoustic®, 25-Seven® Systems, Minnetonka™ Audio and Jünger Audio. Covering all ranges of Audio Applications for Radio & Television from Telos Infinity IP Intercom Systems, Jünger Audio AIXpressor Audio Processor, Omnia 11 Radio Processors, Axia Networked Quasar Broadcast Mixing Consoles and Linear Acoustic AMS Audio Quality Loudness Monitoring and 25-Seven TVC-15 Watermark Analyzer & Monitor. Telos Alliance offers audio solutions for any and every Radio, Television, Live Events, Podcast & Live Streaming Studio With Telos Alliance "Broadcast Without Limits."
Subscribe

If you love broadcast audio, you'll love Telos Alliance's newsletter. Get it delivered to your inbox by subscribing below!