Award-Winning Summer for Axia iQs Soft Console | Telos Alliance
By The Telos Alliance Team on Aug 9, 2021 12:08:02 PM
Award-Winning Summer for Axia iQs Soft Console
Telos Alliance's Axia iQs has been awarded the 2021 SBE Technology Award, as well as PRODU's 2021 Technology Award. Axia iQs is the first soft console controlled by a full HTML-5 interface, allowing you to mix from anywhere, on any device.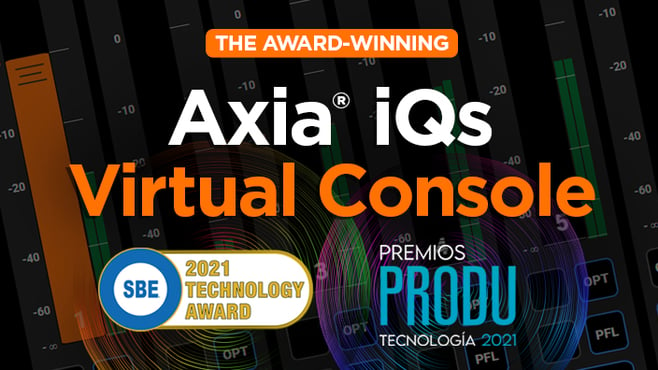 While the Olympics were off and captivating millions around the world this summer, our Axia iQs AES67 mixing console software was captivating an audience all its own. We are excited to share that our Axia iQs has recently received two prestigious industry awards, including the 2021 SBE Technology Award and PRODU's 2021 Technology Award. Axia iQs is the first soft console controlled by a full HTML-5 interface, allowing you to mix from anywhere, on any device—Mac, Windows, tablet, laptop, even your phone. iQs is part of our initiative to give broadcasters options that are familiar, while creating new ways of working that deliver on virtualization's promise of added scalability, adaptability, cost efficiency, simple deployment, and reliability.
SBE Technology Award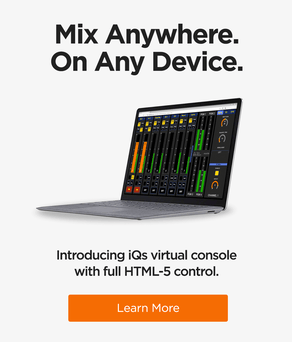 The SBE Technology Award recognizes an SBE Individual or Sustaining Member who has provided the industry with the best new or innovative technical item or idea to further the science of broadcast engineering and to assist the broadcast engineer to be more productive in the craft. Only ideas that have been shared with others in the industry are eligible. This prestigious award is only honored to one recipient each year, which makes it that much more special to us to be recognized in such a meaningful way.
"We are so pleased by the selection of iQs by SBE. It was our team's goal to create something that gave ultimate flexibility to our customers to do their work the way they want. This award tells us that we accomplished our goal. But there's more to be done so we're not resting here," says Marty Sacks, Executive VP of Sales, Support, and Marketing at Telos Alliance.
The official SBE Awards ceremony will take place in Las Vegas on October 11. For a complete list of all past recipients, look here.
PRODU Technology Award
The PRODU Technology Awards were held on June 29th, awarding 12 prizes in 10 total categories. Recipients of these awards were chosen by 23 industry experts, where they awarded the best technology projects, products, solutions and services presented in Latin America during 2020. Telos Alliance won the award for the Equipment category in the Audio subcategory for Axia iQs. Of course, it's a complete honor to be recognized in such a way and we are so proud of the iQs team here at Telos. The complete list of winners can be found here.
Interested in learning more about Axia iQs? Send us a message and our team will help guide you in the right direction for your virtual mixing journey.
Further reading:
KFM Network Gains Complete Network Control from Anywhere with Axia iQs
5 Reasons to Virtualize Your Radio Facility Now
Video: Introducing Axia iQs AES67 Mixing Console Software
Telos Alliance has led the audio industry's innovation in Broadcast Audio, Digital Mixing & Mastering, Audio Processors & Compression, Broadcast Mixing Consoles, Audio Interfaces, AoIP & VoIP for over three decades. The Telos Alliance family of products include Telos® Systems, Omnia® Audio, Axia® Audio, Linear Acoustic®, 25-Seven® Systems, Minnetonka™ Audio and Jünger Audio. Covering all ranges of Audio Applications for Radio & Television from Telos Infinity IP Intercom Systems, Jünger Audio AIXpressor Audio Processor, Omnia 11 Radio Processors, Axia Networked Quasar Broadcast Mixing Consoles and Linear Acoustic AMS Audio Quality Loudness Monitoring and 25-Seven TVC-15 Watermark Analyzer & Monitor. Telos Alliance offers audio solutions for any and every Radio, Television, Live Events, Podcast & Live Streaming Studio With Telos Alliance "Broadcast Without Limits."
Subscribe

If you love broadcast audio, you'll love Telos Alliance's newsletter. Get it delivered to your inbox by subscribing below!