Problem-Free Studio Build a Different Experience
By Tom Vernon on May 23, 2017 3:30:00 PM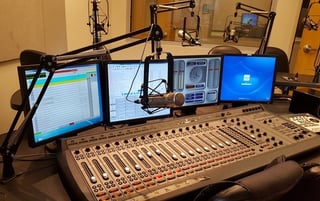 It's an all-too-common problem. You buy a product and soon discover its limitations. In the world of broadcast engineering, this can lead to potentially major roadblocks, especially when installing new studio gear.
With a wide range of experience, Dave Wilson, Director at Worldwide Network Services (WWNS) in Nashville, is sometimes recruited for setup of IP networked broadcast studios, and he's run into just that problem one too many times over the years. Here, Dave (who admits WWNS could easily be confused for a radio station in the phone listings), tells how he's had quite a different experience with Axia.
"I learned from Kirk Harnack that WOR in New York was doing a studio with Axia gear. I periodically called chief engineer Tom Ray and asked 'How's it going?' Tom was always enthusiastic about Axia and AoIP. Two things surprised me after the studio build was completed: It was an amazingly quick install, and more importantly, Tom was still enthusiastic about Axia after it was all over."
All too often, engineers discover the things a company doesn't want you to know about their equipment during the install, but not this time. Dave adds, "The fact that Tom was still excited about Axia after it was complete speaks volumes for the quality of the gear and the ease of installation."
So when lightning struck WAY FM Nashville while Dave was working as the backup engineer there, the recovery was tedious. Work involved repairing a tenuous ground system and older analog gear. When he was asked to advise on replacement equipment, he recommended Axia. "With AoIP, you have backups for the backups, and it's easy to switch over to another studio if necessary." He adds that if a switch fails, it's a simple matter to either replace it or move gear over to other ports.
The new WAY FM Axia studios exceeded everyone's expectations, so much so that when nearby Tennessee State Univesity was looking to build new facilities, they paid a visit to WAY FM to see the installation and loved it! Their new studio upgrade was performed by a separate engineer, but was inspired by Dave's work with Axia, and included Element 18 and 16-channel consoles in the on-air studio and production rooms respectively, two Power Station Integrated Console Engines, a Telos Nx12 Talkshow System, Zephyr Xstream ISDN Codec, and Z/IP ONE broadcast codec. Holding it all together is a Cisco Catalyst 2960 network switch. The build was completed in 2014, and Dave has since been brought on to take care of the studios, after the previous engineer moved on.
"With AoIP, you have backups for the backups, and it's easy to switch over to another studio if necessary."

—Dave Wilson, Director, World Wide Network Services
Sure, these Element consoles look classy, but there's also a lot going on beneath that pretty control surface. Features include four Program buses, four Aux sends, two Aux returns, along with 16 five-channel "Virtual Mixers" that allow you to mix multiple audio inputs using virtual faders. But wait, there's more. Every voice channel has studio-grade Omnia audio processing, including mic compression, de-essing, and gating, as well as three-band parametric EQ, which can be set and saved with each show profile. With Element, there's no need to purchase an outboard mic/headphone processing side-chain; it's all built in.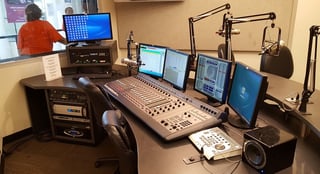 Dave adds that he's only had to reboot the system twice. "The Linux system that Livewire runs on is rock solid. Since the install was completed, the only real problem is that I forget how to change the configuration, since that needs to be done so infrequently."
Axia has saved the day on at least one other occasion for Dave. While he was working as the engineer for the Nashville Predators Radio Network, an ISDN equipment failure shortly before game time left him in a bind. There seemed to be no way to feed the game audio to all of the affiliates. He reached out to another engineer in the market with an Axia system, who was able to quickly route the feed back to his station, where it could be fanned out to all stations in the network.
From secondhand testimonial to firsthand experience, Dave has become keenly familiar with Axia consoles and networked audio gear, and is confident it's up to whatever IP studio challenge comes his way.
Further Reading
For more stories about successful Axia installations, check out these stories:
Spokane Public Radio Sets AoIP on Fire
Topics: Axia Audio, Audio over IP, ip audio
Subscribe

If you love broadcast audio, you'll love Telos Alliance's newsletter. Get it delivered to your inbox by subscribing below!