Telos Alliance Receives Three 'Best in Market 2021' Awards | Telos Alliance
By The Telos Alliance Team on Nov 4, 2021 11:13:40 AM
Telos Alliance Receives Three 'Best in Market 2021' Awards
We're honored to share that we've recently received three "Best in Market" awards (previously Best of Show at the 2021 NAB Show) from leading industry publications! RadioWorld awarded the new Axia Quasar SR AoIP Console a Best in Market 2021 award, while TV Technology and TVB Europe both recognized Telos Infinity VIP Virtual Intercom Platform as Best in Market this fall.
"Our number-one goal at Telos Alliance is to deliver broadcast products that make our customers' lives easier and audio better. What we are most proud of with these three wins is that the two products recognized were both designed based on extensive customer and partner feedback," says Marty Sacks, EVP of Sales, Support, and Marketing for Telos Alliance. "Quasar SR, for example, takes our flagship Quasar XR console and provides an alternative console surface based on customer demand for a console with more streamlined controls without sacrificing power, scalability, or features. Likewise, Infinity VIP was developed to meet the specific request and needs for a cloud native communications system. There is nothing like this available anywhere, and people are telling us the time is now for this functionality."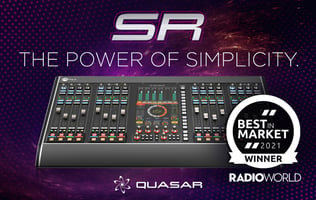 Axia Quasar SR AoIP Console delivers all the power, ergonomics, industrial design, and star appeal of Telos Alliance's flagship Axia Quasar XR console, but its streamlined surface design makes it more approachable to any board operator. For example, Quasar SR uses the same frame, power supply, and master module as Quasar XR, but the fader modules are non-motorized, and there are fewer, larger, and easier-to-reach buttons on each channel strip. Additionally, LED meters feature Confidence Class Metering only.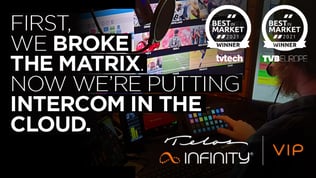 New to the Telos Infinity family, Telos Infinity VIP Virtual Intercom Platform is the first fully featured Cloud-based intercom system. It delivers sophisticated comms virtually, making Cloud-based media production workflows available on any device—smartphone, laptop, desktop, or tablet. Users can even use third-party control devices, like Elgato's Stream Deck®, to control Telos Infinity VIP. Now users can harness Telos Infinity IP Intercom's award-winning performance, scalability, ease of integration, and operational/cost efficiencies anywhere—At Home, On-Prem, Site-to-Site or in the Cloud.
Interested in learning how Quasar SR or Infinity VIP can work for you? Send us a message and our team will help guide you in the right direction for your studio.
You Might Also Like

Video: Teenager Builds Home Studio at 19
Award-Winning Summer for Axia iQs Soft Console
REMI Production & Comms: Then & Now
Telos Alliance has led the audio industry's innovation in Broadcast Audio, Digital Mixing & Mastering, Audio Processors & Compression, Broadcast Mixing Consoles, Audio Interfaces, AoIP & VoIP for over three decades. The Telos Alliance family of products include Telos® Systems, Omnia® Audio, Axia® Audio, Linear Acoustic®, 25-Seven® Systems, Minnetonka™ Audio and Jünger Audio. Covering all ranges of Audio Applications for Radio & Television from Telos Infinity IP Intercom Systems, Jünger Audio AIXpressor Audio Processor, Omnia 11 Radio Processors, Axia Networked Quasar Broadcast Mixing Consoles and Linear Acoustic AMS Audio Quality Loudness Monitoring and 25-Seven TVC-15 Watermark Analyzer & Monitor. Telos Alliance offers audio solutions for any and every Radio, Television, Live Events, Podcast & Live Streaming Studio With Telos Alliance "Broadcast Without Limits."
Topics: Infinity VIP
Subscribe

If you love broadcast audio, you'll love Telos Alliance's newsletter. Get it delivered to your inbox by subscribing below!