The Bisset Brief: Great Plains Spreads the Word with AoIP | Telos Alliance
By The Telos Alliance Team on Oct 11, 2017 10:55:00 AM
The Bisset Brief: Great Plains Spreads the Word with AoIP
"What seems normal to one man is often simply a dream to another." These were the words of Reverend Gene White in 1983 when he moved to southwestern Kansas from Chicago. Upon his arrival, Rev. White was astonished at how much he missed the positive influence of Christian radio as he scanned the dial in the Heartland and found no Christian radio.
A short-term solution to this problem came in 1983 when he and two other local residents signed a contract with a local cable operator to rebroadcast the Moody Broadcasting Network (also an Axia customer).
A few years later, the first Board of Directors for Great Plains Christian Radio was formed. A 100,000W FM followed in 1992. As people began listening to the fringe coverage of KJIL, interest in having the signal more widely available occurred. The first translator was constructed in 1994. Today, over 40 translators in four states repeat the Good News of Great Plains Christian Radio. An appropriate Bible verse (Proverbs 25:25) sums up their mission: "Like cold water to a weary soul is good news from a distant land."
And now, in 2017, Great Plains Christian Radio steps into the world of Livewire+ AoIP. "With over 100 Livewire+ partners, Axia's leadership in developing the AoIP platform was a major motivator for our selecting Livewire+ AES67 and Axia," says Chief Engineer Alex McKenzie. Alex chose the Axia iQ 8 surface with a 6-fader telephone expansion console to augment his WideOrbit playout system. "The simplification of our studios and flexibility of using Axia was an added benefit. Now each of our studios is an exact replica of the rest and can be used for emergency redundancy," Alex adds.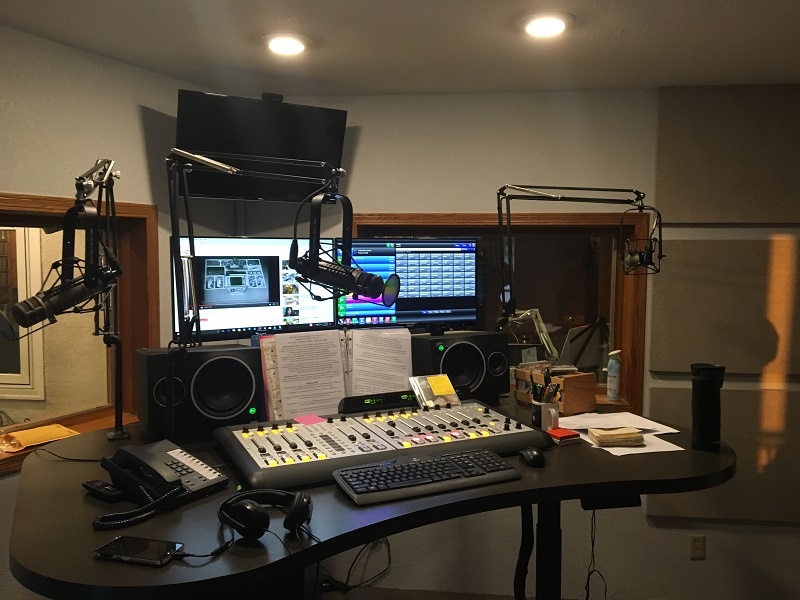 The finished studio—

a crisp, clean, and functional design.

That simplification Alex speaks of is a benefit we hear about regularly from broadcasters making the move to AoIP, and was a huge perk for the Great Plains staff. "The years of haphazard changes to the audio chain and people who've been let loose with clip leads and wire nuts add up exponentially to big problems. A rebuild was necessary," Alex points out. "I can't imagine trying to tackle such a project in an analog world as quickly and easily as we did with Axia."
"I can't imagine trying to tackle such a project in an analog world as quickly and easily as we did with Axia."

—Alex McKenzie, Chief Engineer, Great Plains Christian Radio
Alex McKenzie's "Radio Station in a Rack"
For Alex, the long-term benefits have far outweighed the cost or any up-front concerns. "The cost was far less than supporting outdated analog systems," he adds. "We made the best choice."
Got an Axia or Livewire+ story to share? Email it along with pictures to john.bisset@telosalliance.com. Published submissions will receive a Telos gift pack.
Further Reading
For more from John Bisset, take a look at these previous editions of the Bisset Brief:
The Bisset Brief: Label those Cables
The Bisset Brief: Cutting the Cord
The Bisset Brief: Planning Your AoIP Installation
Telos Alliance has led the audio industry's innovation in Broadcast Audio, Digital Mixing & Mastering, Audio Processors & Compression, Broadcast Mixing Consoles, Audio Interfaces, AoIP & VoIP for over three decades. The Telos Alliance family of products include Telos® Systems, Omnia® Audio, Axia® Audio, Linear Acoustic®, 25-Seven® Systems, Minnetonka™ Audio and Jünger Audio. Covering all ranges of Audio Applications for Radio & Television from Telos Infinity IP Intercom Systems, Jünger Audio AIXpressor Audio Processor, Omnia 11 Radio Processors, Axia Networked Quasar Broadcast Mixing Consoles and Linear Acoustic AMS Audio Quality Loudness Monitoring and 25-Seven TVC-15 Watermark Analyzer & Monitor. Telos Alliance offers audio solutions for any and every Radio, Television, Live Events, Podcast & Live Streaming Studio With Telos Alliance "Broadcast Without Limits."
Subscribe

If you love broadcast audio, you'll love Telos Alliance's newsletter. Get it delivered to your inbox by subscribing below!