Columbus Indie Alternative Survives and Thrives
By Dave Sarkies on Oct 18, 2017 1:00:00 PM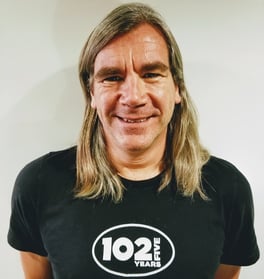 Every once in a while we come across a broadcaster or radio station so interesting and unique, we have to tell the story. Earlier this year the Telos Alliance van paid a visit to one such station, just a couple hours south of our Cleveland headquarters. There, in Ohio's state capital of Columbus, is independent CD 102.5 (WWCD), the Alternative Station.
Not only is CD 102.5 unique because of its independent status, but it may be the only radio station we know of featuring both a live stage and full bar! As if that's not enough, there's quite a story behind the station's survival. A big part of that story is Owner and General Manager Randy Malloy, who took a huge personal risk some years back to save the station. Randy tells us how it all came about.
"The radio station came on the air in 1990 and I thought it was cool," Randy recalls. "I was president of the Ohio State University ski club, so I got involved with the station for an event and asked if they had an internship program. They did, and I became the first intern!"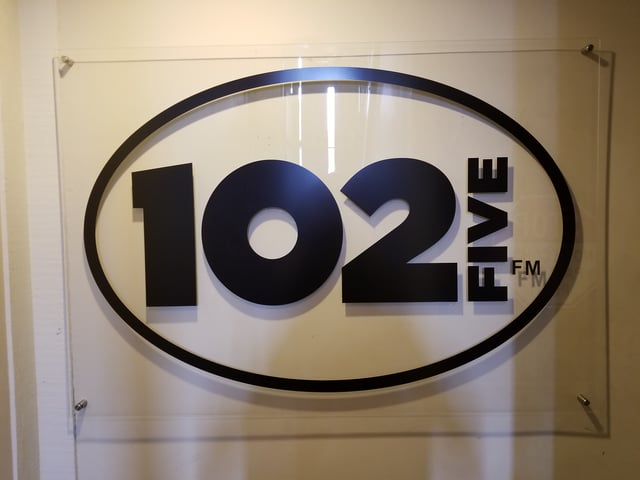 CD 102.5 wall logo
Randy says the whole experience was new for all involved. "I thought, 'You've never done an internship program, I've never been an intern… How does this work?!'" Turns out it was a job most college students could only dream of. "I would work for free, get to hang out with rock stars, and go drinking," Randy jokes. "I thought, 'Okay, this sounds like a good job description for me!'"
Randy started out doing promotions at what was then CD 101, driving an old ice cream truck for the station van, and setting up at events, and things progressed from there. "They offered me a job as the Assistant Promotions Director, but there was no Promotions Director! So I was assistant to no one," Randy muses. Over the next 15 years or so Randy climbed the ladder, first to Marketing Director, then Director of Operations, General Manager, and eventually, President of the company.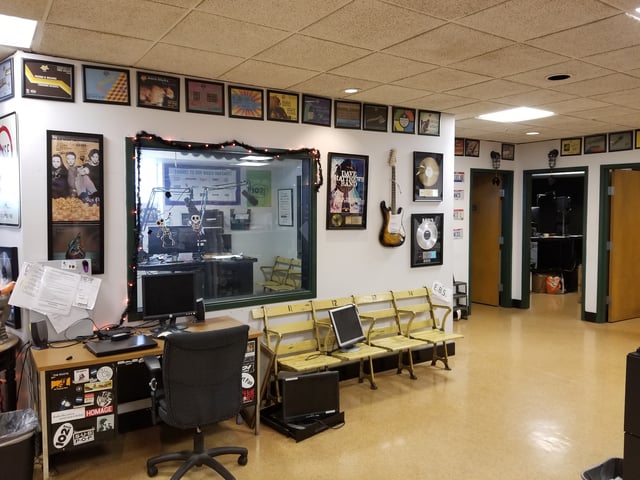 CD 102.5 offices
But in 2010, things changed when the radio station's frequency was sold, putting Randy's future—and that of the station—in doubt. So he took a chance. "Basically we weren't going to be around anymore, and I thought I either had to make a big boy move, or find a new job. That was where it was at. So I stepped into the wind and hoped that that path I felt was in front of me was there." It was a big risk, but to Randy, there wasn't much of a choice. It wasn't just about saving the station, but his personal survival and doing what he wanted to do. "I took a shot at it. I thought it mattered, and I just wasn't prepared to let it go."
So they made the move to a new frequency and a new building, and the rest is history.
"I thought it mattered, and I just wasn't prepared to let it go."

—Randy Malloy, Owner & GM, CD 102.5
And about that building… How did CD 102.5 wind up with a bar?
Randy explains, "The building we're in had been the Swiss Club. It already had two floors with a little bar downstairs and a little bar upstairs." The building had everything a radio station needed—parking, room for studio and office space, and a spot for a stage. "I thought, 'I can create this place,'" Randy says. So he bought the building—and a liquor license—and converted the upper level into a club that now houses the bar and stage, and the lower level into studio and office space. The bar officially opened on CD 102.5's 25th anniversary in 2015.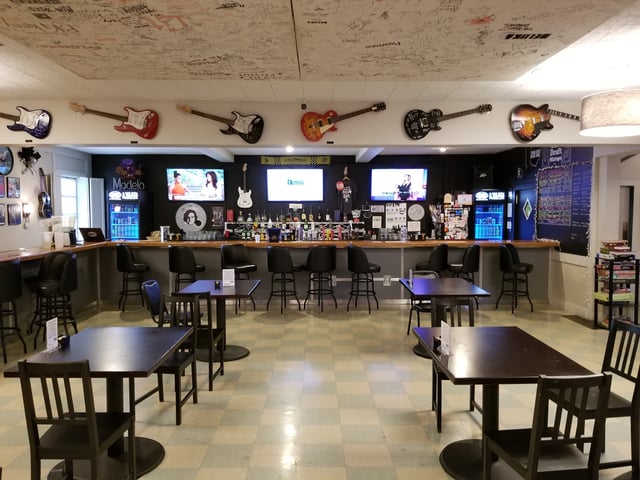 CD 102.5 Bar
Of course, having a bar so close to a live broadcast studio does come with some inherent dangers, which Randy doesn't deny; "I say to people, 'I trust you with a key, I trust you to be on air… You're an adult, act accordingly.'"
As for the stage area—known as The Big Room—CD 102.5 has managed to pull in some pretty big names to play live. "We just had Queens of the Stone Age. We had the Pixies in... Over time, the management and the labels have seen the space, and for the bands, along with us being an independent radio station, that appeals to them. They want us to survive, so it's important to them to support things of that nature."
Randy feels it's a testament to the bands that they're so willing to play the CD 102.5 Big Room, but it's something that benefits both sides. "They know that we're going to do a good job for them, so they'll do a good job for us. It's a partnership."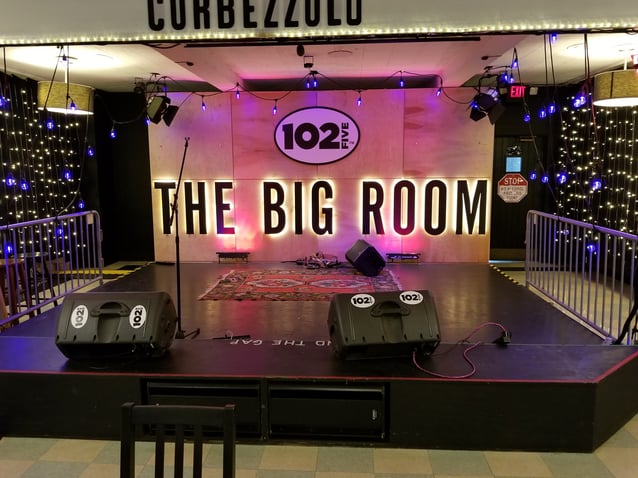 The Big Room
To the benefit of alternative rock fans in the Columbus area, CD 102.5 has built quite a legacy over two-and-a-half decades, and brings a plethora of live acts to the city—not only in the Big Room, but by way of multiple music festivals the station sponsors every year.
For Randy, that's how it's supposed to be. "What radio is supposed to be is there for the public, the community it's a part of. We want to be sure people are aware of what's going on and enjoy the city they live in." Just as the station is fiercely local, the following is fiercely loyal. "We get letters from people who have moved away saying they can't find a station in their area that does what we do."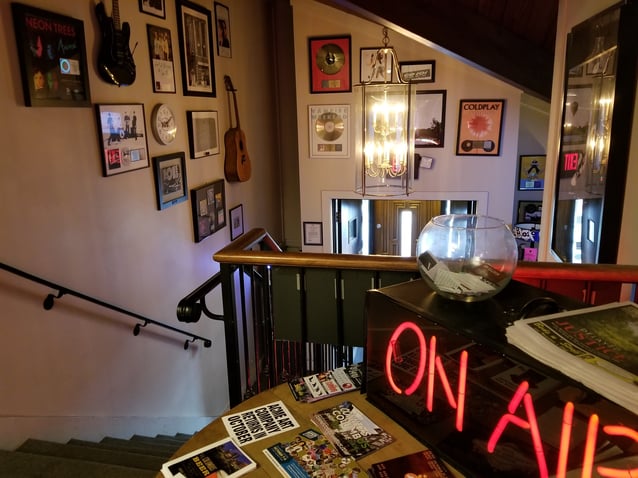 Rock memorabilia covers the CD 102.5 office walls
CD 102.5 is quite the radio survival story. Randy draws the analogy of big box stores versus mom and pop stores that have managed to survive. "We're not one size fits all; you can't find everything here," Randy says. "But we have a purpose and a place that some people find necessary."
Need proof you don't have to be one of the big boys to survive and thrive in today's radio market? Look no further than CD 102.5. As long as an essential niche is being served and the focus is on the local community, there will always be a place for independent radio.
---
Note: CD 102.5 uses Telos Systems gear for remote broadcasts and other broadcast telephony purposes.
Further Reading
For more stories of unique niche broadcasters and radio success stories, check out these stories:
Roots Radio with John Stephens
Topics: CD 102.5, independent radio, Columbus, OH
Subscribe

If you love broadcast audio, you'll love Telos Alliance's newsletter. Get it delivered to your inbox by subscribing below!