Telos Alliance Gives Broadcasters Powerful Audio Processing & IP Audio Solutions at BroadcastAsia 2019 | Telos Alliance
By The Telos Alliance Team on Jun 20, 2019 2:03:06 PM
Telos Alliance Gives Broadcasters Powerful Audio Processing & IP Audio Solutions at BroadcastAsia 2019
At BroadcastAsia this year, we delivered powerful IP Audio and Audio Processing Solutions to the APAC market in Suntec Singapore. This time around, we showed off our Communications Solutions Built on IP, IP Audio Mixing Solutions, VoIP Talkshow Solutions, Radio Processing, and TV Loudness Processing.
"Our customers are seeking trusted partners over manufacturers and solutions over products, and the Telos Alliance is delivering, leveraging its long history in the development of IP audio and its reputation as a globally recognized audio expert. We were excited to bring more of this spirit to our friends and partners in Asia Pacific at BroadcastAsia," says Marty Sacks, VP of Sales, Support, and Marketing at the Telos Alliance.
Communications Built on IP
At BCA, we showed some exciting additions to the award-winning Telos Infinity IP Intercom platform, including Infinity Link, which seamlessly extends Infinity's reach and usability by providing site-to-site connectivity over WAN and the Internet. Direct communication is no longer bound by the speed of a dedicated network, effectively bringing the rest of the world directly into the matrix-free Infinity ecosystem.
Infinity Link seamlessly extends Infinity's reach and usability by providing site-to-site connectivity over WAN and the Internet.
Another highlight of the show—also new to the Telos Infinity platform and designed for intercom systems of all sizes and applications—was Infinity Dashboard Advanced. This optimized configuration and system management tool has an extended feature set, including SAP/AES67 advertising and discovery and offline configuration, unlocking the full potential of the Infinity matrix-free IP Intercom system.


Telos VX VoIP Phone Solutions
Broadcasters all over the world, in both TV and Radio, have realized the benefits of switching to VoIP phone systems, saving thousands of dollars on the cost of traditional analog phone lines. Telos Systems is leading the way with Telos VX VoIP systems, including VX Prime+. With a capacity of 8 fixed hybrids/faders, VX Prime+ is ideal for facilities with two to four studios. Built-in support for AES67 gives broadcasters the flexibility of integrating VX Prime+ into any AES67 environment. Beyond AES67, Livewire users have the added convenience and power of networking control (GPIO), advertising/discovery, and program associated data throughout the network.
IP Audio Mixing Solutions

We also demonstrated IP Audio Mixing Solutions at the show, including the new Axia iQx IP Audio Console, which uniquely combines a surface and mix engine in a single unit. This approach makes iQx easy to set up quickly, piggybacking off existing network resources. iQx is great for nontraditional audio setups, such as a temporary studio for a special event, mixing remote audio, as a backup TV console, and more. Designed for AES67 and ready for SMPTE ST 2110-30, iQx is standards-based, allowing broadcasters to bring in sources from all over the world. Control is not just a local thing either, as iQx can be controlled from the remote site.
Powerful Audio Processing Solutions for TV & Radio
Demonstrations of Omnia.9, Omnia.11, and Omnia VOLT audio processors all took place at the Telos Alliance BCA booth. The Omnia.11 has a new software release that now includes Frank Foti's Pepino Clipper Mode 2, the next evolution in top-tier clipper technology designed to preserve brightness at aggressive clipping levels. Now featuring Clipper "Sparkle" Control, a Bass Clarity enhancer added to Bass EFX, and new Bass Sensitivity controls to give broadcast engineers and program managers more power than ever before. In addition to the new clipper mode, this software release also includes new and improved presets to get you up and running fast.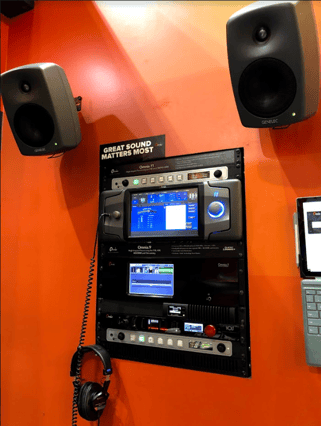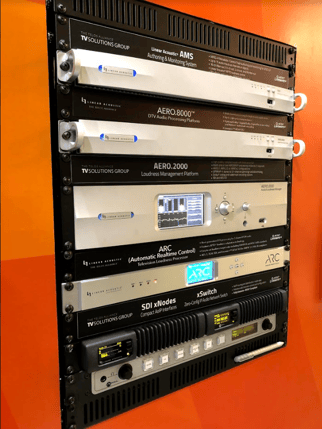 Also new in the Omnia lineup is the MPX Node, the first purpose-built hardware codec that sends or receives full FM multiplexed signals at rates as low as 320 kbps with the Omnia µMPX™ algorithm. Available as either an encoder or decoder, a pair of nodes creates a complete system.
Telos Alliance also demonstrated the Linear Acoustic ARC, an SMPTE ST 2110-30-compliant next-generation television loudness processor for stereo and mono programming, featuring Linear's APTO® loudness adaptation algorithm. ARC is simple to set up using any web browser, provides loudness logging for all programs, and is compliant with all global loudness standards including ATSC A/85 and EBU R128.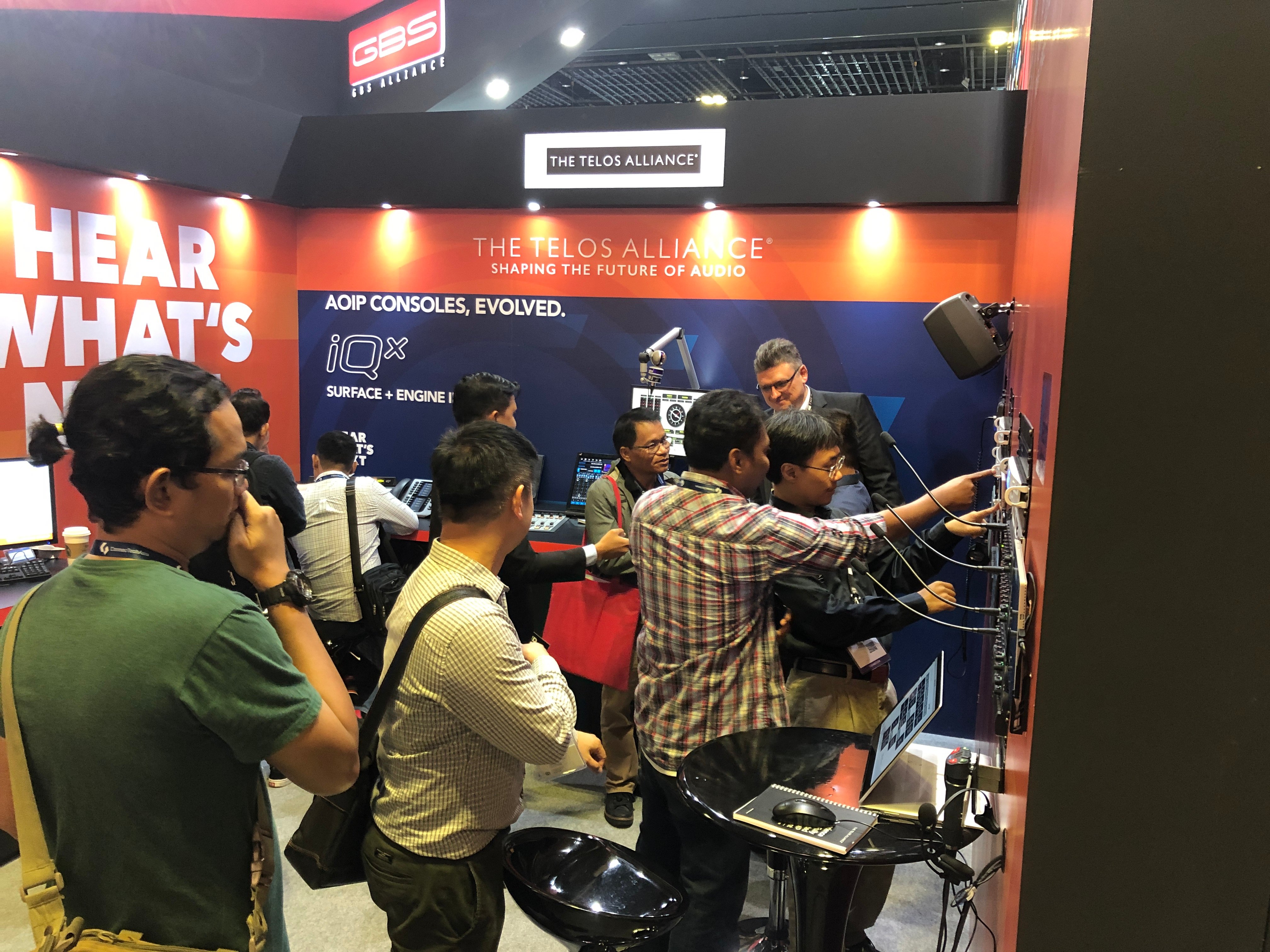 Jünger Audio Branded Solutions
Finally, the Telos Alliance brought the news to BroadcastAsia that it has entered into an exclusive agreement to market, sell, and support Jünger Audio-branded products globally.
"The addition of Jünger Audio products to the Telos Alliance portfolio further increases our ability to address the specific needs of the market, especially with respect to global audio processing standards and regional preferences," said Tom Swidarski, CEO, the Telos Alliance. "Bringing more choice and solutions to a wider base of audio professionals worldwide is a strategic objective."
The Telos Alliance will support Jünger Audio globally to sustain established business relationships and current projects, while enabling future opportunities. Moving forward, the Telos Alliance will seamlessly work with woks audio GmbH, the Jünger Audio engineering and technical specialists, to develop enhancements for existing solutions and new products to supplement the Jünger Audio portfolio and its renewed growth.
Thanks BroadcastAsia for a great show, and...that's a wrap!
You Might Also Like
Telos Infinity Rocks Lollapalooza
Telos Alliance has led the audio industry's innovation in Broadcast Audio, Digital Mixing & Mastering, Audio Processors & Compression, Broadcast Mixing Consoles, Audio Interfaces, AoIP & VoIP for over three decades. The Telos Alliance family of products include Telos® Systems, Omnia® Audio, Axia® Audio, Linear Acoustic®, 25-Seven® Systems, Minnetonka™ Audio and Jünger Audio. Covering all ranges of Audio Applications for Radio & Television from Telos Infinity IP Intercom Systems, Jünger Audio AIXpressor Audio Processor, Omnia 11 Radio Processors, Axia Networked Quasar Broadcast Mixing Consoles and Linear Acoustic AMS Audio Quality Loudness Monitoring and 25-Seven TVC-15 Watermark Analyzer & Monitor. Telos Alliance offers audio solutions for any and every Radio, Television, Live Events, Podcast & Live Streaming Studio With Telos Alliance "Broadcast Without Limits."
Topics: broadcastasia, bca 2019
Subscribe

If you love broadcast audio, you'll love Telos Alliance's newsletter. Get it delivered to your inbox by subscribing below!