IBC 2018: That's a Wrap!
IBC 2018 is a wrap. As our feet start to regain feeling, we want to take this opportunity to thank all those who visited us at IBC 2018. It was truly an extraordinary show, which would not have been possible without our customers, prospects, partners, and friends. For those who did not attend IBC, check out select snaps from our IBC Facebook photo album.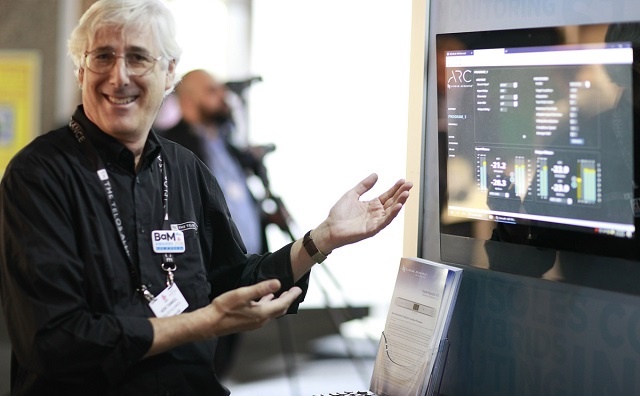 Ken Tankel demos the new Linear Acoustic ARC
The booth was filled with customers for four solid days, and the overall vibe was upbeat. It was our pleasure to give you a glimpse of our next-generation processor, Linear Acoustic ARC (Automatic Realtime Control), which was the star of the show. Ken Tankel (above) was consistently busy with demos and conversations. If you haven't heard about this product yet, it's Linear Acoustic's next-generation television loudness processor featuring our state-of-the-art APTO® loudness adaptation algorithm. It means that broadcasters on a budget no longer have to compromise between audio quality and affordability, as ARC delivers the viewer-pleasing audio for which Linear Acoustic has become famous, but at a very approachable price point.
The multi-award-winning Telos Infinity IP Intercom maintained a high level of interest as well! There was a continual stream to the booth of attendees looking to find out the latest about Infinity. We won't name names, but one competitor came to the booth to look at Infinity Dashboard Advanced and said "Now that's how you create a UI."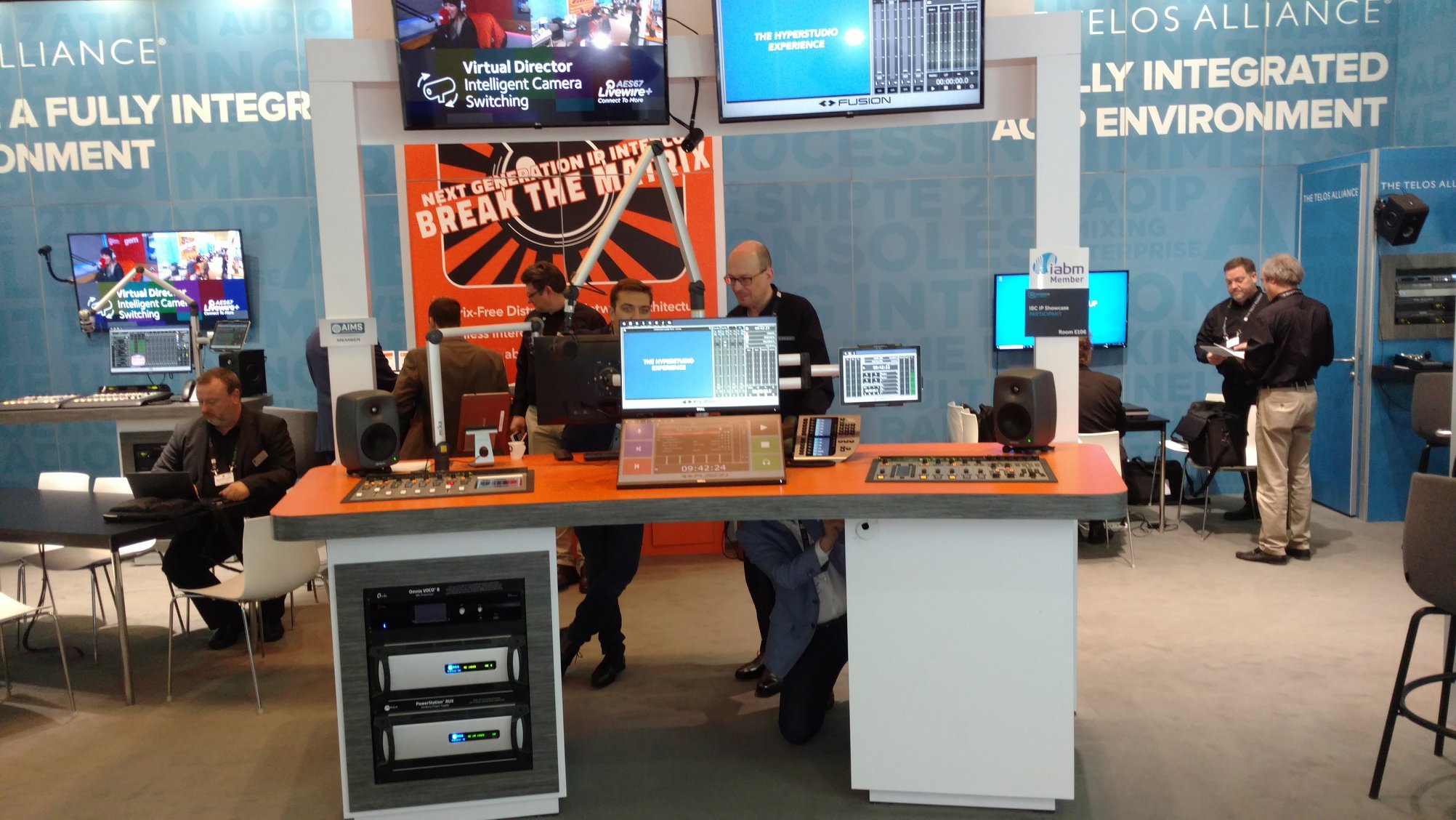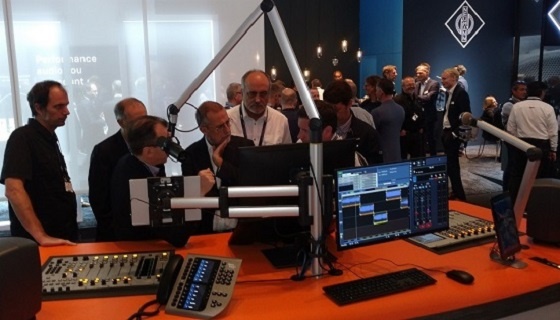 Jerome from IP-Studio demos the 'HyperStudio Experience' at IBC
In a cutting-edge demo called the HyperStudio Experience, we gave attendees a peek into the future of true virtual radio, which was also well-received. The demo featured Telos Alliance products running virtually in a hypervisor environment, showing IBC attendees innovative concepts for what's possible using VMs. The HyperStudio Experience included various Telos Alliance virtual products, including the new Axia Pathfinder Core PRO VM, Telos Z/IPStream 9X/2, Axia Livewire+ AES67 IP-Audio Driver, and the Axia IP-Tablet Virtual Radio Software. We hope that attendees walked away with a reinforced confidence that we are poised to be their partner for the long term as we venture forth into a virtual future.
As usual, Leif Claesson drew a passionate crowd over at the Omnia tower, and he and Mary Ann Seidler spread the sound of Omnia throughout the hall with Polka music, while demonstrating new innovations from Omnia: Omnia.9 now supports AES67 with the new MKII hardware update and Omnia.11 has a new v3.5 software update that includes Frank Foti's amazing new Pepino clipper.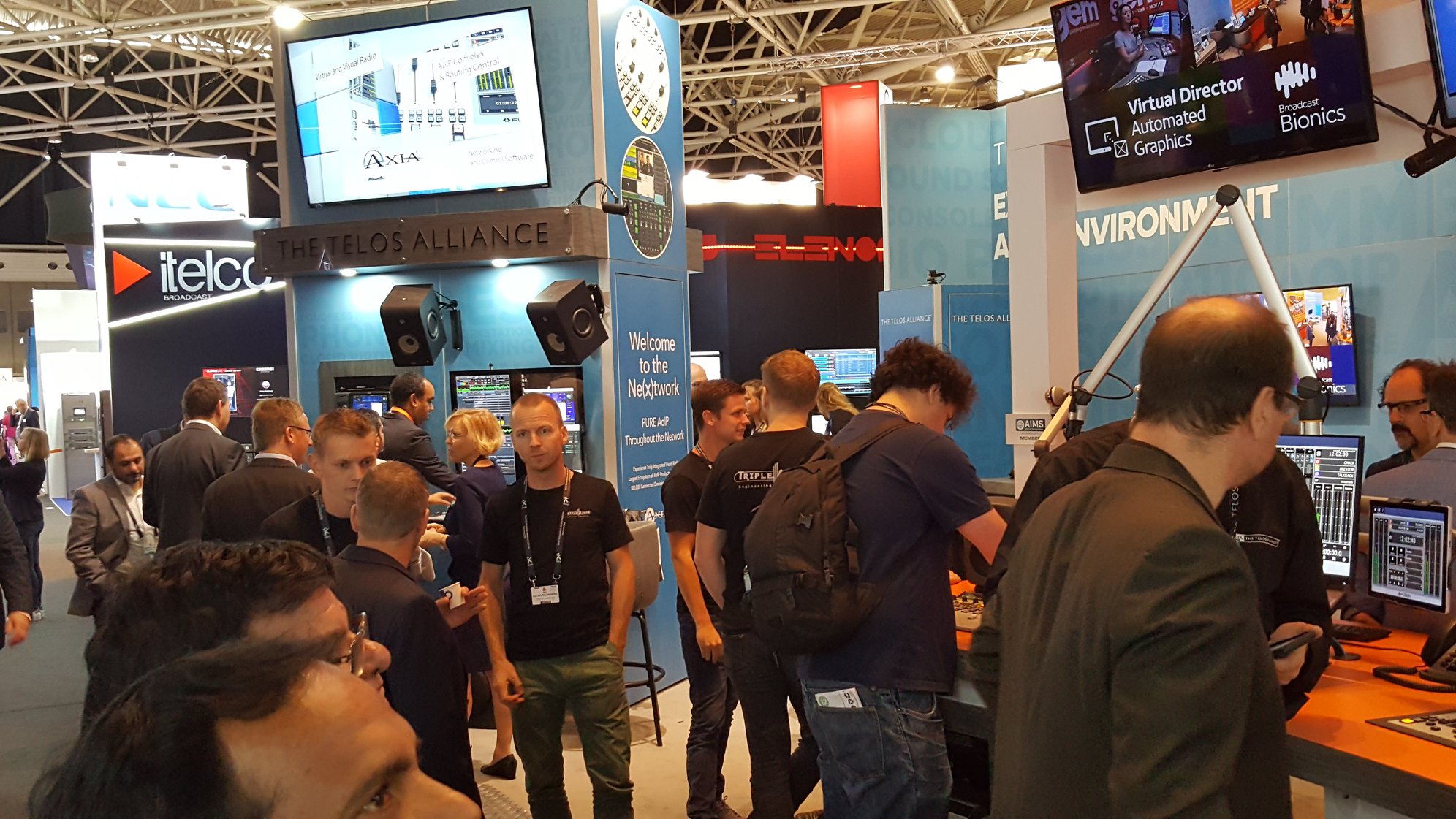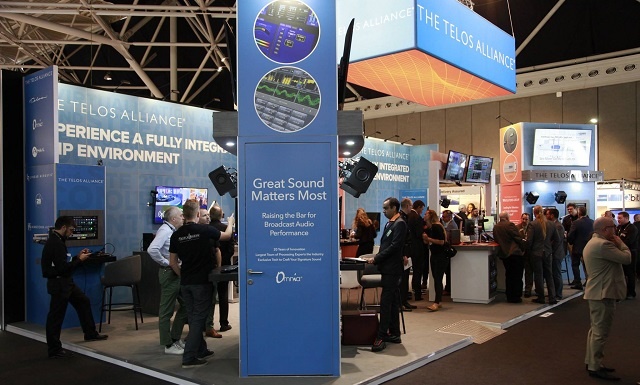 Telos Systems also won a Future RadioWorld Best of Show Award for new products—Telos VX Enterprise and VX Prime+ VoIP Phone Systems! These two systems are the next evolution of the legendary VX phone systems, now with support for AES67 on a powerful 1RU server. VX Enterprise is ideal for medium to large facilities with capacity expandable up to 120 hybrids, while VX Prime+ is great for small to medium facility with capacity of eight connected hybrids. No matter the size of your facility, VX VoIP makes all your on-air calls sound amazing with exclusive Telos tech, like our 5th-generation Telos Adaptive Digital Hybrid that supplies the clearest caller audio. G.722 Voice codec plus Smart AGC and Digital Dynamic EQ by Omnia assure call-to-call consistency and the crystal-clear audio from supported cell phones. VX is also being used in TV facilities, offering the most efficient 'Bucket of Hybrids' coupler replacement for TV broadcasters anywhere on the market.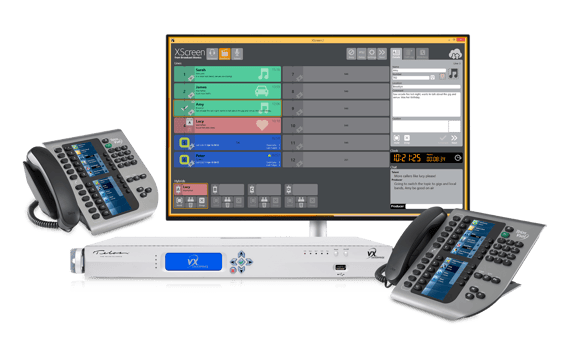 Telos VX Enterprise & Prime+ Win RadioWorld's IBC 2018 Best of Show Award
With your help, we learned so much at this years IBC show. So off we go back to work to bring you more ways to create the most compelling audio content imaginable.
Further Reading
Leveraging the Power of AoIP for a Matrix-Free Intercom
VX Enterprise/Prime+ Landing Page
Telos VX Broadcast VoIP: Facility-Wide Digital Telephony Solutions
Telos Alliance has led the audio industry's innovation in Broadcast Audio, Digital Mixing & Mastering, Audio Processors & Compression, Broadcast Mixing Consoles, Audio Interfaces, AoIP & VoIP for over three decades. The Telos Alliance family of products include Telos® Systems, Omnia® Audio, Axia® Audio, Linear Acoustic®, 25-Seven® Systems, Minnetonka™ Audio and Jünger Audio. Covering all ranges of Audio Applications for Radio & Television from Telos Infinity IP Intercom Systems, Jünger Audio AIXpressor Audio Processor, Omnia 11 Radio Processors, Axia Networked Quasar Broadcast Mixing Consoles and Linear Acoustic AMS Audio Quality Loudness Monitoring and 25-Seven TVC-15 Watermark Analyzer & Monitor. Telos Alliance offers audio solutions for any and every Radio, Television, Live Events, Podcast & Live Streaming Studio With Telos Alliance "Broadcast Without Limits."
Topics: infinity IP intercom, Telos VX Enterprise, IBC 2018, linear acoustic ARC, Hyperstudio
Subscribe

If you love broadcast audio, you'll love Telos Alliance's newsletter. Get it delivered to your inbox by subscribing below!