IBS: The College Radio Resource
College radio stations often have limited resources to manage various projects or issues they might face. So where do college broadcasters turn when they have questions? Intercollegiate Broadcasting System is a 77-year-old volunteer organization that supports the mission of college and high school radio, and recognizes and promotes the efforts of these and other non-commercial broadcasters.
Chris Thomas, President of Intercollegiate Broadcasting System, explains that the organization works with college and high school broadcasters as a guide with regard to legal concerns, engineering issues, and more. "You can always count on IBS… We stay on top of things, know what the rule changes are, and are happy to answer your questions," Chris says. A number of board members have significant radio experience and can help answer questions or put members in contact with individuals or organizations who can assist with certain projects or issues.
For example, one IBS volunteer is an advocate formerly with the FCC who works with members on legal issues. This was a huge benefit to members during the LPFM application window, as many applications for LPFM licenses came from colleges and high schools looking to place radio stations on low-power FM frequencies. Chris says many of the stations were seeking help with filling out the forms to actually get the frequency and apply for the LPFM license. "Once they got those frequencies we stopped getting questions for our FCC team and started getting questions for our engineering team," Chris adds.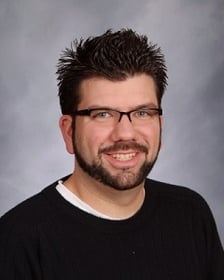 But it's not all about administrative issues. IBS aims to recognize and promote the great content and presenters that so many college radio stations feature on their airwaves every day. They do this through annual awards, which Chris was surprised to find out didn't already exist when he first started attending their meetings some years back.
Chris says several IBS members—many of whom were college professors—pointed out that there was no awards program because they were afraid it would look bad if their own stations won. Being a high school teacher, managing awards for college stations wasn't a concern for Chris, so he offered to create and manage a college radio awards program, which began his work with IBS. The program now features over 60 categories of college radio awards recognizing students' creative endeavors at their stations.
And the awards aren't just about recognition… They can benefit stations financially as well. "With the awards, what we're finding is a lot of stations now able to get the PR they need in their college newspapers to get the decision makers at the school to see the value of these stations to the campus and larger community," Chris points out. "Stations can say 'We have the best newscast, or we were one of five finalists in the entire country.' Now all of the sudden instead of being seen as a burden or the crazy kids in the basement, they've got a couple trophies or nominations and it's a beneficial thing for the college."
"Now all of the sudden instead of being seen as a burden or the crazy kids in the basement, they've got a couple trophies or nominations and it's a beneficial thing for the college."

—Chris Thomas, President, Intercollegiate Broadcasting System
The awards highlight the things that college radio stations are doing such as offering diversity of programming and the experience offered for aspiring broadcasters. "With the awards," Chris adds, "it brings to light the great things that are happening in college radio which maybe the administration had been missing. One of the biggest problems with any radio station is getting the word out there - even to their own community - that this is something good."
Those good things for the university can be great things for the students who work at these stations; it can be a resume builder. Chris adds, "The biggest thing about college radio is the chance to just practice. You're not going to get a million listeners, but the fact that you practiced and did it once a week for four years makes you a stronger candidate when it comes time to apply for a job. It's like riding a bike… College Radio gives you that chance to practice before you can just hop on and go."
It's that opportunity—and a chance to experiment—that is a draw for many students. "We get to play around without the fear of losing advertisers or ratings or coming dead last in the market," Chris jokes. "So we have a lot of different awards for things you wouldn't find on commercial radio, such as Best Documentary, Best Live In-Studio performance, Best Specialty Music Program, Best Specialty Talk Program, and typical awards like Best DJ, Best Newscast, Best Station ID, and the like. But really we try to break it down into different categories to try to honor all the different things that college students are doing at this non-commercial level that aren't necessarily happening at the commercial level.
Along those lines, Chris says one of the great things about college radio is the diversity of programming. If someone wants to try a specialty music program, they're often free to do so. And with the awards, this niche programming is recognized for offering content not readily available elsewhere.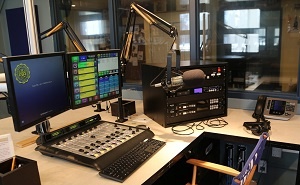 It all started at IBS for Chris by simply attending meetings after returning to his high school alma mater as General Manager of WLTL at Lyons Township High School in Illinois. "I got out of commercial radio and public relations and got into teaching about 12 years ago and I've been at WLTL ever since. I tell people I get to play radio every day and I don't have to worry about getting fired for low ratings."
Add to this four years as a high school student at WLTL, four years at KWAR at Wartburg College in Waverly, Iowa, and some time in commercial radio as well, and Chris is well qualified for his roles. Over time, as others stepped down or moved on, Chris worked way up the ranks and eventually stepped into the role of President.
IBS was the first organization to get on board and officially throw their name behind the idea of an annual event celebrating college radio. Chris notes, "We definitely love working with College Radio Day to promote each other and encourage member stations to get involved."
That's a huge plus for college radio. Since the organization has been consistent for such a long time and many stations have been members for a number of years, they don't change much. But the staff at a college radio station does. "That's one of the nice things that college radio has come to know about IBS… We are there, and we're going to continue to be there."
And they're all in it together. "One of the things about college radio, when one college radio station is successful, we're all successful because it puts a good light on all of us."
Further Reading
College Radio: Igniting the Soul
Plenty of Reasons to Love Axia for Florida's WFCF
Telos Alliance has led the audio industry's innovation in Broadcast Audio, Digital Mixing & Mastering, Audio Processors & Compression, Broadcast Mixing Consoles, Audio Interfaces, AoIP & VoIP for over three decades. The Telos Alliance family of products include Telos® Systems, Omnia® Audio, Axia® Audio, Linear Acoustic®, 25-Seven® Systems, Minnetonka™ Audio and Jünger Audio. Covering all ranges of Audio Applications for Radio & Television from Telos Infinity IP Intercom Systems, Jünger Audio AIXpressor Audio Processor, Omnia 11 Radio Processors, Axia Networked Quasar Broadcast Mixing Consoles and Linear Acoustic AMS Audio Quality Loudness Monitoring and 25-Seven TVC-15 Watermark Analyzer & Monitor. Telos Alliance offers audio solutions for any and every Radio, Television, Live Events, Podcast & Live Streaming Studio With Telos Alliance "Broadcast Without Limits."
Topics: college radio, Intercollegiate Broadcasting System, College Radio Day, high school radio
Subscribe

If you love broadcast audio, you'll love Telos Alliance's newsletter. Get it delivered to your inbox by subscribing below!